'Despicable Me 3' Trailer: 'South Park's Trey Parker Plays Gru's Latest Nemesis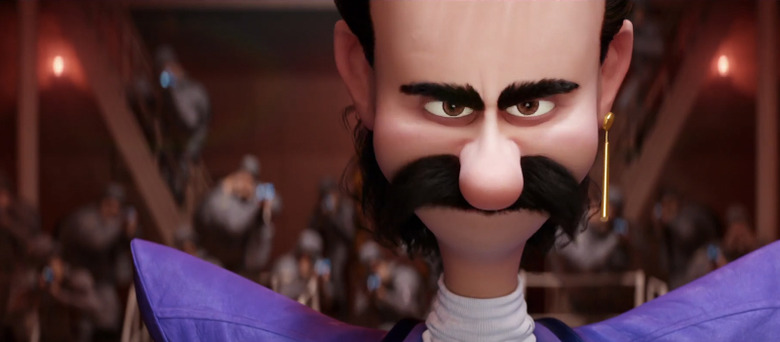 With their new animated comedy Sing on the way later this month, Illumination Entertainment has just released a sneak peek at Despicable Me 3, the sequel bringing back Steve Carell as the dastardly but charming villain Gru. The roster of characters continues to grow with a new villain challenging Gru this time, voiced by a man who creates stuff that you wouldn't let your little ones watch.
The first Despicable Me 3 trailer has arrived, introducing us to Balthazar Bratt, a former child star who's grown up to become obsessed with the character he played in the '80s. Described as Gru's most formidable nemesis to date, this guy looks like he belongs in another decade, with a mullet (and a bald spot), a Rubik's Cube as a weapon, and a powerful keytar. But perhaps the most fun thing about this villain, at least for adults, is that he's voiced by South Park creator and voice talent Trey Parker.
See him in action in the Despicable Me 3 trailer after the jump.
In addition to Trey Parker, the Despicable Me 3 voice cast features the return of Kristen Wiig as Lucy, as well as the adorable little girls Margo (Miranda Cosgrove), Edith (Dana Gaier), Agnes (Nev Scharrel). But of course, it wouldn't be a Despicable Me movie without the Minions around, so they're back in all their weird, gibberish glory as well.
While the Despicable Me movies are certainly Illumination Entertainment's greatest achievement to date, I haven't fallen in love with the franchise. The humor is more childish and slapsticky, though it does have shreds of cleverness. This one gets a little weirder and more unsettling as we see Gru blasted into an unfortunate one-piece bathing suit made of gum that shows us what the villain would look like wearing the kind of thong usually reserved for Borat.
Personally, I'm excited to see what it's like to have Trey Parker do something as a voice actor that's strictly geared towards kids. He voices such a wide variety of characters on South Park, and I can't wait to see what he brings to the table as this wholly strange new villain, not to mention what other '80s artifacts he'll bring to the big screen.
Directed by Pierre Coffin and Kyle Balda, co-directed by Eric Guillon, and written by Cinco Paul & Ken Daurio, Despicable Me 3 will be released in theaters next summer on June 30, 2017.