VOTD: 'Rogue One' AT-ACT Gets Turned Into An Incredible Backyard Playhouse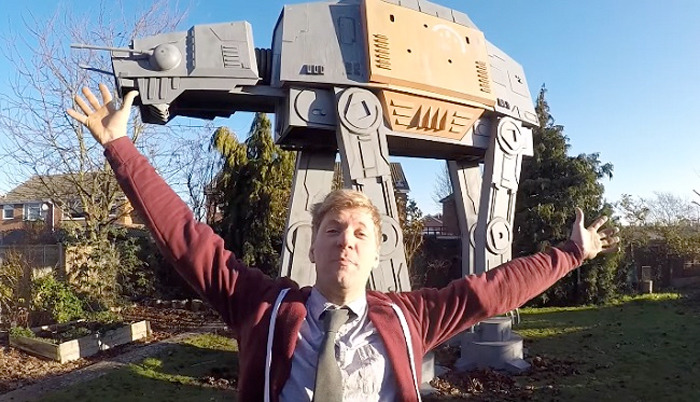 One of the most recognizable vehicles from the Star Wars trilogy are the AT-AT Walkers in The Empire Strikes Back. Even young Peter Parker referenced them when he was tying up Giant-Man's legs during the massive airport battle in Captain America: Civil War. Well, in Rogue One: A Star Wars Story, the Imperial vehicle gets a slight makeover, and one inventive fan decided to bring that vehicle right into his backyard.
We'll see the AT-ACT (All Terrain Armored Cargo Transport) in action later this week in Rogue One as part a battle that takes place on the tropical planet Scarif. But in the backyard of Colin Furze, an inventor from Stamford, England, the AT-ACT is just an innocent playhouse for his kids to play in.
Check out the Rogue One AT-ACT playhouse after the jump.
Colin Furze definitely built this himself, but the project was sponsored by eBay, so don't think that this is something you'd be able to build in your own backyard so easily. But this 18-foot-tall replica of the walker that has a control console to move its head and blasters won't be staying in Furze's backyard. Instead, eBay will be gifting it to some lucky fan sometime down the road. I hate to think what the shipping cost will be. It's a shame they can't use a real AT-ACT to haul it elsewhere.
If you want to see how Colin Furze made this awesome backyard playhouse, find out all about it right here:
Rogue One: A Star Wars Story hits theaters everywhere on December 16.