'Unforgettable' Trailer: Katherine Heigl Declares War On Rosario Dawson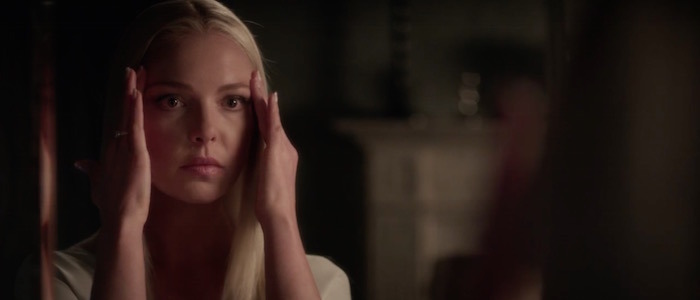 Unforgettable belongs to a surprisingly large subgenre: the "Jealous Woman Stalks The Woman Who Stole Her Man" thriller. If you aren't familiar with this very specific kind of tale, you probably don't go to movie theaters from January through April or have access to the Lifetime network. Anyway, the first trailer for this movie has arrived and at first glance, it certainly seems like Unforgettable isn't going to surprise anyone familiar with this particular template. It just depends on how much audiences want to watch Katherine Heigl and Rosario Dawson engage in a battle of quickly escalating wills.
You know the drill: Rosario Dawson has gotten engaged to a man, but his ex-wife, played by Katherine Heigl, is still in the picture. And while she may put on the "let's be friends" act for about three seconds, she's really here to destroy Dawson's life and reclaim the life that she had stolen from her. The trailer pretty much lays out of the entire movie beat-for-beat, spoiling many twists and culminating in a life-or-death struggle that everyone saw coming.
Tone is vital in material like this, with the right choices edging you toward Fatal Attraction and the wrong choices steering you into TV Movie-ville. This is the directorial debut of Denise Di Novi, so it's practically impossible to event make a wager one way or another. Maybe she'll surprise us? After all, she's a veteran producer whose filmography is full of genuine classics like Heathers, Edward Scissorhands and Ed Wood alongside pretty good movies like Focus and Crazy Stupid Love. She also has a credit on Catwoman, but everyone makes mistakes. In any case, I'll make the same argument here that I made for Underworld: Blood Wars: in an industry where women are treated as second class citizens, it truly does perk me up to see a female director helming cinematic junk food like this. It's a small step, but it's a step.
Unforgettable opens on April 21, 2017.
Katherine Heigl stars as Tessa Connover, who is barely coping with the end of her marriage when her ex-husband, David (Geoff Stults), becomes happily engaged to Julia Banks (Rosario Dawson)—not only bringing Julia into the home they once shared but also into the life of their daughter, Lilly (Isabella Rice). Trying to settle into her new role as a wife and a stepmother, Julia believes she has finally met the man of her dreams, the man who can help her put her own troubled past behind her. But Tessa's jealousy soon takes a pathological turn until she will stop at nothing to turn Julia's dream into her ultimate nightmare.