'Growing Pains' Star Alan Thicke Dead At 69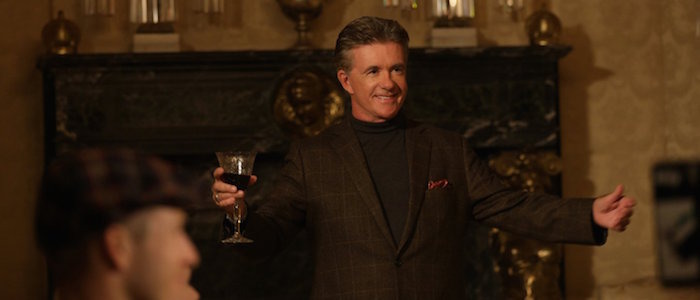 Alan Thicke, best known for playing the role of Jason Seaver on television's Growing Pains, has passed away at the age of 69. Although he'll always be remembered as one of the iconic TV dads of the '80s sitcom scene, Thicke leaves behind a large filmography, with over 100 film and television credits.
Thicke suffered a heart attack while playing hockey with his son and passed away at the Providence St. Joseph's Medical Center in Burbank, California. TMZ was the first to report the news.
Born in Kirkland Lake, Ontario, Canada on March 1, 1947, Thicke worked steadily throughout the '70s and '80s, making regular television appearances, hosting game shows, and eventually hosting his own talk show, The Alan Thicke Show, in his native Canada. He also worked as a writer and producer on Fernwood 2 Night, a spin-off of Normal Lear's Mary Hartman, Mary Hartman.
But it was Growing Pains, which began in 1985 and ran through 1992, that put him on the Hollywood map, teaming him with Joanna Kerns, Kirk Cameron, Tracey Gold, Jeremy Miller, and Leonardo DiCaprio as a father who moves his psychiatric practice into his home while his wife pursues a career in journalism. The series returned with two television movies: The Growing Pains Movie 2000 and Growing Pains: Return of the Seavers in 2004.
Thicke used his sitcom star power to become a steady presence on television for the rest of his career, taking on roles in dozens of shows both beloved and long-forgotten. He has the kind of busy career most working actors would envy – you won't find many years without a few credits on his IMDB page. He occasionally showed up as himself on How I Met Your Mother, braved the world of fringe comedy on Tim and Eric Awesome Show, Great Job!, and recently appeared in episodes of Scream Queens, This is Us and Fuller House.
While best known for his onscreen work, Thicke had a second career as a composer of television theme songs, collaborating with his first wife Gloria Loring on the themes to The Facts of Life and Diff'rent Strokes.
Thicke is survived by his second wife, model Tanya Callau, and his three children.