James Gunn Promises A More Diverse 'Guardians Of The Galaxy Vol. 2' Soundtrack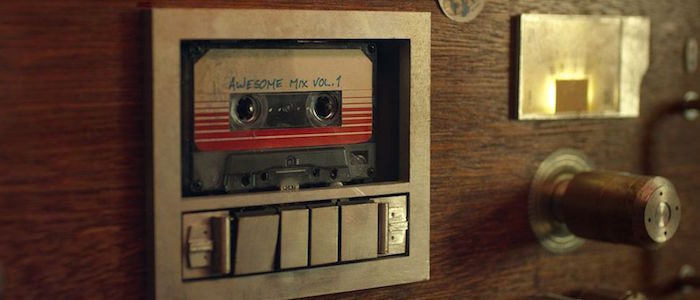 We've written a great deal about what makes the first Guardians of the Galaxy so special, but a key component of its offbeat personality is derived from its soundtrack. An action-packed space opera set to pop hits from the '60s and '70s would be odd on its own, but it's especially odd to her those songs score a Marvel Studios movie. It's the kind of bold choice that paid off – the movie was a hit, the soundtrack became the first album consisting entirely of previously released songs to top the Billboard charts, and writer/director James Gunn gets to actively tease which songs will appear in the upcoming sequel. And that's exactly what he's done in a new interview.
Gunn spoke with Super Interssante (via Comic Book Movie) when he was asked about the Guardians of the Galaxy Vol. 2 soundtrack. While he didn't reveal any new tracks, he does promise a mixture of famous and obscure songs:
The second soundtrack is great. I think it's a more diverse soundtrack. I think the first soundtrack [had] a bunch of songs that maybe you heard but didn't know the name of the song – you didn't know the name of the singer. In this one, we have some really incredibly famous songs and then some songs that people have never heard. So, it's a much more diverse soundtrack.
Although the first teaser utilized Blue Suede's "Hooked on a Feeling" once more, there have been a few other songs associated with the movie so far. The most recent trailer utilized Sweet's "Fox on the Run," while the footage that screened at Comic-Con earlier this year featured "Come a Little Bit Closer" by Jay & The Americans and "The Chain" by Fleetwood Mac. In other words, it sounds like Guardians of the Galaxy Vol. 2 will continue to feature your parents' favorite songs.
And that's great! These songs aren't just fun – their specificity makes them work wonders within this corner of the Marvel Cinematic Universe. These songs represent the "Awesome Mix" tapes Peter Quill's mother created for him before she died, allowing them to act as an emotional foundation for the entire film. It's a horrible cliche to say that a movie's soundtrack acts as a character in a movie, but each song in the first Guardians of the Galaxy represents the world Star-Lord left behind on Earth and his dearly departed mom. Hopefully, the catchy tunes of the second mix tape will offer similar thematic heft.
You can watch the rest of Gunn's interview with Super Interssante below.