The First Poster For Christopher Nolan's 'Dunkirk' Is Here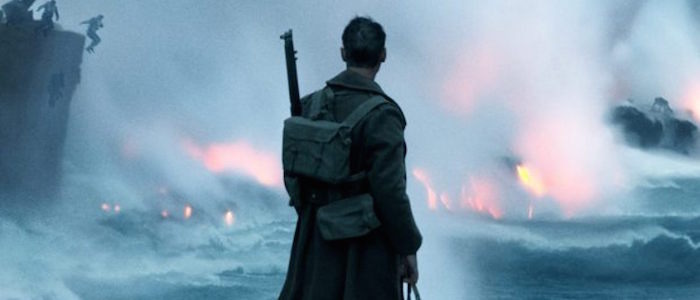 UPDATE: A second teaser poster has been released and we've added it below.
How about we imagine a modern movie poster? Close you eyes. Now conjure up the proper poster shape. That's the blank canvas upon which we will mentally photoshop our eye-catching motion picture advertisement. Think hard. What do we need? How about text calling attention to the director's past work? That's good. That's standard. That's normal. But try a little harder. How about...a guy standing with his back to the viewer, looking upon a scene of epic destruction? There we go! And how about a bunch of smoke and debris to ensure that there is no corner of this one-sheet left untouched by grime!
Now open your eyes. You have seen the poster for Christopher Nolan's Dunkirk.
I kid because I love. Dunkirk is one my most anticipated movies of 2017 and I genuinely like or love every Christopher Nolan movie that isn't titled The Dark Knight Rises. The thought of one of our most ambitious filmmakers tackling a World War II story like this sends warm tingles down my legs. Few directors are as committed to genuine physical scale as Mr. Nolan and I have little doubt in my mind that this film will be something to behold.
But I will poke fun at this poster for engaging in its fair share of modern movie poster cliches. Sure, The Dark Knight may have invented the whole "guy with long coat stares at something with his back to you" poster cliche, but Star Trek Into Darkness killed it. And while it's wholly appropriate that a movie about the Battle of Dunkirk would feature a whole bunch of smoke and debris, every modern movie poster tends to lean heavily on the smoke and debris.
But at the same time, this poster does tease a daunting nightmare of a war movie, which is appropriate considering the details of this particular engagement. I'm in, but c'mon – I was already in.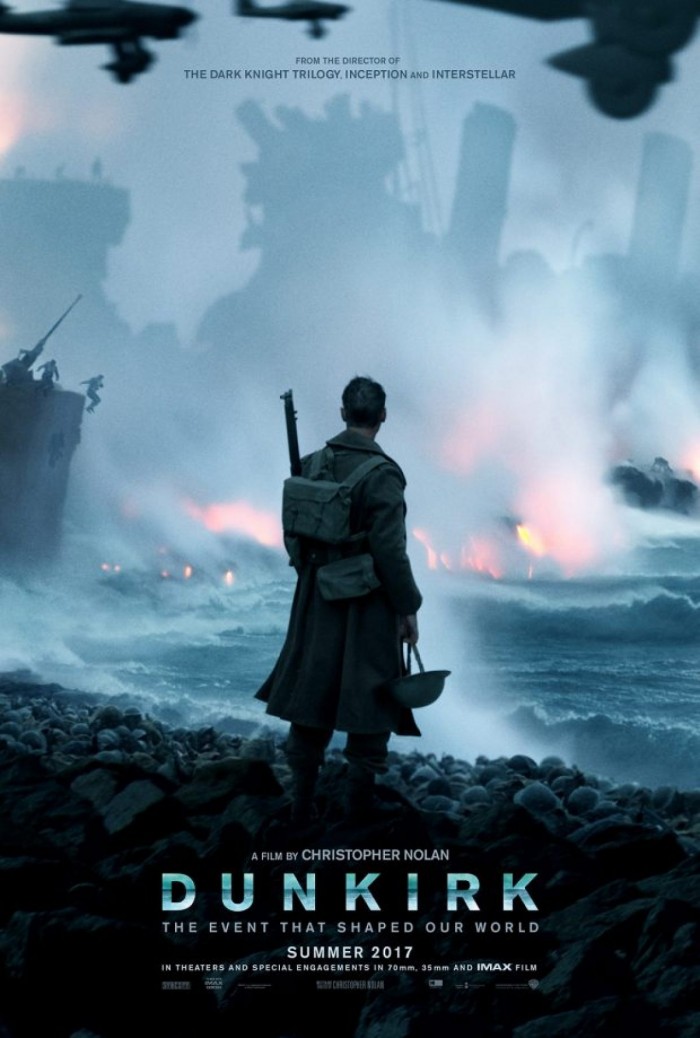 A second teaser poster, this one fashioned to look like German propaganda insisting on an Allied surrender, has been released as well.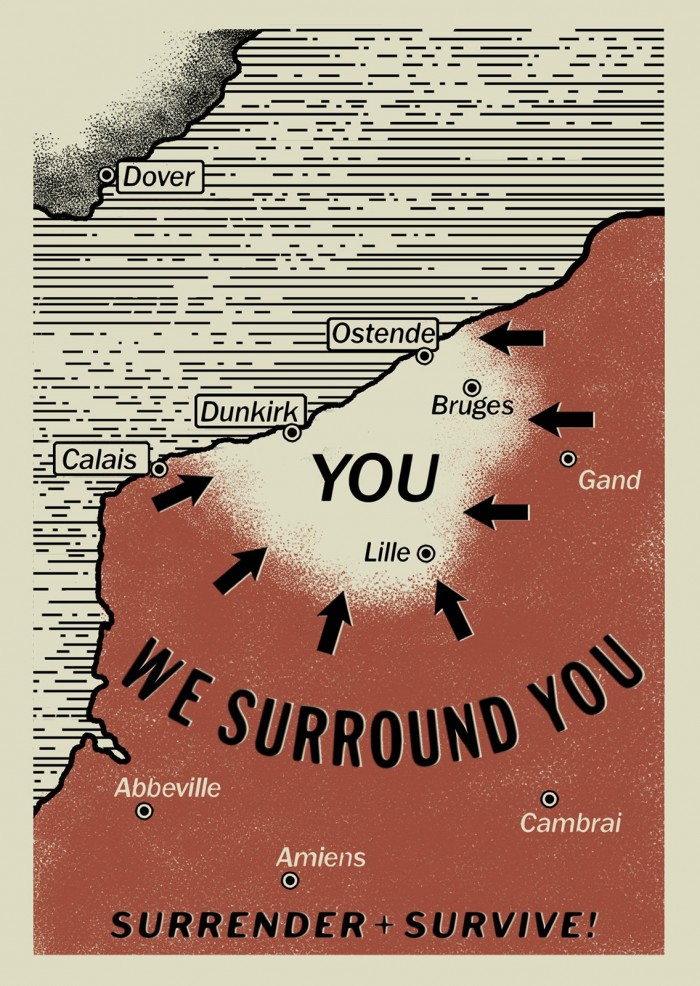 Although the first teaser didn't show too much, photos from the set have promised an enormous production and Nolan's commitment to authenticity involved the use of actual period-appropriate planes and ships instead of CGI. Like Interstellar before it, this feels like a movie that will be worth seeking out in its 35mm and 70mm screenings.
Dunkirk opens on July 21, 2017. For further reading, you can peruse all of the official details below.
Warner Bros. Pictures announced today that principal photography on the epic action thriller "Dunkirk" is underway in Dunkirk, France. Christopher Nolan ("Interstellar," "Inception," "The Dark Knight" Trilogy) is directing "Dunkirk" from his own original screenplay, utilizing a mixture of IMAX® and 65mm film to bring the story to the screen. The production will shoot in France, Holland, the UK and Los Angeles.
"Dunkirk" opens as hundreds of thousands of British and Allied troops are surrounded by enemy forces. Trapped on the beach with their backs to the sea they face an impossible situation as the enemy closes in.
"Dunkirk" features a prestigious cast, including Tom Hardy ("The Revenant," "Mad Max: Fury Road," "Inception"), Mark Rylance ("Bridge of Spies," "Wolf Hall"), Kenneth Branagh ("My Week with Marilyn," "Hamlet," "Henry V") and Cillian Murphy ("Inception," "The Dark Knight" Trilogy), as well as newcomer Fionn Whitehead. The ensemble cast also includes Aneurin Barnard, Harry Styles, James D'Arcy, Jack Lowden, Barry Keoghan and Tom Glynn-Carney.
The film is being produced by Nolan and Emma Thomas ("Interstellar," "Inception," "The Dark Knight" Trilogy). Jake Myers ("The Revenant," "Interstellar," "Jack Reacher") is serving as executive producer.
The behind-the-scenes creative team includes director of photography Hoyte van Hoytema ("Interstellar," "Spectre," "The Fighter"), production designer Nathan Crowley ("Interstellar," "The Dark Knight" Trilogy), editor Lee Smith ("The Dark Knight" Trilogy, "Elysium"), costume designer Jeffrey Kurland ("Inception," "Bullets Over Broadway"), and visual effects supervisor Andrew Jackson ("Mad Max: Fury Road").
Warner Bros. Pictures is distributing "Dunkirk" worldwide and has slated the film for a July 21, 2017 release.