Universal Studios Japan Reveals First Nintendo World Concept Art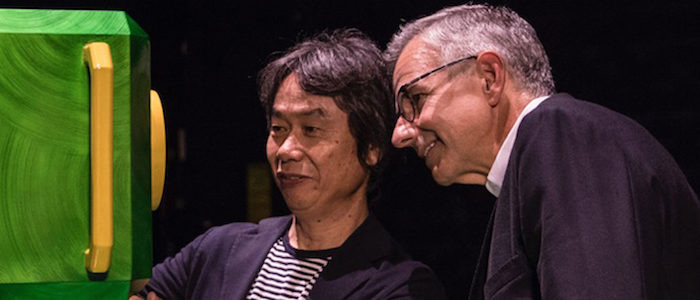 Two weeks ago, one of the most un-secret secrets in the theme park industry was officially pushed into the spotlight: Universal Studios is teaming up with Nintendo to bring the iconic video game publisher's characters to Universal Studios Hollywood, Universal Orlando, and Universal Studios Japan. Specific details were scarce, but there were promises of "expansive, immersive and interactive" attractions that would make you feel "as if you're playing inside your favorite games – in real life." Today, we still don't know too much more than that, but the first piece of concept art for Nintendo Land has arrived, offering an early look at what the expect as well as the area's full and proper name.
The reveal comes our way via a Universal Studios Japan press release, but it's very likely that the details here will also apply to the North American parks. After all, Universal tends to keep their attractions and themed lands, well, universal. The Wizarding World of Harry Potter in Florida in Florida is, a few tweaks aside, virtually identical to those seen in California and Japan. While there will undoubtedly be differences between the parks, what we see here will most likely be similar to what we see elsewhere.
With that out of the way, it looks like this new themed land will be called Super Nintendo World and the first piece of promotional art promises a theme park land that looks like it was torn out of a Super Mario game, complete with recreations of that iconic block landscape (ideal for exciting platforming!) and two castles, one for Princess Peach and one for Bowser.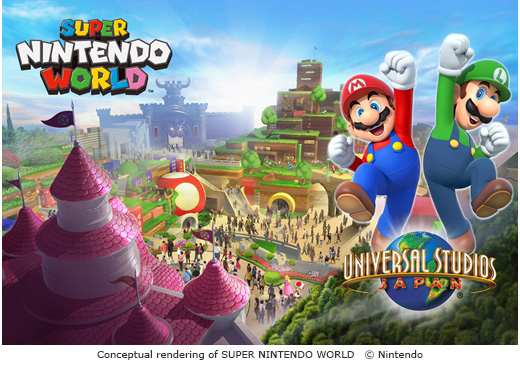 The full press release is Mario-centric, noting that other Nintendo characters will be featured in the area while also making it pretty clear that pop culture's most acrobatic plumber will be the chief attraction here:
Super Nintendo World will feature characters and themes from the "Super Mario" series, which has continued over the years to win the hearts of devoted fans around the world. The attraction area will also feature a variety of other globally popular Nintendo characters. Nintendo characters and the worlds they inhabit will be re-created at the highest level of quality through the strong partnership between Mr. Shigeru Miyamoto, Creative Fellow at Nintendo, and Mark Woodbury, President of Universal Creative, renowned for creative and technical excellence. Super Nintendo World will allow guests to fully immerse themselves and all five senses in the worlds of Nintendo, and is expected to attract guests from Japan and the world over.
The release also notes that Universal wants to have Super Nintendo World completed in time for the 2020 Olympics, which will be held in Tokyo. That doesn't necessarily mean we can expect the Hollywood and Orlando parks to follow the same schedule, but I'd wager a handful of crumbled dollar bills that we'd be seeing the other versions of this area open their doors around the same time.
Of course, the big questions now revolve around which of the two Florida parks Super Nintendo World will be built in...and how the California park will even find room for this expansion.