LOL: Donald Trump Appoints 'Breaking Bad's Walter White To Oversee DEA On 'SNL'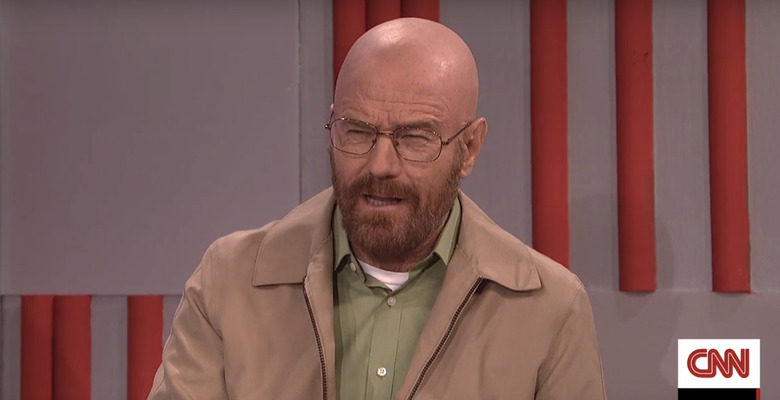 As we wait for President-elect Donald Trump to take office in January, we're slowly learning about all the various appointments he's making to his Presidential Cabinet. We're not going to bother debating what's going on in the real political world, but instead we would like to point out something that happened in the fictional political world being assembled by Donald Trump by way of Saturday Night Live.
This past weekend, John Cena hosted SNL (you can read my whole recap right here), but the cold opening of the sketch show featured a guest star that no one was expecting: Bryan Cranston as Walter White from Breaking Bad. As it turns out, in a sketch lampooning a segment on The Lead with Jake Tapper on CNN, it's revealed that Walter White has been appointed to run the Drug Enforcement Administration (DEA).
Watch the Breaking Bad Saturday Night Live sketch after the jump.
The appointment of Walter White is quite the satirical jab at the seemingly counter-intuitive choices that President-elect Donald Trump has made leading up to his presidency, such as who to place in charge of the Environmental Protection Agency and more. While the premise itself is a funny one, as I pointed out in my review of the entire SNL episode, the execution feels a bit lazy in the writing department. As soon as Walter White showed up, I was waiting for an "I'm the one who knocks" reference of some sort, and SNL delivered predictably.
There are some funny moments in this sketch for sure, but it just didn't feel like it was up to snuff. For those who consistently rag on SNL but can't seem to stop commenting about it, that might be par for the course. Of course, I'm not going to change any minds in that regard, but I digress. The real reason we're talking about this sketch is because it appears Walter White is alive, healthy and has a new job, just in time to give us a blue Christmas.