'Spider-Man: Homecoming' Sequel Set For Summer 2019, 'Bad Boys 4' Bumped Up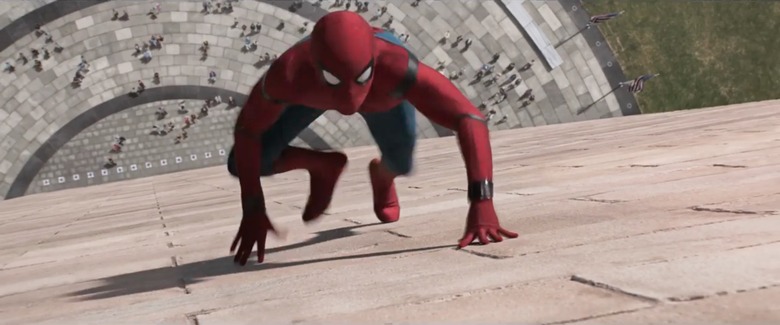 The reception for the Spider-Man: Homecoming trailer (watch it here) appears to have been exactly what Sony Pictures was hoping for, because today they announced a release date for the sequel. That's right, even though Spider-Man: Homecoming doesn't arrive until July of next year, Sony Pictures is so confident in their collaboration with Marvel Studios to bring Spider-Man into the Marvel Cinematic Universe that they've staked out a date in the summer of 2019.
That's not the only summer sequel release date news from Sony Pictures either, because the placement of the Spider-Man Homecoming sequel in the summer of 2019 has resulted in the studio shifting their release of Bad Boys 4, the sequel to a sequel that hasn't even started shooting yet.
Find out both the Bad Boys 4 and Spider-Man Homecoming sequel release date after the jump.
First up, announcing a Spider-Man sequel is a no-brainer, but announcing it so far in advance is a bit of a surprise. Not even Marvel Studios has been so bold as to announce a sequel to a (technically) untested franchise that far in advance. But since Spider-Man was a big success in Captain America: Civil War and his place in the MCU solidifies his box office presence, they might as well get ahead of the rest of the studios and snag a prime summer date.
There's no word on whether director Jon Watts will be back behind the camera for the sequel or not yet, but Deadline reveals Spider-Man: Homecoming 2 (or whatever it ends up being called), will arrive on July 5, 2019. The last time Sony staked out dates so early for a Spider-Man franchise, it didn't work out too well for them, but hopefully this case will be different.
It's that new claim to the coveted Independence Day weekend that has Sony Pictures shifting their release for Bad Boys 4. Originally, the sequel that is presumed to star Will Smith and Martin Lawrence was set for July 3, 2019. But now with Spider-Man taking that weekend, Bad Boys 4 is getting bumped up to an earlier release on May 24, 2019, which is Memorial Day weekend.
Honestly, I'm surprised that Sony Pictures hasn't just taken Bad Boys 4 off their release calendar for the time being. After all, Bad Boys 3, or Bad Boys for Life as it's called now, was pushed back from a June 2017 release to a January 12, 2018 debut. One would think that would end up delaying Bad Boys 4, but instead, it's coming out over a month earlier.
As of now, I'm still skeptical that Bad Boys for Life will even happen. Joe Carnahan is attached to direct, and according to Martin Lawrence, production is slated to begin next spring as long as schedules line up. There's been no official word on that actually happening, but just this past week, Will Smith gave us hope that Bad Boys 3 may be coming together soon:
Following up Bad Boys for Life with Bad Boys 4 the year after seems like overkill, but maybe they have something big planned that will span two movies. Maybe Sony Pictures is just being optimistic, or maybe they just don't want to miss out on another prime release date, so they're saying that slot is for Bad Boys 4, but it'll really be for something else. We'll find out over the next few years.