'Spider-Man: Homecoming' Trailer Breakdown: Going Through The New Footage Frame-By-Frame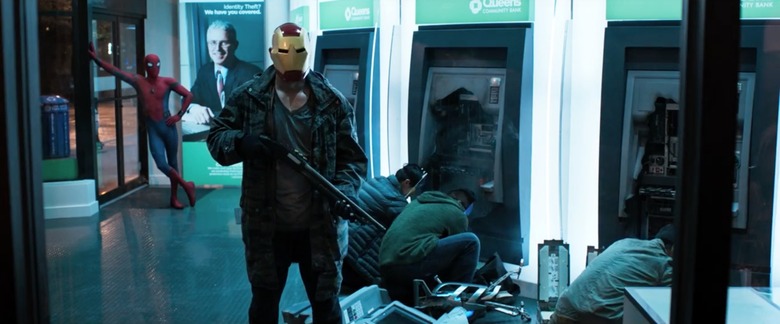 The first two trailers for Spider-Man: Homecoming arrived late last night and they're wonderful, somehow managing to make another Spider-Man movie look appealing so soon after The Amazing Spider-Man 2. Then again, the debut of Tom Holland's new webslinger in Captain America: Civil War was a perfect palate cleanser, depicting a version of the character audiences actually wanted to see while finally integrating him into Marvel Studios' increasingly large universe.
And where there's a new trailer, there's a new trailer breakdown, where we go through the footage frame-by-frame and attempt to discern exactly what's going on here. Most of this Spider-Man Homecoming trailer breakdown follows the domestic trailer, but we'll also borrow a few snippets from the international trailer.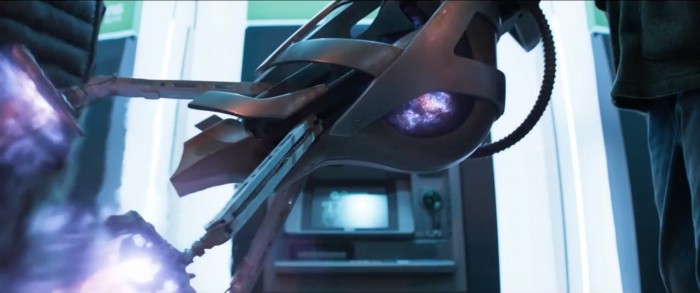 Some of the early rumors concerning the plot of Spider-Man: Homecoming suggested that the villains of the film would be criminals making use of Chitauri technology scavenged after the Battle of New York in The Avengers. This certainly looks to be the case, as the trailer opens with a team of petty thieves using some pretty advanced weaponry to rip off a line of ATMs.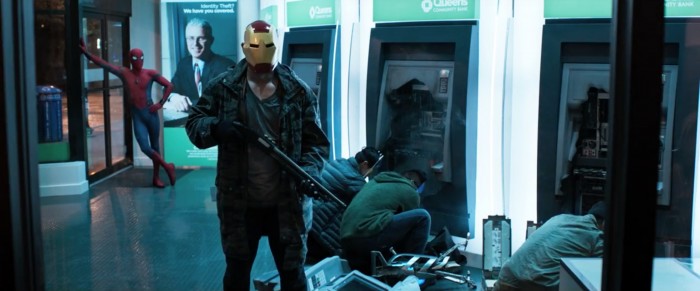 The most refreshing aspect of Tom Holland's Spider-Man in Captain America: Civil War was that he was a total smartass, a wisecracking kid gifted with great power (and a great responsibility for being as annoying as he is good at punching things). It's fun to see a group of criminals wearing Avengers masks as they go about their business, but it's more fun to see Spidey being a total showboat as he enters the scene.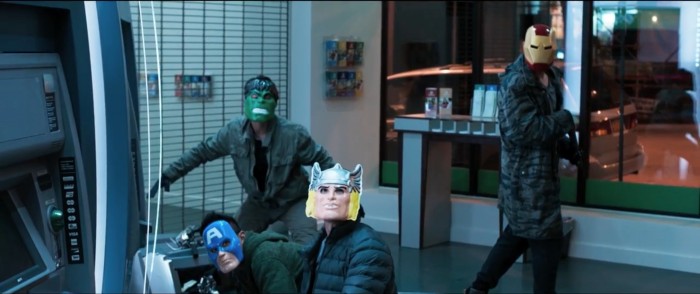 It's worth noting that these plastic masks look less like the superheroes of the Marvel Cinematic Universe and more like the characters as drawn in their original '60s comic book incarnations. The Hulk and Thor masks in particular look like they were borrowed straight from Jack Kirby's classic designs.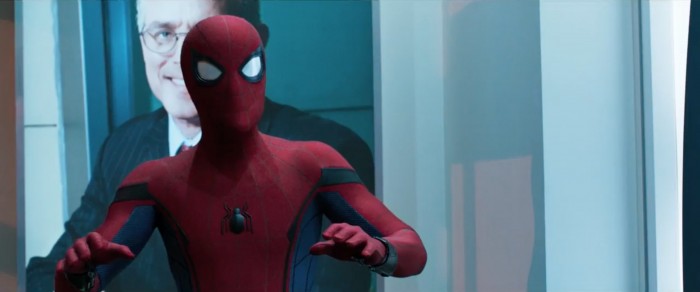 "Wait a minute! You guys aren't the real Avengers!" Spidey's annoying joke game is on point in this trailer and every dumb wisecrack is made better by the slight muffle of his mask and his Tony Stark-designed eyes being able to adjust, which subtly helps sell the delivery.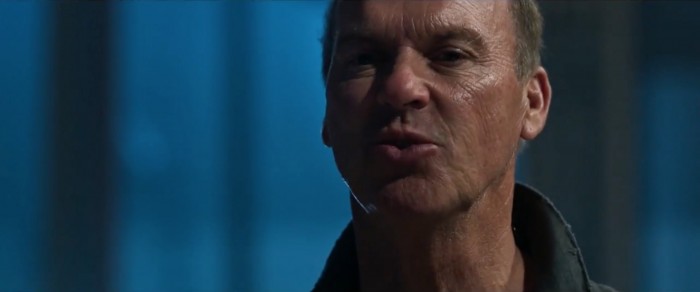 Our first shot from the international trailer: Meet Michael Keaton's Adrian Toomes, who has some words for his crew: "The world's changing boys. It's time we changed, too." Is it possible that Tomes, who eventually becomes the villain known as Vulture, is one of the four thieves seen busting into those ATMs at the start of the trailer? After all, this character is a petty thief in his original comic book incarnation and getting humiliated by Spider-Man would probably instill him with a thirst for revenge.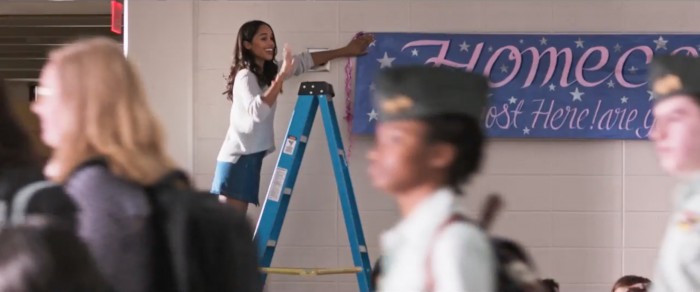 We'll get to the girl on the ladder in a moment. We're here to note the banner on the wall, advertising the upcoming Homecoming Dance. There is something charming about a new superhero movie borrowing its title from a potentially awkward high school social event, especially since it's sandwiched in-between movies with subtitles like Civil War and Ragnarok. Peter Parker's priorities are a little different than those of most superheroes.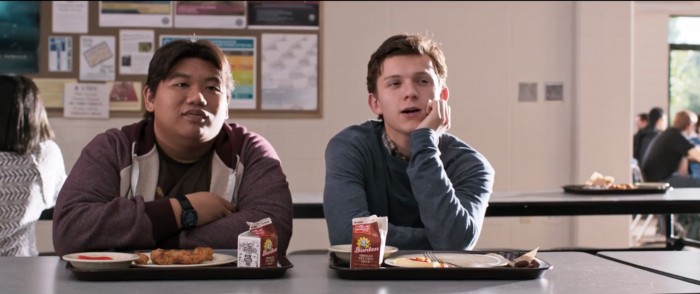 The fellow on the left is Ned Leeds, played by Jacob Batalon, Peter Parker's classmate and buddy. I enjoy how unashamedly dorky they both book – it's refreshing after the brooding, hip Peter Parker of the Amazing Spider-Man movies to see this character return to his position on the bottom rung of the social ladder.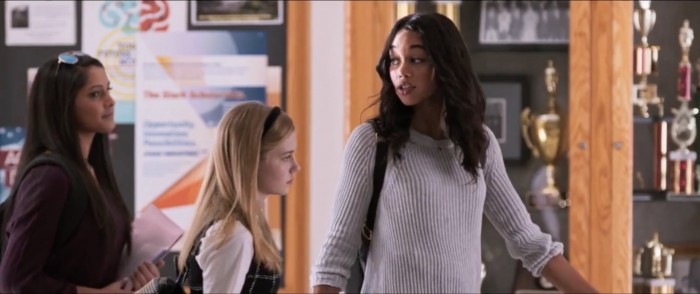 Meet Liz Allan, played by Laura Harrier, the love interest of Spider-Man: Homecoming...or at least the girl Peter Parker has a crush on. Liz has a long history with Spider-Man comics, first appearing in earliest issues and continuing to play a supporting role for years to come. Naturally, Peter eventually fell for a redhead named Mary Jane Watson instead of the Cool Girl.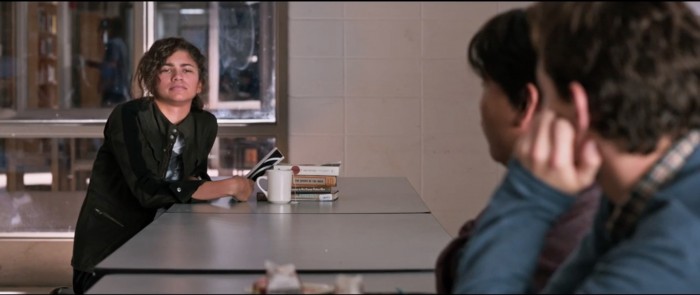 Speaking of Mary Jane Watson...is that who Zendaya is playing in this movie? All of the official statements claim she is playing a new character named Michelle, but that hasn't stopped the rumor mill from working overtime, claiming that she is secretly taking on the iconic comic book love interest. In any case, Zendaya's character couldn't look more different than the immaculately put-together Liz Allan.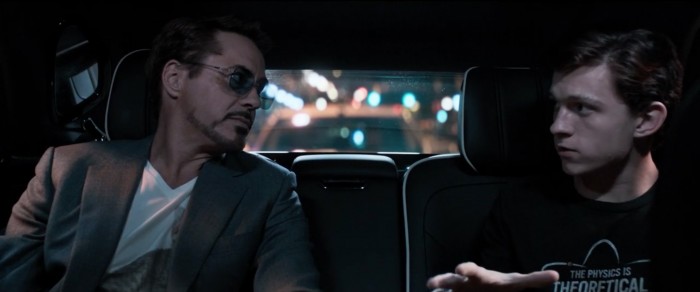 "There's a little gray area in there and that's where you operate." We knew Robert Downey Jr.'s Tony Stark was going to play a role in Spider-Man: Homecoming and while it's still not clear if this is a full-on supporting role or a glorified cameo, it's nice to see that their ever-so-slightly abusive mentor/mentee relationship established in Civil War looks to continue here. Tony is quick with the gadgetry assist, not so quick with the actual, you know, helpful advice on superhero-ing.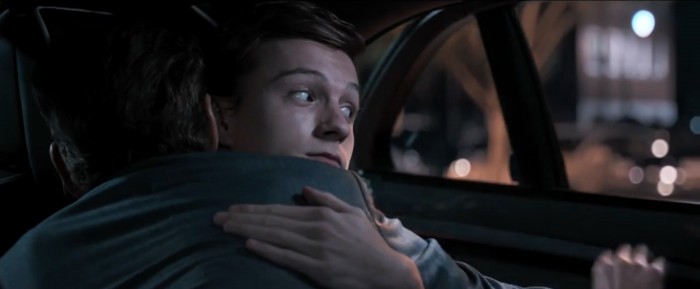 It's aiming for the cheap seats, the but that hug/door-opening gag is a pretty good Tony Stark joke, made all the better by Tom Holland's totally naive reaction to it all.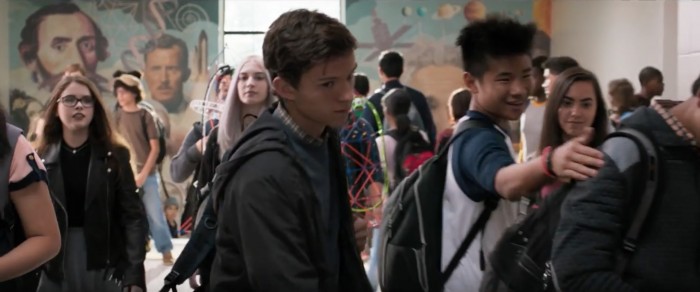 Is this some kind of science fair? I ask because some students in the background are holding some odd objects and because there's a mural of great thinkers painted on wall behind Peter. We'll touch on more of this in a bit. In the meantime, note that the late Howard Stark (as played by John Slattery) is among the faces depicted on the mural. I love that we're so deep in the MCU timeline that world-building easter eggs like that can simply be tossed off in the background.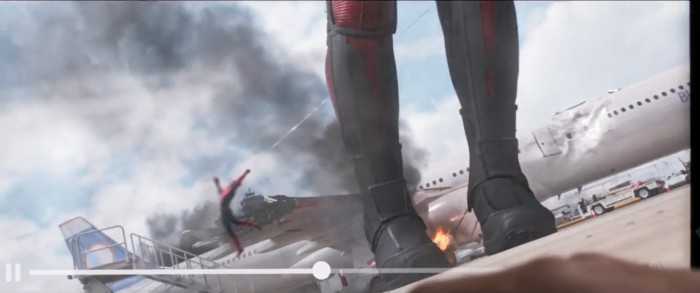 While Peter Parker remains the awkward, wisecracking nerd, he's an awkward, wisecracking nerd for the 21st century, watching YouTube footage of his past exploits and everything! What a fun (and character-driven) way to remind everyone of Spider-Man's role in Captain America: Civil War.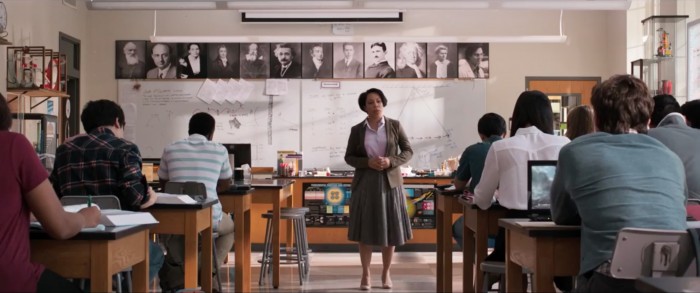 Naturally, Peter's teacher doesn't approve him of him watching videos in class. That's a given. But we're really grabbing this shot because the genius scientist and MIA Avenger Dr. Bruce Banner is among the great scientists who have their picture on the wall (far right), standing aside Albert Einstein, Nikola Tesla, and Marie Curie. However, he is the only one capable of turning into a giant green rage monster, as far as we know.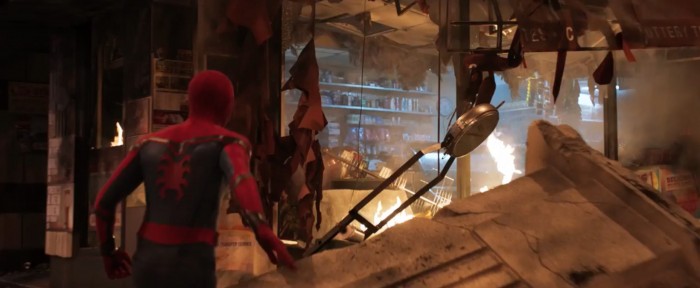 While we still know very little about the actual threat Spider-Man will face in this movie, the scale on display seems to be more in line with the Netflix corner of the MCU than the rest of these movies. The set pieces may be grander, but the actual stakes seem confined to mere cities instead of threatening the entire world. That also aligns itself with Spider-Man's role in the Marvel universe in general – he protects the streets and only occasionally pops in to help save the world, when he gets the call.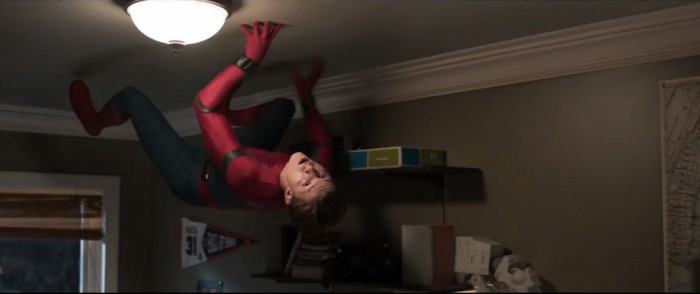 Ah, it wouldn't be a Spider-Man movie without at least one scene where Spider-Man does his Spider-Man thing in the privacy of his own home.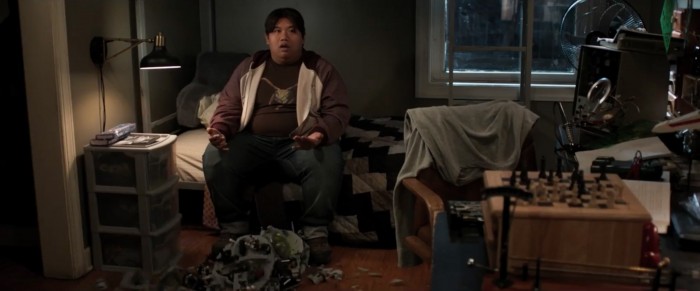 Depending on which era of Spider-Man you're reading, there is always a contained group of civilians who know the truth about why Peter Parker always seems to mysteriously vanish whenever Spider-Man is around. And it looks like Homecoming will double Peter's trusted circle on confidants, with a rightfully astonished Ned joining Tony Stark in that tiny group.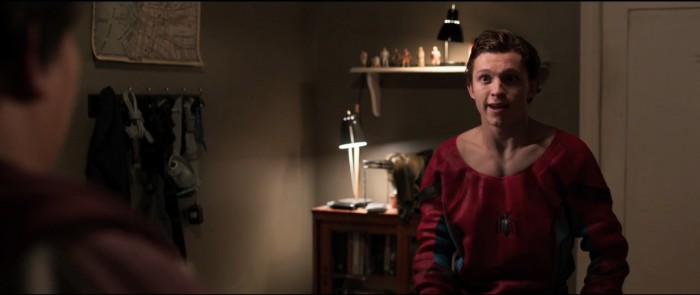 It's worth noting that Peter's updated Spider-Man suit can grow tight or loose on command, which explains how he's able to get in and out of his form-fitting superhero costume at a moment's notice.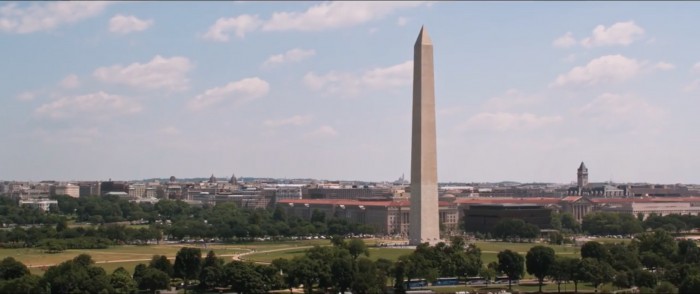 While the bulk of the film seems to take place in New York City, at least one key sequence (maybe even the film's climax?) will see Spider-Man take to Washington D.C.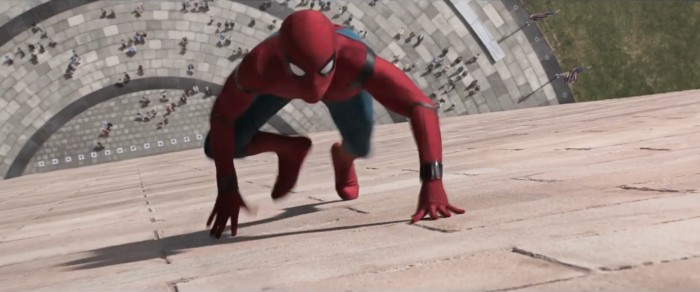 And in a city without an especially imposing skyline, of course the wall-crawling, web-slinging superhero would head straight for the Washington Monument. Typical. In any case, this is the kind of location where Spidey, who relies on the tall and narrow streets of New York City to get around, would be at a disadvantage against a more effortlessly mobile opponent.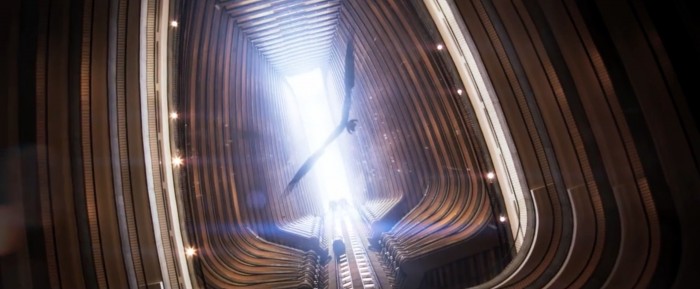 Speak of the devil...here's an effortlessly mobile opponent right now! From a distance, the MCU version of the Vulture looks an awful lot like his comic book counterpart: a man wearing a suit equipped with enormous wings. But as he flies closer...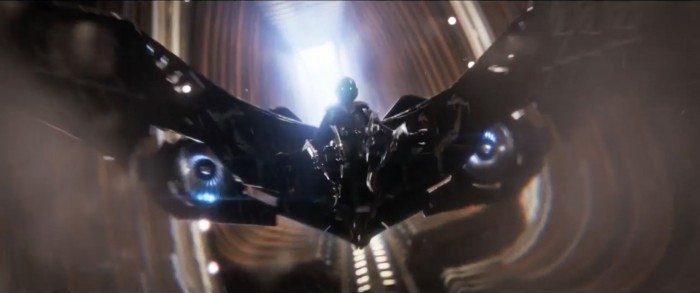 ...we can see that his wing-suit is high-tech armor that that those wings are equipped with enormous engines that allow him to hover in place. It's hard to tell if we're looking at repurposed Chitauri technology, but this is certainly a more advanced and physically threatening Vulture than we've seen in the past.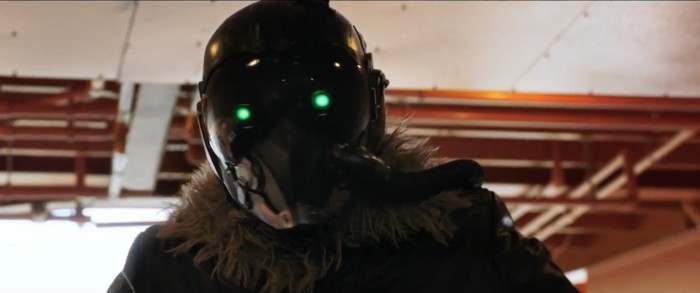 While the Vulture is one of the earliest Spider-Man villains and a classic Marvel baddie, he's always looked a little silly. An old guy in a skintight green suit with feathery wings provides plenty of fuel for some Spider-Man wisecracks, but could he actually work as the chief villain in a feature-length movie? The Marvel comics compensated for Adrian Toomes' inherently silly look by making the man in the costume increasingly cruel and sadistic over the years. And now, we have a truly fantastic actor in a costume that looks genuinely dangerous. Combine that with the comic book character's mean streak and we have a villain worth getting excited to see in action.
Oh, and while the costume is a total redesign, I do love that they kept the shaggy collar around his neck. It's the kind of touch that directly ties him to the original character design, even if everything else has changed.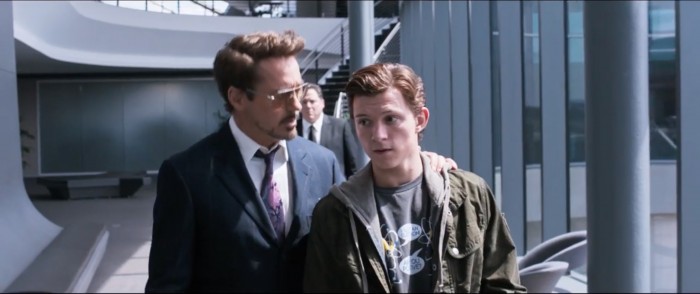 "Forget the flying monster guy. There are people who handle this sort of thing." Yes, Tony Stark. Tell the angsty teenager to not do something. That'll work out well. Also, if you've seen Iron Man 3 a couple dozen times, maybe you'll recognize Peter Parker's shirt.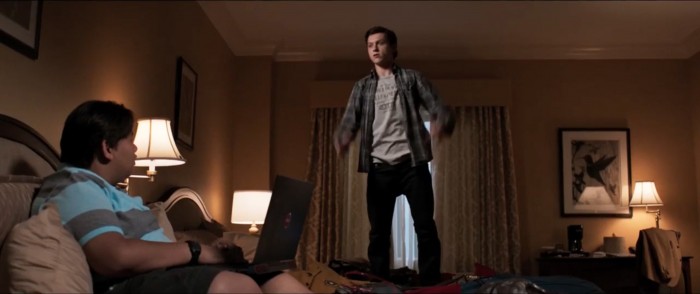 The focus here is Peter complaining to Ned about Tony Stark not respecting him, but you should note the two beds and the lame room furnishings. Yes, Peter and his high school buddy seem to be in a hotel room. But why are they in a hotel room? Where could two smart high school students from Queens possibly be visiting–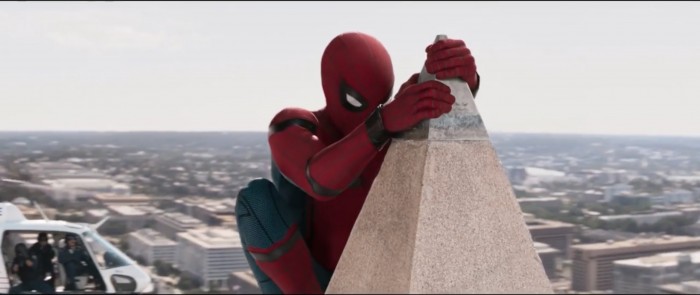 Oh.
(I wonder if they're in town for a science fair of some kind, as suggested earlier. But that's just irresponsible spitballing on my part.)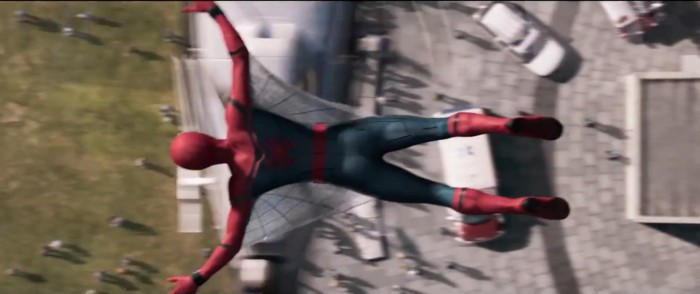 In a nice callback to Steve Ditko's earliest Spider-Man designs, our hero's outfit now has stretchy webbing running from his arms down his sides, which manages to act as a great visual and possibly allow him to glide like a flying squirrel! While the new Spider-Man costume has done a fine job of differentiating itself from from previous cinematic incarnations, this throwback touch makes the whole thing feel complete.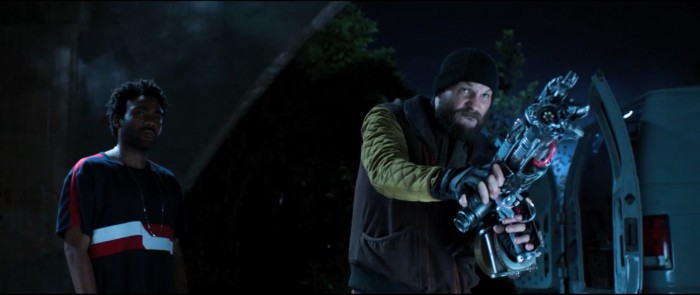 We knew that Donald Glover and Logan Marshall-Green had roles in Spider-Man: Homecoming, but we didn't know who they were playing...and we still don't know who they're playing. But here is Marshall-Green wielding some alien technology while Glover looks on. Could they be compatriots of Adrian Toomes? Maybe even members of the criminal gang seen in the earliest moments in the trailer? Heck, what if they're other Spider-Man villains, waiting in the wings to play a larger role in a sequel? After all, you don't cast two actors as strong as these two and then stick them in sidekick roles...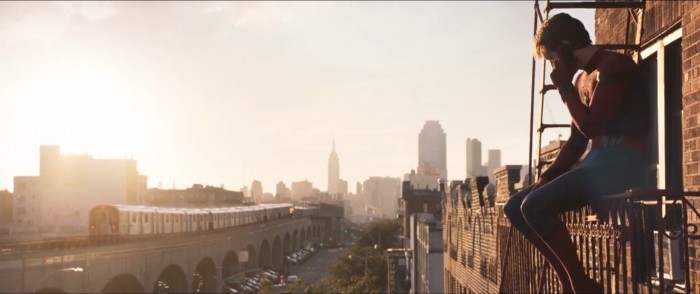 Well, this is just lovely. The Queens skyline. An elevated train. An unmasked Spider-Man, watching the sun rise while he makes up some excuses into his cell phone. It's almost like (don't say it) New York City is (for the love of God, stop) a character in (don't be that cliche, man) this movie!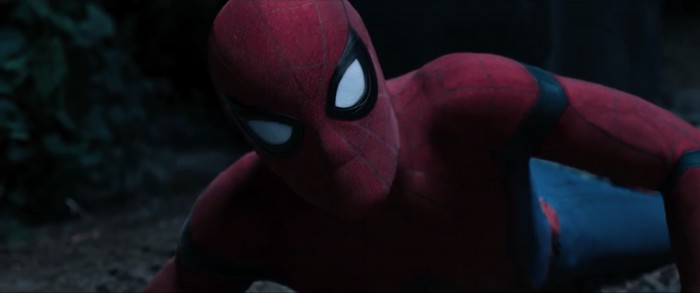 If we're going to be honest with each other, I only grabbed this shot because it's one of our best looks yet at some of the details in the Spider-Man costume, especially that strange texture and the adjustable eyes.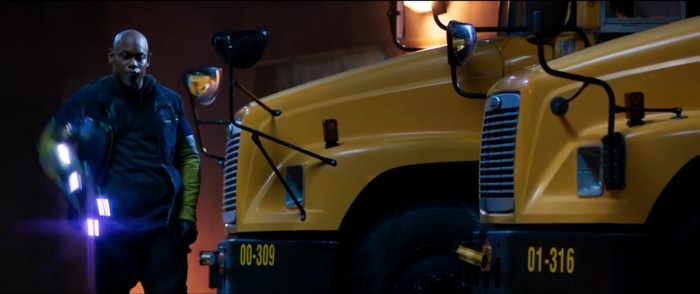 Here's another shot from the international trailer, with Bokeem Woodbine powering up come kind of weapon in a school bus parking lot. Although it hasn't been officially confirmed, we know that he's playing the classic Spider-Man villain Shocker in the film. But we know from those set photos that he eventually wears something resembling his classic yellow outfit, so what's going on here?
Let's put our heads in the clouds for a moment. Is it possible that Vulture isn't the sole villain in this movie? Could he be leading his own group made up of minor Spider-Man villains? That would also explain notable actors like Logan Marshall-Green and Donald Glover being in this movie. Heck, all they need are two more members and you're looking at an awfully sinister six...Waaait.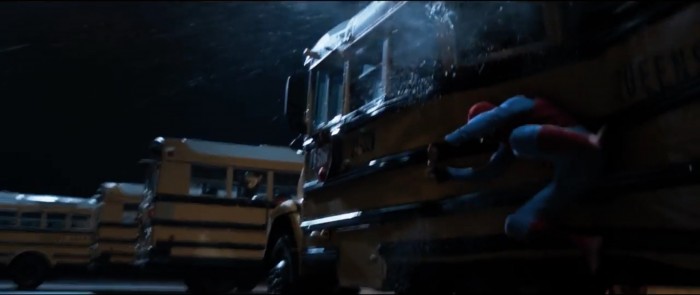 Anyway, it seems that Spidey gets knocked around a bit during his fight with Shocker. Interestingly he doesn't seem to be wearing his new costume in this shot, but rather his baggy homemade outfit glimpsed during Civil War.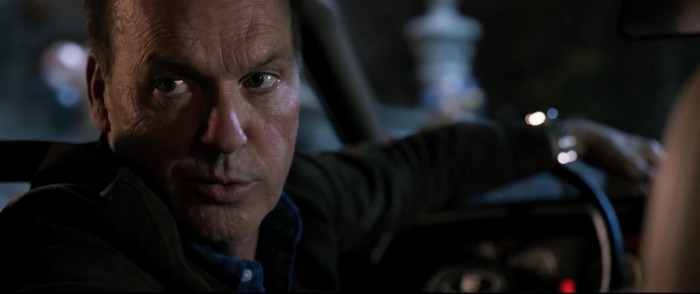 "Don't mess with me. Because I will kill you and everybody you love." Remember how we talked about comic book Vulture being a nasty piece of work to compensate for his inherently silly powers? It looks like Michael Keaton isn't messing around in this part...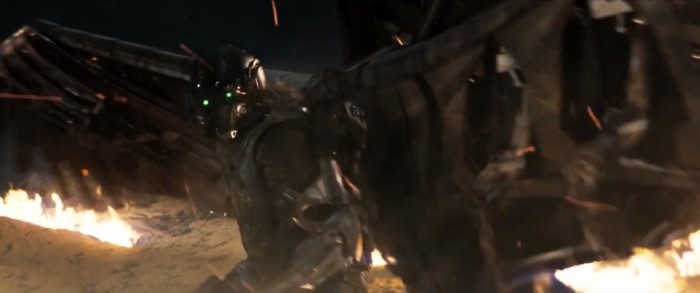 Here's another look at the Vulture, grounded and standing on a beach while flames burn all around him. Upon first glance, this is as effective a costume redesign as anything we've seen in the MCU.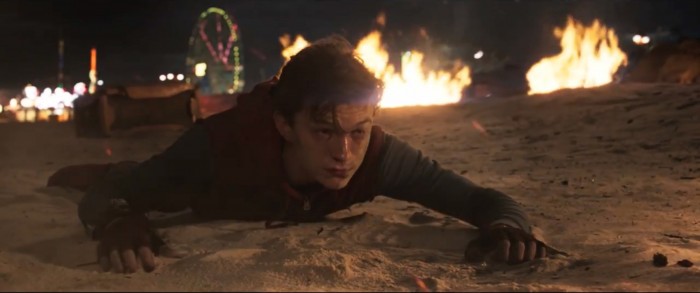 And here is Peter Parker, seemingly on that same burning beach, unmasked and not wearing his high-tech Tony Stark-approved suit. Could this be connected to the battle with Shocker seen earlier in the trailer, where Peter was also not geared up?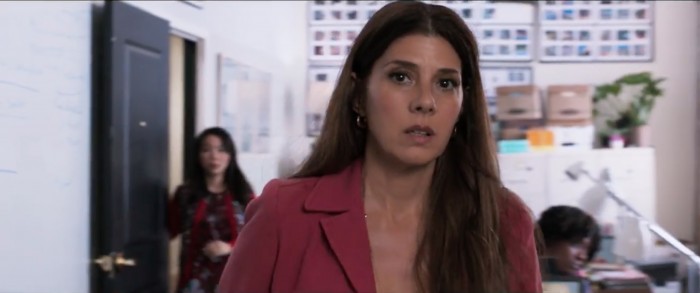 We already met Marisa Tomei's new Aunt May in Captain America: Civil War, but it's still a wee-bit disappointing that the new trailer only offers this brief glimpse of the character.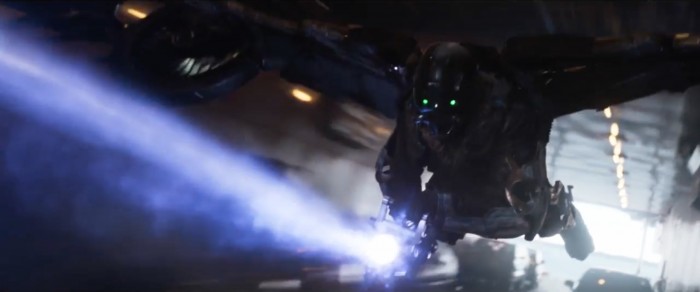 Okay, so at some point the Vuture wields a futuristic cannon that shoots a destructive blue/purple energy beam. That's cool! That's fine! As long as it doesn't embrace the strangest blockbuster cliche of the past five years and create a sky portal, we're golden.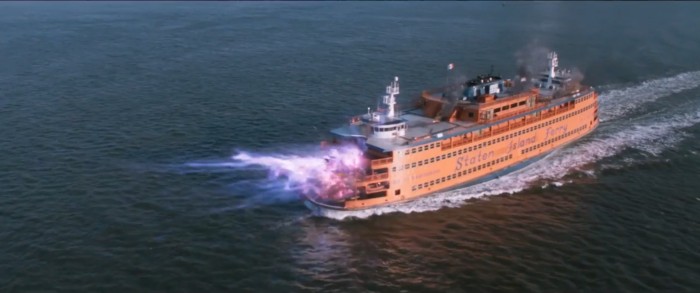 Wait a second...the Vulture is using his alien beam cannon on the Staten Island Ferry? That's just uncool, man. You might as well walk into a New York City gift shop and smash every single "I Heart NY" mug. For shame.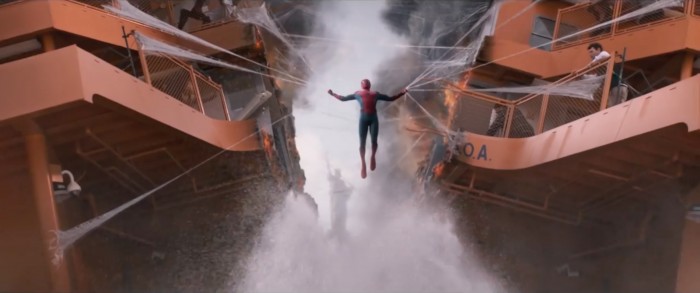 I touched on this above, but I find something weirdly powerful about the big special effects shot on display in this trailer being Spidey desperately attempting to hold the Staten Island Ferry together after the Vulture literally splits it in two. Leave the world(s)-saving to Doctor Strange and Thor – let Spider-Man take care of the people in the (literal and metaphorical) streets. Plus, it's something of a tradition for Spider-Man to save people from New York City public transportation-related disasters.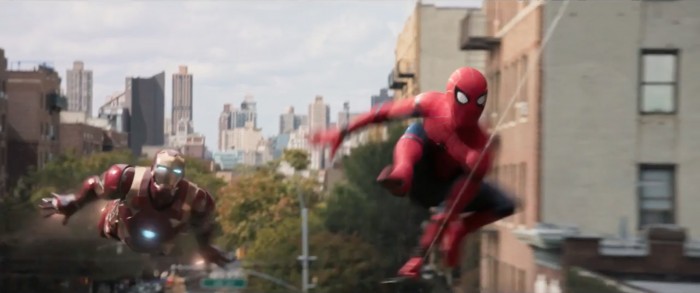 You'd think that seeing Iron Man and Spider-Man fighting alongside each other in Civil War would diminish the sight of these two soaring through the streets of New York...but nah.
***
Spider-Man: Homecoming is set to open on July 7, 2017.