Episode 8 Bits: The Latest Snoke Rumor, A Possible Trailer Detail, And One More Actor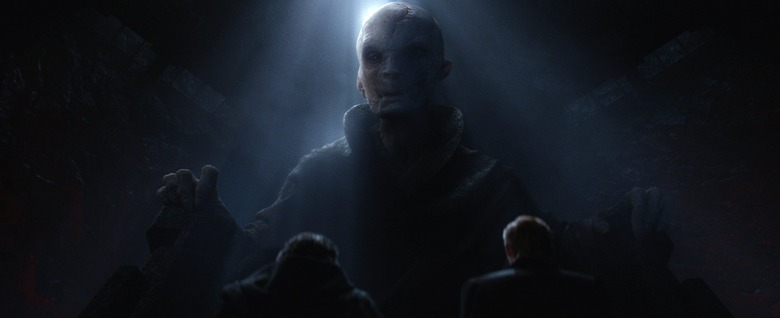 In this edition of Episode 8 Bits:
Supreme Leader Snoke may be a little...different in Star Wars: Episode 8.
Someone claims to know a single line of dialogue from the first Episode 8 trailer.
John Williams will begin recording his Episode 8 score early next year.
Is Adrian Edmondson in this movie or not?
Three seconds of director Rian Johnson on some kind of Star Wars set...
Few modern films have been as dissected as much as Star Wars: The Force Awakens, which has spent the past year ruthlessly examined by every fan. And while everyone has a different opinion about everything, just about everyone seems to be in agreement about one aspect: Supreme Leader Snoke, the mysterious leader of the First Order, was a bit underwhelming. Maybe it was because we learned nothing about him. Maybe it was because he was a fuzzy hologram who was never actually present in the film.
In any case, the character will return for Episode 8 and according to Making Star Wars, he will now be a physical puppet instead of a motion capture creation. While this should be taken with a grain of salt for now, Making Star Wars' track record is second to none when it comes to breaking news like this:
For Star Wars: Episode VIII it appears, at least in part, that Snoke will not be a character generated in a computer. Instead he will be a huge puppet around seven to eight feet tall, taking several people to operate and a man inside a suit to make him walk. Stylistically, it seems as if Snoke may be CGI generated for the holographic communication sequences, but when he has scenes in Episode VIII next to real flesh-and-blood humans like Kylo Ren he will be a practical puppet with facial features operated by the crew.
Since The Force Awakens ended with Snoke deciding it was time to "complete" Kylo Ren's training, this means we'll probably get to see Adam Driver interact with a practical puppet that towers over him. What an age we live in! Naturally, the character will probably be augmented with CGI (as is always the case with most modern practical effects) and we can probably expect Andy Serkis to once again voice the character, even if he will not longer be needed to provide motion capture for every shot. In any case, we will eventually have a bunch of behind-the-scenes pictures showcasing an entire team of people bringing this character to life and that's somehow just as exciting as the movie itself.
While making the character a physical creation instead of CGI is the kind of move that makes little hearts dance above my head, this doesn't guarantee that he'll immediately be an interesting character. Hopefully, the rest of the movie follows through.
Speaking of rumors that demand a fistful of salt, YouTuber Mike Zeroh claims that a trailer for Episode 8 has been cut and that it contains the following line of dialogue, spoke by Mark Hamill's Luke Skywalker to Daisy Ridley's Rey:
You contain the spark that will rekindle the fire.
I'm not familiar with Mike Zeroh's work, so I'm sharing this as a curious party committed to rounding up all of the available Episode 8 news. So, you know, don't believe this as gospel quite yet. But it certainly does sound like the kind of thing a wizened Jedi master would say to a young Force prodigy who starred in a movie titled The Force Awakens.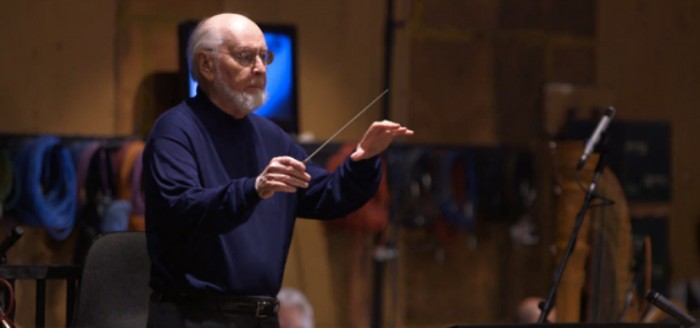 Variety has posted an article delving into the musical scores of Fantastic Beasts and Where to Find Them and The BFG, and since the latter was composed by John Williams, there's this tiny Star Wars update:
Williams concedes that he had hoped for greater commercial success for The BFG, which was deemed a box-office disappointment after its July 1 release. His next film, however, won't be: He begins recording Star Wars Episode VIII in December and expects to record off and on through March or April 2017.
So there you have it – John Williams will begin composing the score for Star Wars: Episode 8 early next year.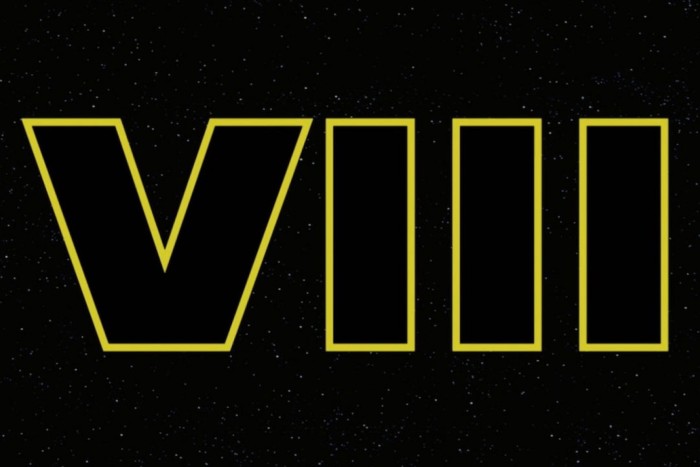 A little while back, there were rumors that British comedian Adrian Edmondson had a role in Episode 8, but those rumors were quick put to rest. But when the BBC asked him about those rumors in a new interview, he hedged his bets:
I wouldn't know if I am or not. I can tell you I've signed a great big non-disclosure agreement for something – I've no idea what it was! [Laughs a lot].
Look, I've been doing this long enough to know exactly when someone who isn't allowed to talk about being in Star Wars is talking about being in Star Wars. I'd put a couple bucks on Edmondson having a small role in the film.
A very brief shot of Rian Johnson on a Star Wars set from Launch Bay. (3 seconds long).
A video posted by Making Star Wars (@makingstarwars) on
Making Star Wars' Instagram page has shared a brief (only three seconds!) snippet from Disneyland's Star Wars Launch Bay exhibit, which features costumes and props and character meet-and-greets and a video full of behind-the-scenes footage...which apparently features Episode 8 director Rian Johnson on some kind of Star Wars set. It's not clear if this is Episode 8...but it could be.