'The Wall' Trailer: Aaron Taylor-Johnson And John Cena Are Under Enemy Fire In Doug Liman's New Thriller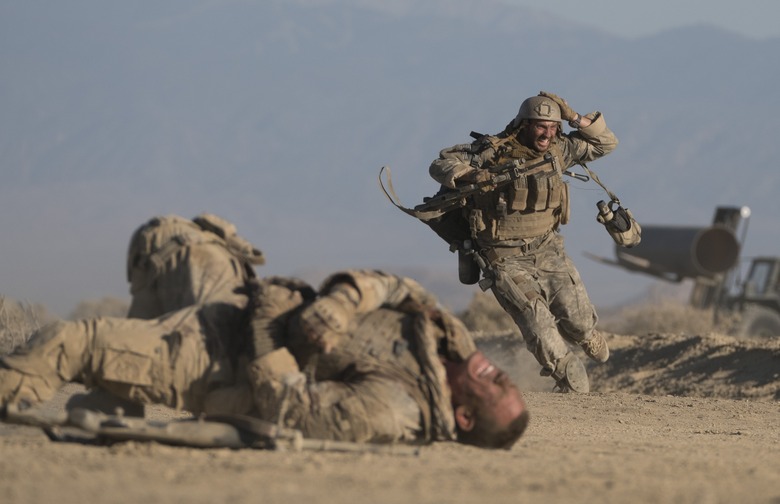 If you need some good news today, then here's some for you: two Doug Liman films are coming out next year. Over a year ago the Swingers and Edge of Tomorrow director reunited with Tom Cruise for the delayed American Made, but he also has a thriller starring Aaron Taylor-Johnson (Nocturnal Animals) and John Cena (Trainwreck) coming out soon. That movie, The Wall, is set in one location and about two soldiers pinned down by a sniper.
Below, watch The Wall trailer.
If this is the first you've heard of Liman's thriller, that's maybe because it got made this year relatively quickly and quietly. Taylor-Johnson was cast in the project just back in May, and seven months later, we already have a trailer for the first original film from Amazon Studios. The studio bought Dwain Worrell's script, which made the 2014 Black List. The Wall was originally described as the smaller picture Liman was going to shoot before Gambit, which he ended up leaving.
The Wall trailer calls to mind other single location thrillers, but maybe Liman, a director whose work is often fresh and exciting, will bring something new to the table:
The first minute of the trailer builds tension well to the moment where everything goes wrong for Taylor-Johnson and Cena's characters. When Cena's character says, "The scope is an extension of my eye, the trigger is an extension of my fist, the rifle is an extension of me, and I strike you down," is the highlight of the trailer. Cena's tone intensifying, the music growing louder, and the faster cutting — that's when The Wall looks like another movie from Liman to see in a theater. Cena showed a new side of himself in Trainwreck, for a performance he maybe should've gotten more credit for, and I'm looking forward to seeing what he does with a director as talented as Liman.
Here's the official synopsis for The Wall:
"The Wall" follows two soldiers pinned down by an Iraqi sniper, with nothing but a crumbling wall between them. Their fight becomes as much a battle of will and wits as it is of lethally accurate marksmanship. Directed by Doug Liman (Mr. & Mrs. Smith, "The Bourne Ultimatum," "Edge of Tomorrow"), "The Wall" stars Aaron Taylor Johnson ("Nocturnal Animals," Kick-Ass," "Savages" "Godzilla," "Avengers: Age of Ultron") and WWE star John Cena ("Trainwreck," "Daddy's Home"), Written by first-time screenwriter Dwain Worrell, "The Wall," was produced by Amazon Studios, Big Indie Pictures and Picrow. The film is produced by David Bartis. Executive Producer is Ray Angelic. Associate Producer is Alison Winter. FilmNation is handling international sales.
The Wall opens in theaters March 10th, 2017.