'Guardians Of The Galaxy Vol. 2' Trailer Breakdown: Going Through The New Preview Frame-By-Frame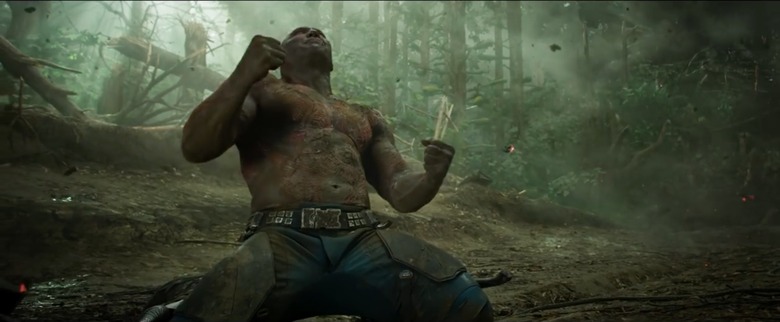 The Guardians of the Galaxy Vol. 2 trailer arrived a few days ago, following hot on the heels of a brisk sneak preview that had been assembled to play in theaters with Doctor Strange. And as you'd expect from any second preview, the new batch of footage is longer, more polished and full of more shots to overly examine, should that be your unhealthy hobby.
Well, it's my unhealthy hobby. Let's go through this thing frame-by-frame.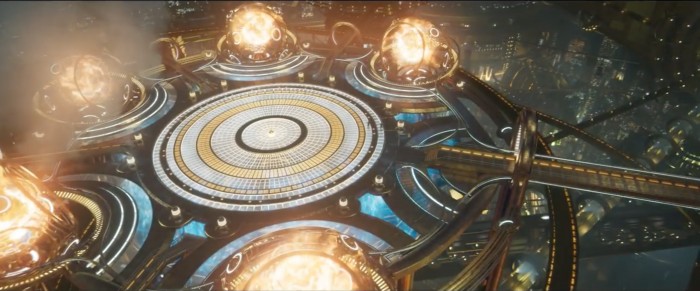 The welcome trend in Marvel trailers (and one that has started leaking into other studios' previews as well) is just how little the footage actually gives away when you actually break everything down. The days of movie trailers essentially acting as the entire movie on fast-forward appear to be blissfully coming to an end! Case in point: this location, which looks like some kind of reactor or (if my Star Trek radar is operating properly) some kind of transportation platform. A great deal of the new trailer is set around this location and while it was glimpsed in the first teaser, we now have a better sense of whether it is – having high above what looks like a major city.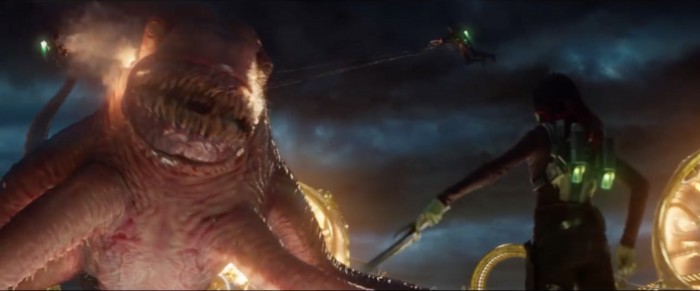 Ah, this beastie. Those who have been following Guardians of the Galaxy Vol. 2 should already be familiar with this big guy, noted by James Gunn as an abilisk. He was teased in some concept art and further teased in the footage our own Angie Han saw at Comic-Con, which featured a scene set in this very location:
We then see the Guardians in a giant glowing circle with spheres surrounding them. Something serious is about to go down. Star-Lord and Gamora begin their usual petty (and funny) bickering about her weapon of choice, a rifle rather than her usual sword. "We've been hired to stop an inter-dimensional beast, and I'm going to stop it with a sword?" she says. "You're the one who's being inconsistent!" he protests.
But the arguing stops when a giant portal opens in the distance and something — perhaps a ship or a creature — comes through. "Showtime, a**holes," says Peter.
io9 later reported that it is Elizabeth Debicki's Ayesha who hires the crew to deal with this threat...although she later evolves into one of the film's villains:
Ayesha is this leader of the Sovereign people. She enlists the Guardians to help her fight a sort of galactical beast. They're this sort of ragtag bunch of people but they happen to be very good at getting rid of things and cleaning up the universe, in a way. So she enlists them and it's all going swimmingly until it all turns very very sour. Let's just say it goes from amiable to not-so-amiable quite quickly.
One more thing: note Star-Lord battling the creature from the sky using a jetpack, a much-needed upgrade from the first film. And one more thing: the amount of shots we've seen from this scene suggests that this is an act one set piece, if not the opening scene.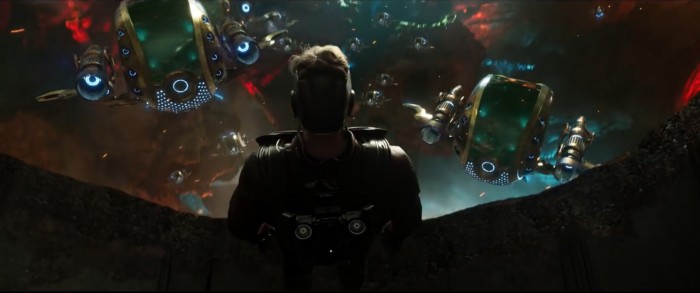 Here's the second location we return to quite frequently: some kind of rocky, cavernous planet full of small spaceships that seem to have it out for the Guardians. We will return here.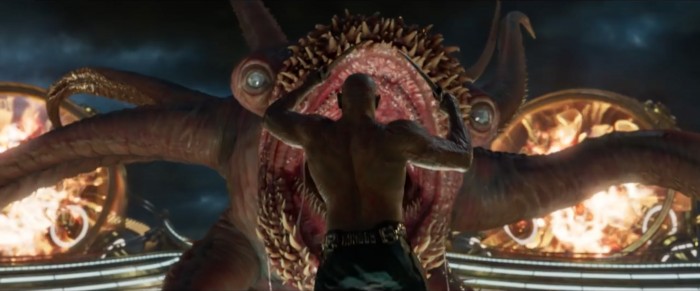 And here we are, back at that first location with all of those glowing spheres and/or portals. And here is Drax doing what he does best – literally jumping face first into battle with no regard for his own safety. There's a little pay-off for this moment later in the trailer.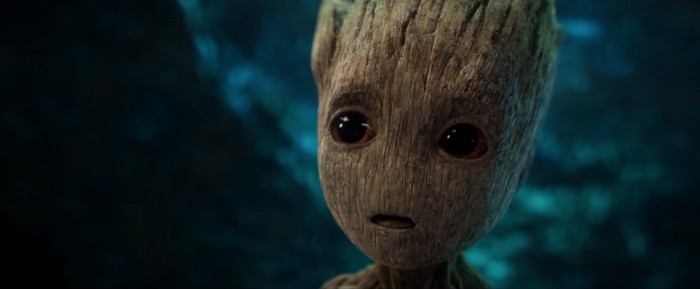 Meet Baby Groot. Holy effing crap. He's so adorable I can't even effing swear around him. Unlike most of the other Marvel Cinematic Universe movies, which tend to take place in "real time" with about two years passing between between solo adventures, Guardians of the Galaxy Vol. 2 takes places only months later, so the newly regrown Groot is very much a curious toddler. They are going to make. So. Much. Money.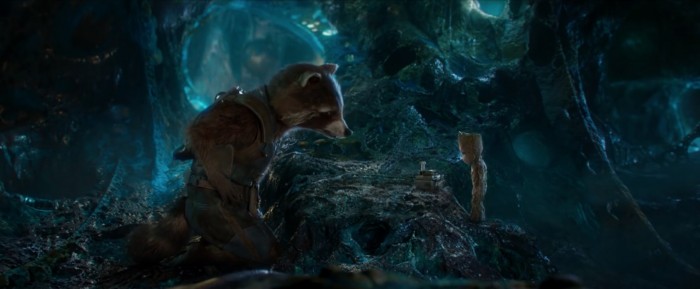 I know I can't speak for every human in existence, but I'm happy to know that there's a major Hollywood franchise that can build a large piece of its trailer around a genetically modified raccoon trying to convince a tiny tree baby to not accidentally set of an explosive device. That's weird and adorable and it just makes me happy, darn it. Don't swear in front of Baby Groot.
We actually saw this same shot from the first teaser, but I'm including it here because it reveals a third planet/location from the film: a forest that the Milano has touched down in. The fact that Drax is carrying a few large packs suggests that they have a hike ahead of them.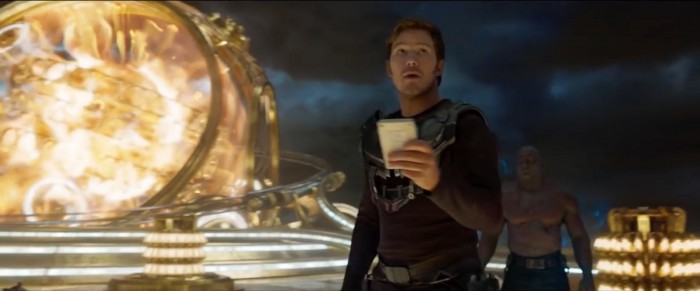 "Showtime, a-holes!" We're back at that first location and it's interesting to note that this appears to be an alternate take from the footage Angie saw at Comic-Con, where Chris Pratt delivered the full profanity. Maybe Baby Groot is lurking nearby...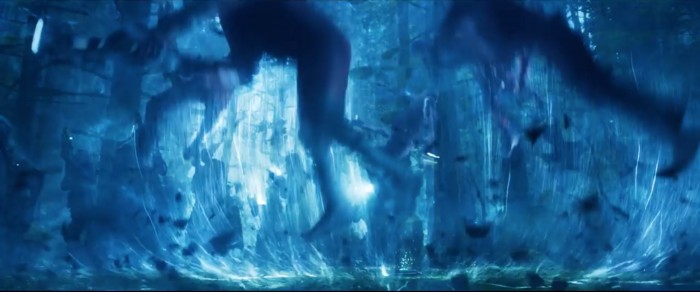 This appears to be the same forest location we glimpsed a few shots ago and those appear to be the Ravagers, Star-Lord's former mercenary comrades. We know that they take on more of a villainous turn in the sequel (ousting Michael Rooker's Yondu from his leadership position) and we also know that Rocket was waiting for them to arrive at this very location, detonating a mine...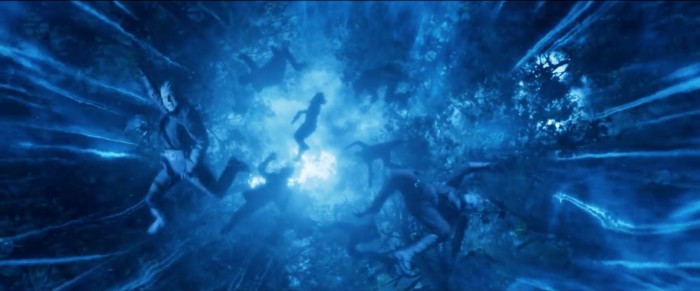 ...that sends them flying into the air...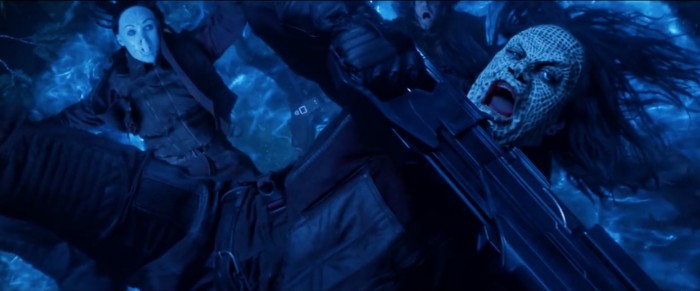 ...and into this shot we already saw in the first teaser.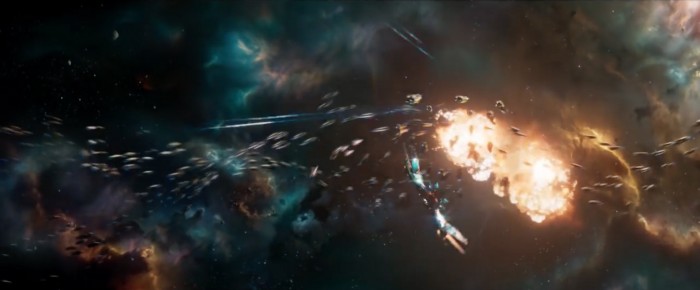 This shot of the Milano evading a swarm of enemy ships is nifty, but it's even niftier if you note that the sky appears to match that of the rocky planet where we see Star-Lord facing down another swarm of enemy ships while Rocket and Groot mess around with that bomb. Could this be the film's big climactic setting?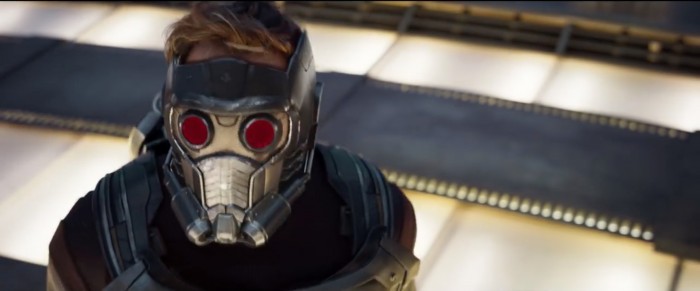 Look, I'm not going to be the guy who puts his hands on his hips and demands that Marvel and James Gunn hide Chris Pratt's handsome mug, but when you have a mask this cool, you might as make use of it for more than a scene or two. Is it too much to ask for Peter Quill to go full-Star-Lord for every major action scene in this movie?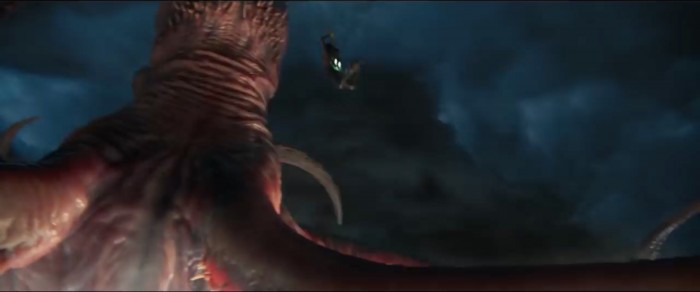 Here's another shot of the big battle with that inter-dimensional beast, but with Gamora doing what she does best.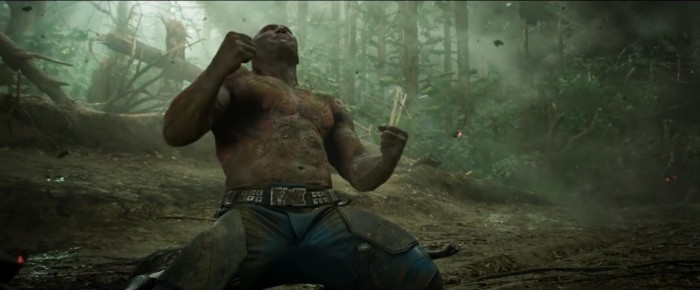 "Screw you, spaceship!" The best Drax is an over-dramatic Drax, but what spaceship is he yelling at? Considering that this is the forest location seen earlier, is it possible that the Milano hasn't landed, but was shot down? And that Drax is yelling at the perpetrators? It would certainly explain why they're packing so much stuff while leaving the ship.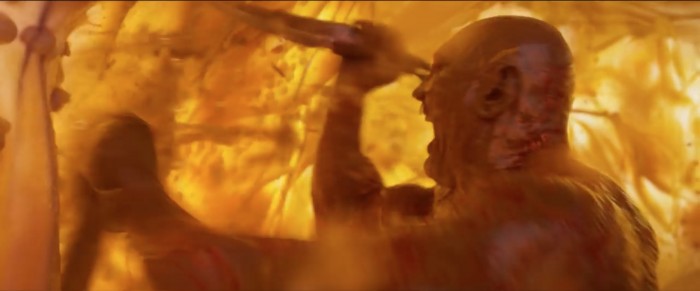 Remember that shot of Drax leaping into that creature's mouth? It looks like he reaches his destination and decides to, well, get out.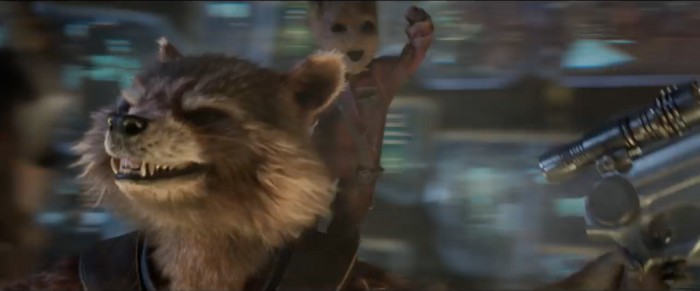 In a cute inversion of that shot in the first film where Rocket stands on Groot's shoulders and spins him around as he opens fire, here is Baby Groot standing on Rocket's shoulders as he shoots. Aww. The most adorable gun battle.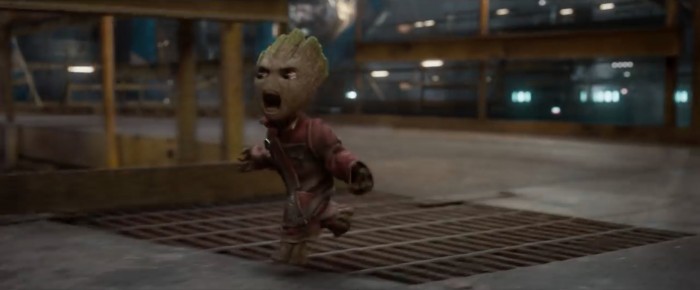 Why is Baby Groot dressed in Ravager gear? The Comic-Con footage explained this, saying that the Ravagers capture the team, threaten to poke Baby Groot's eyes out, and then:
Fear not — the Ravagers don't end up poking Baby Groot's eyes out after all. They do, however, put him in tiny (adorable) Ravager gear and start screaming at him to fight. Baby Groot looks terrified and sad, and the entire Comic-Con crowd "aww-ed" at the sight.
And while we're here – So. Much. Money.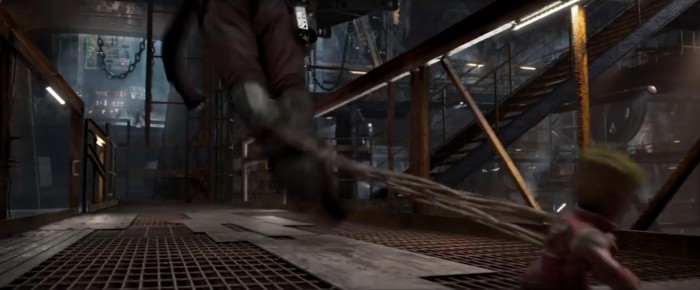 And, of course, Baby Groot isn't a pushover when it comes to combat. Even though his vine arms can't impale a dozen henchmen (as seen in the first movie), they can topple over a lone Ravager and send him flying off the edge of the catwalk...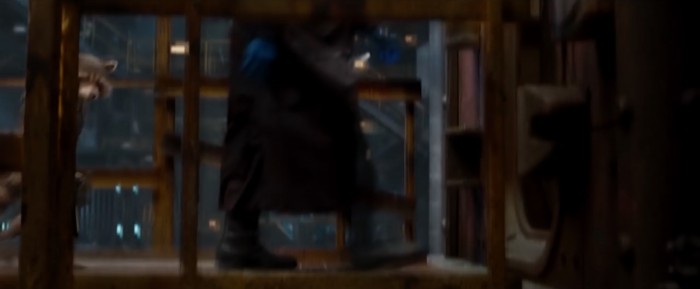 ...and past Yondu, who we know will have a major action scene in this location thanks to our Comic-Con report:
We cut to a Ravager shaving in the bathroom when he hears music playing. He walks out to see Ravagers trying to figure out what's going on. They buzz open a gate to see Yondu and Rocket Raccoon calmly sitting in the middle of a room. Yondu stands up, wearing the prototype fin — it looks essentially like a giant glowing red clear plastic mohawk, but what's really cool about it is that it lets him control a glowing red arrow. Said arrow goes through two of the Ravager guards and Yondu, Rocket Raccoon, and Baby Groot hero-walk out of their cell.
The Ravager captain wakes up to realize what's happening, but it's too late. Yondu unleashes the arrow which flies straight toward the camera... and then right through a bunch of guards, one at a time. We see slow-motion close-ups of the Ravagers at the exact moment they're hit.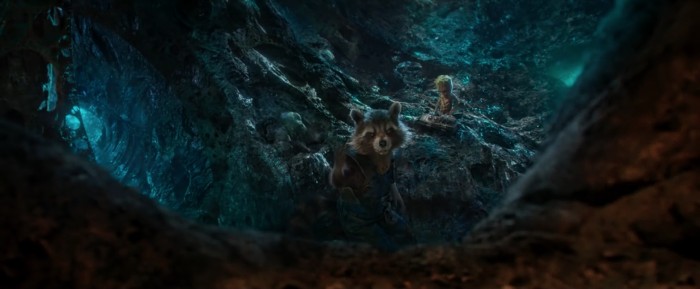 Ah, yes. Here are the Guardians of the Galaxy doing what they do best: bickering.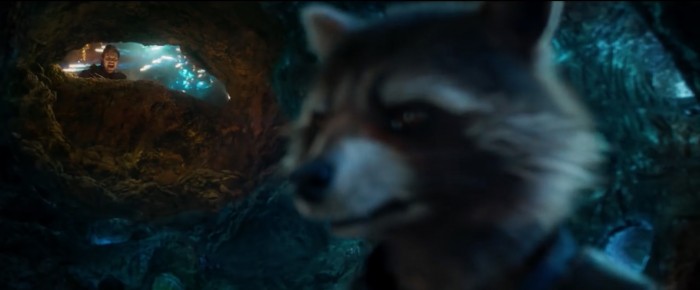 And as you can see in this shot, Rocket's nuclear bomb training with Baby Groot is occurring while Star-Lord is in the midst of that frantic battle with all of those tiny spaceships, as seen previously.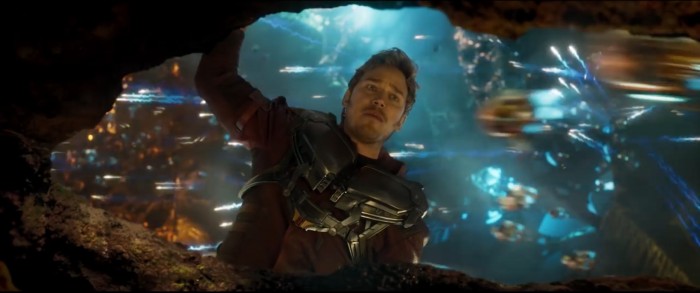 It's not clear why this battle is happening or even who they're fighting, but it is clear that no one is happy that the fate of the galaxy relies on a toddler plant not pushing a red button.
Is this desert planet a new location or simply the one seem above during the day? In either case, here is Gamora being pursued by a Ravager ship (or maybe a hijacked Milano?).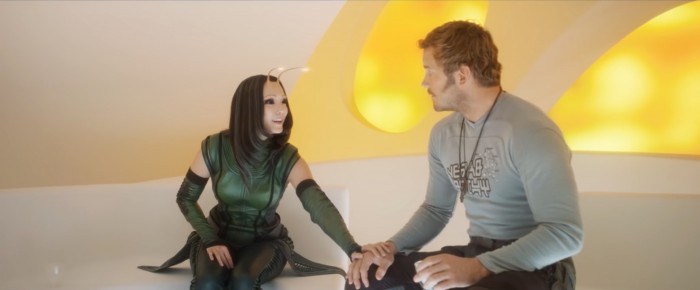 Meet Mantis, the alien empath played by Pom Klementieff. As she explained at Comic-Con:
"I'm a new character called Mantis and I'm an alien. I have empathic powers and I've spent my life with Kurt Russell's character before meeting all the Guardians."
Of course, Kurt Russell's character is Ego the Living Planet, who just so happens to be Star-Lord's father. Does that make Mantis his step-sister of sorts? This is a slight departure from the comics, where Mantis is born on Earth but adopted by the alien race known as the Kree, who believe her to be the "Celestial Madonna" and the most important thing in the universe. Since the Kree were introduced in the first Guardians film, this backstory may surface yet...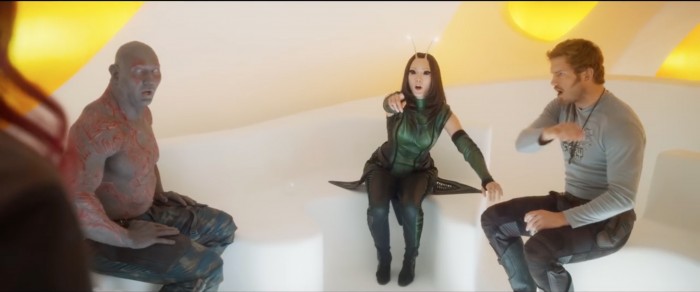 Of course, Mantis' empathic abilities (and apparent naivete) leads her to announce Star-Lord's "sexual love" for Gamora. After all, is is vitally important that Peter Quill think he's cool while everyone else in the galaxy conspires to make him look like a total buffoon.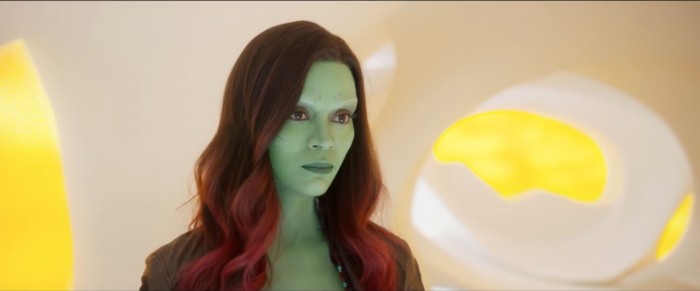 Gamora isn't too amused by the whole thing...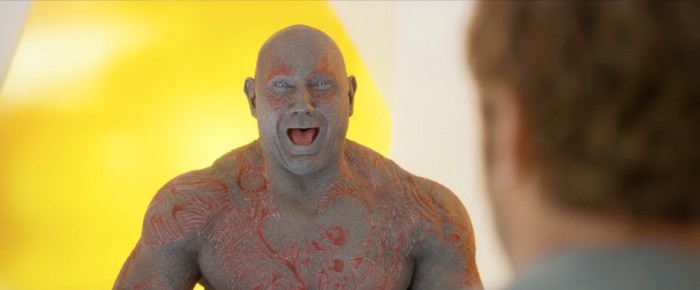 ...but Drax's reaction is just about perfect. Dave Bautista's combination of bluster, honesty, and idiocy was my favorite part of the first movie and it looks like he'll be back in full force for the sequel.
***
Guardians of the Galaxy Vol. 2 opens on May 5, 2017.