Groot May Fight Hulk And Get A Spin-Off With Rocket Raccoon, According To Vin Diesel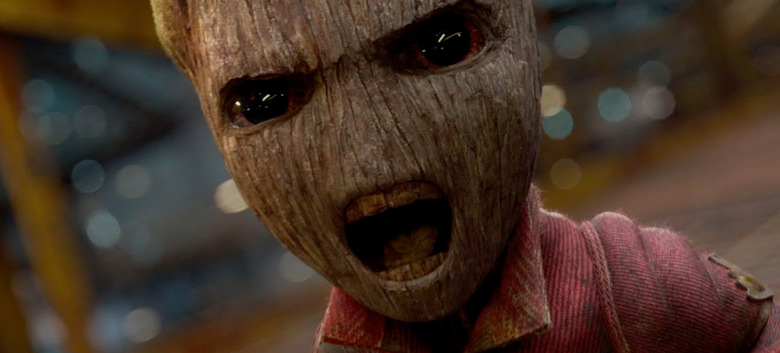 Plenty of people are excited about Guardians of the Galaxy Vol. 2, and the 81 million views that the official teaser trailer for the Marvel Studios sequel racked in the first 24 hours it was online is evidence enough of that. That number makes it the second most watched teaser trailer in a 24-hour period, coming in just behind Beauty and the Beast, and the buzz is only going to grow. However, there might be something else to be excited about outside of Guardians of the Galaxy Vol. 2, concerning one of the members of the cosmic crew.
Vin Diesel recently sat down for an interview where he was asked about the future of Groot in the Marvel Cinematic Universe. We know he's going to be quite the scene-stealer again in Guardians of the Galaxy Vol. 2, but what about beyond that? Well, Diesel teased some big things for Groot, including a potential fight with Hulk and maybe even a spin-off following the walking tree and his trusty pal Rocket Raccoon. Find out more about the Rocket Raccoon and Groot spin-off after the jump.
Vin Diesel was promoting xXx: The Return of Xander Cage at Comic Con Experience 2016 in Sao Paolo, Brazil, and Roth Cornet from ScreenJunkies had a chance to talk to him about the future of Groot during her interview. The clip was featured in the latest episode of ScreenJunkies news (which you can watch over here), but here's what Diesel had to say when asked about the possibility of a Groot and Rocket Raccoon spin-off ever happening:
I think if it's up to James Gunn, you are going to see a Groot/Rocket movie after Infinity Wars. I think that's highly possible. We shall see.
However, that wasn't all that Diesel said on the matter. In the same breath, he also added:
I know that, somewhere in the universe, you are going to see Groot and Hulk battle. I know it. You can write it somewhere. You are going to see that poster: Hulk vs. Groot.
The first thing to take into consideration here is that Vin Diesel is an expert hype man. He knows how to get his fans excited, and this is a great way to do that. Secondly, I'm skeptical as to whether Diesel actually knows about these things being in discussion at this point. A Groot and Rocket Raccoon spin-off would be so far out at this point, that I can't imagine Diesel knowing about it just yet, even if he is one of the title characters. Plus, if that were the case, would be even be allowed to talk about it? Diesel has always played by his own rules, teasing his work on Marvel projects, so it might not even matter, but it's something to consider.
As far as the possibility of seeing Groot fight Hulk, there are only two ways we can see that happening anytime soon. First, let's not forget what James Gunn already told The Playlist about the rumors of Hulk appearing in Guardians of the Galaxy Vol. 2 with a Planet Hulk storyline:
It feels like a great relief to finally say this after all the dumb stuff on the Internet. There's not going to be a Planet Hulk movie, there was never going to be a Planet Hulk movie, there was never a plan for the Hulk to team up with the Guardians of the Galaxy – I wouldn't want the Hulk to team up with the Guardians of the Galaxy! And it's all a bunch of complete bullshit.
However, we do know that the Planet Hulk storyline is being reworked for Thor: Ragnarok. So if there was a point that Groot would fight Hulk, it would be in the gladiator arena where The Big Guy and the God of Thunder will also battle. There haven't been any rumblings of that happening, but maybe Marvel is just keeping the secret well.
The other option would be Hulk and Groot coming to blows in The Avengers: Infinity War. Maybe there's a point when the Guardians of the Galaxy and The Avengers are in pursuit of another Infinity Stone and they come to blows before realizing they should be allies instead. It's not out of the realm of possibility, but this is all speculation at this point.
For now, we'll take what Vin Diesel said with a grain of salt, but if there is the potential for a Groot and Rocket Raccoon spin-off, you can bet that I'll be excited as hell to see it.