Rogue One Bits: A Chinese Trailer Brings More Footage, A New Clip Introduces Orson Krennic, And A New Theory About Darth Vader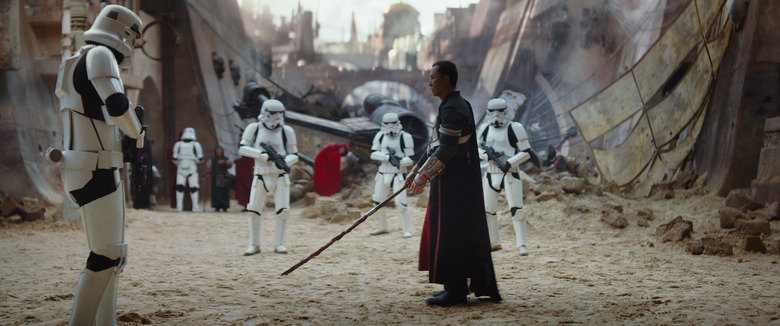 In this edition of Rogue One Bits:
A new Chinese trailer introduces more footage.
Three new TV spots promise lots of doom and a little bit of hope.
A new clip shows off a conversation between Ben Mendelsohn and Mads Mikkelsen.
New interviews with director Gareth Edwards.
The Rogue One: A Star Wars Story premiere will somehow manage to make Los Angeles traffic even worse.
A very interesting observation about Darth Vader's potential role in the film.
If you're torn between wanting to watch just a little bit of Rogue One and not wanting to spoil anything, I'd recommend checking out this quick scene that has made its way online. It's literally from the first five minutes of the movie.
While Rogue One looks to be a slightly darker Star Wars tale that deals with characters who can't be defined as purely good or evil, this new TV spot sells it as a hopeful and inspiring experience...with some onscreen text that sneakily sells it as taking place directly before A New Hope.
But if it's destruction and overwhelming odds and heroes facing off against a military machine capable of grinding them into dust is what you want, then this other TV spot delivers the goods.
And this third new TV spot jumps right back to the whole "hope" thing again.
And that brings us to the new Chinese trailer for the film, which opens with actors Donnie Yen and Jiang Wen providing a quick introduction and proceeds to showcase just enough new footage to be worth your time. Naturally, the trailer's best moments are built around the film's two Chinese leads.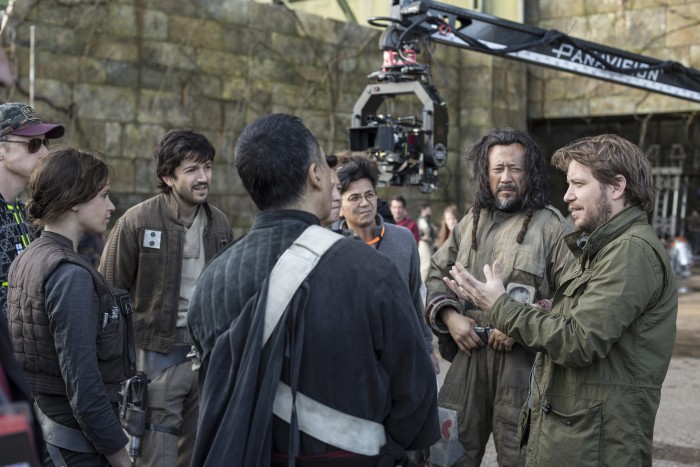 In an interview with the French website TF1, Gareth Edwards spoke about what we already know – Rogue One won't open with an introductory crawl, but rather with a "prologue":
There is no opening crawl. But there is a prologue at the beginning of the film that takes place 15 years before the action of the film and that is how the action is exposed. Our film comes from the text of Episode IV...if we give the text, it would be endless. We really had to differentiate Rogue One from the rest of the saga.
I already wrote about the 28 minutes of footage that were screened for press and I can report that it mostly seems to work. We still get the familiar "A long time ago, in a galaxy far, far away..." text, but the film leaps into action directly after that, with the film's title given its own dramatic introduction elsewhere. It's a blend of the old and the new that will delight as many Star Wars fans as it perturbs.
While the reaction to the footage has been mostly positive, I did have some concerns about the pacing. And that is why this Gareth Edwards interview with ComicBook.com feels like a bit of a relief – even he seems to think certain parts don't work especially well out of context:
It feels good, and it's a relief. Because I feel like the best is yet to come. The little clip we showed is not really – the film is built as a whole, so it's really hard to show bits and pieces. It's a journey that you and the characters go on. So I really can't wait for you to see the rest of the movie, because it builds and builds.
For more from Gareth Edwards, you can look to this video interview from IGN, where he discusses the state of the Jedi during the events of Rogue One. The short version: they're gone and practically forgotten by the vast majority of the galaxy.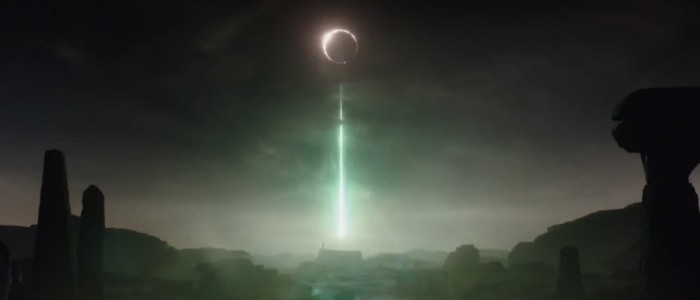 Sorry, residents of Los Angeles, but it looks like the premiere of Rogue One will do a fine job of making your already frustrating traffic even worse. According to The Hollywood Reporter, street closures have already begun and will continue throughout the week:
All lanes of Hollywood Blvd., between Ivar Ave. and Argyle Ave., will be closed. Hollywood Blvd., between Cahuenga Blvd. and Ivar Ave.; and between Argyle Ave. and Gower St., will be soft-closed (local access only). Vine Street., from Yucca St. to just south of Hollywood Blvd., will be closed from 9:00 p.m. on Friday, December 9, until 9:00 a.m. on Sunday, December 11. Vine Street, from just south of Hollywood Blvd. to Sunset Blvd., will be soft-closed (local access only) from 9:00 p.m. on Monday, December 5 until 3:00 p.m. on Saturday, December 10.
The day of the premiere, Saturday, December 10, all lanes of Hollywood Blvd., between Cahuenga Blvd. and Gower St.; and all lanes of Vine Street, between Yucca St. and Sunset Blvd., will be closed from 3:00 p.m. until 7:00 p.m.
I'm not sure how I feel about this video featuring twerking Stormtroopers and dancing AT-AT Walkers, but we here at Rogue One Bits are committed to compiling as much as possible about this movie...so here you go.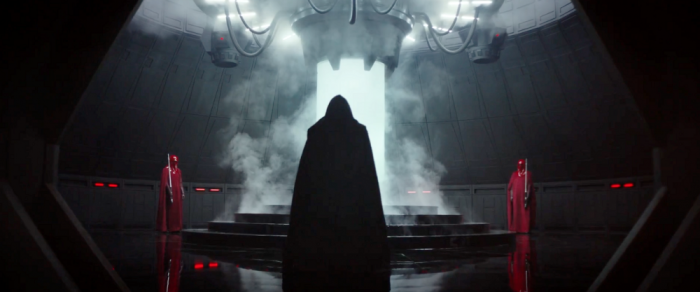 This is where we're going to dip a toe into speculation territory (and therefore, potential spoiler territory). With less than two weeks before Rogue One's release, no one will think any less of you if you bow out.
Anyway, you remember that shot above from the first Rogue One trailer and while it hasn't been confirmed, it looks an awful lot like a Bacta Tank, a medical device used in the Star Wars universe for speedy healing (you may remember Luke being immersed in one after his encounter with the Wampa in The Empire Strikes Back). While watch a recently released featurette, Star Wars News Net took a closer look at this behind-the-scenes shot: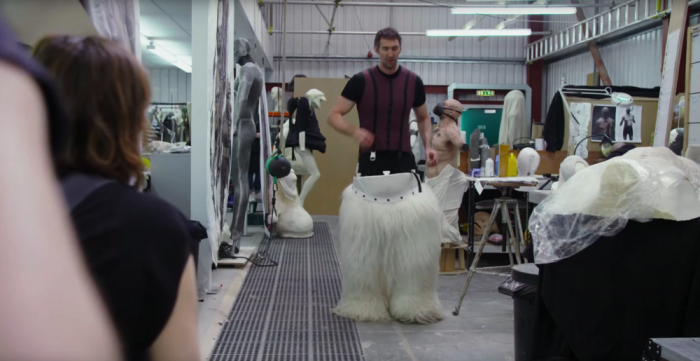 Look to the far right of the frame. You will see a torso wearing a breathing apparatus and some art depicting said torso...which happens to be missing a couple of limbs. Sound familiar yet? While we don't know the exact circumstances, it certainly looks like Rogue One will offer a glimpse at Darth Vader outside of his suit, possibly attempting to heal himself from the injuries that require that suit in the first place.