Photos: 'Sense8' Sets Season 2 Premiere Date, Confirms Christmas Special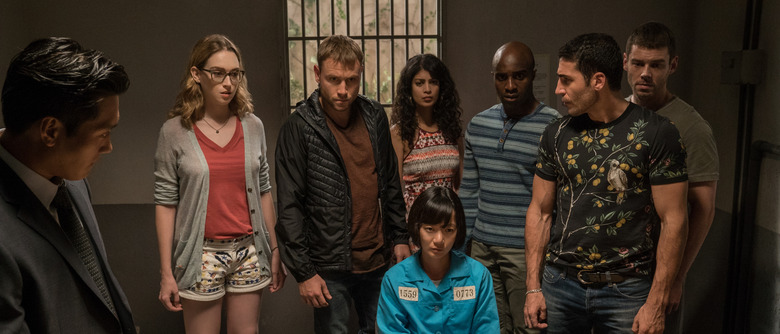 Netflix comes bearing gifts. Whether they're wanted or unwanted gifts, though, will depend on your tolerance for Lana and Lilly Wachowski and J. Michael Straczynski's brand of metaphysical sci-fi insanity. The streaming service has officially announced that a Sense8 Christmas special will drop later this month, just as we suspected. But that's not all. They've also confirmed a Sense8 season 2 premiere date for 2017, and shared a batch of first-look photos from the new run of episodes. 
Mark your calendars: Sense8: A Christmas Special will hit Netflix Friday, December 23 at 12:01 AM Pacific time. Netflix also released a synopsis, but it really just recaps the basic premise of the series: "The journey continues as these eight singular hearts and minds weave in and out of each other's lives finding deeper connections, learning darker, more desperate secrets about one another and struggling to identify with more than just oneself."
I honestly can't think of a better time than Christmas to bring back Sense8, which is entirely about love and connection and all that goopy stuff. (There's also some action and intrigue, because earnest sentimentality plus ambitious action is the Wachowski way.) If that doesn't sound like holiday spirit, I don't know what does. And I honestly can't think of a better moment for this show than now, hot on the heels of a depressing, difficult year. This really isn't a show for everyone — and if you've tried out season one, you probably already know whether or not it's a show for you — but I know it left me feeling all warm and fuzzy inside.
Anyway, once we've watched the Sense8 Christmas special, the five-month wait will begin for season two. The ten-episode second season hits Friday, May 5 at 12:01 AM Pacific time. The synopsis reads as follows:
Picking up where season one left off, Capheus (Toby Onwumere), Kala (Tina Desai), Lito (Miguel Angel Silvestre), Nomi (Jamie Clayton), Riley (Tuppence Middleton), Sun (Doona Bae), Will (Brian J. Wright) and Wolfgang (Max Riemelt) come together both physically and mentally, plunged into the middle of each other's tragedies and triumphs. On the run from Whispers (Terrence Mann), and forced to question their very identity, it's a matter of survival as the Sensates must find a way to live with, understand and protect one another against all odds.
Again, that doesn't tell us much. The Sense8 season 2 first look photos are a little more informative. Kala and Wolfgang continue to be fixated on each other, apparently. Will is still looking out for Riley, and still unable to get Whispers out of his head. Lito and Hernando are still the cutest. And nearly the whole gang comes together to help out Sun, who's still in jail. There is one major, very visible change, however: the role of Capheus is now being played by Toby Onwumere, who replaces Aml Ameen. Judging by that big group photo, it doesn't look like he's having too much trouble fitting in.