The Best & Worst Sketches From Emma Stone's 'Saturday Night Live'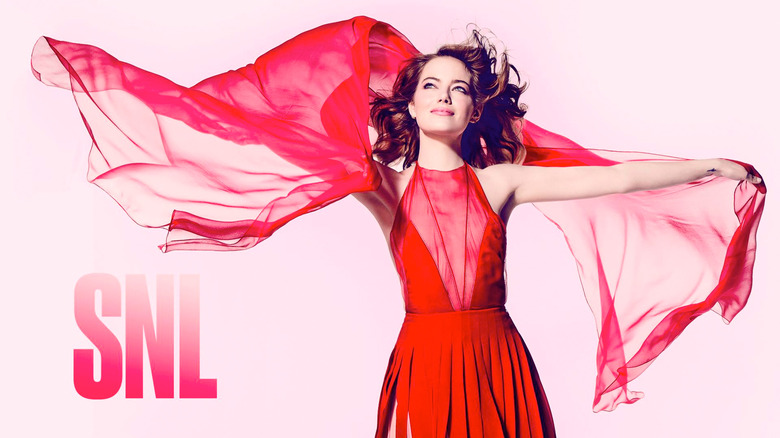 As the first of three episodes that will close out the end of 2016, Emma Stone hosted Saturday Night Live last night for the third time, and hopefully it's an indication of a strong finish for the cast, writers and crew of the staple sketch show. A solid episode brought some great sketches, including the return of Alec Baldwin as Donald Trump and a cameo from one of the stars of Office Christmas Party, besides the SNL cast members who also star in the movie.
We run through the best and worst sketches of Emma Stone's Saturday Night Live after the jump.
The Best
Wells for Boys – This is just a brilliant sketch. Not only is is a perfect parody of toy commercials, but it's also a great send-up of suburban families who treat their kids like they're fragile ceramic dolls. I laughed so hard when Bobby Moynihan asked what the kid was putting in the well and Emma Stone perfectly responded, "A secret," just like she was in a terrible Lifetime movie.
High School Theater Show – The way the cast plays up the pretentiousness of this high school theater group never gets old. Even though the reactions from Kenan Thompson and Vanessa Bayer weren't as good as they usually are, this was still one of my favorites of the night.


Film Screening – Oh man, I am so glad Kate McKinnon's veteran actress character from the season premiere with Margot Robbie has become a recurring one. Debette Goldry's experiences from classic Hollywood rival the awful hardships that her Russian character Olya Povlatsky has to endure. Her stories from the set with dated chauvinist and sexist behavior are outrageously funny, and the best part is that the rest of the cast has a hard time keeping a straight face.


The Nativity Story – It's kind of amazing that we've never seen a sketch like this done before. Having Mary and Joseph act like a normal modern family after having a baby is a simple, funny idea and it's executed very well, mostly thanks to how earnest Emma Stone is in her approach to the character.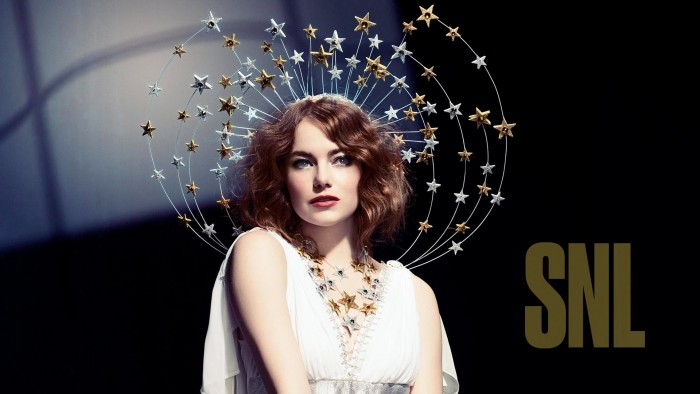 The Average
The Christmas Candle – Look, there's nothing wrong with this sketch. It's actually kind of perfect. But it just wasn't quite as funny as I hoped it would be. The 1980s style of everything, the funny because it's true concept, the clever song writing, it's all there. But I just didn't fall in love with it the way that I did something like the Emmy-nominated "(Do It On My) Twin Bed" song.
Classroom – Alec Baldwin is back and still great as Donald Trump. Breaking the reality of the sketch in order to address the fact that the Twitter users referenced and lampooned are real people just goes to show you how ridiculous things have gotten with our President elect. The downside to this sketch is the going back and forth between these people and Trump was a little clunky, but the mockery worked well, even if Trump is already a mockery himself. Case in point, Donald Trump responded to a sketch about him tweeting mindlessly and often by tweeting about Saturday Night Live again. It's just all too easy.


Cleaning Crew – This was a very funny sketch with some clever songs, but Leslie Jones was not the right person to make the third part of this trio. There is part of me that thinks seeing her put on a terrible version of the accents that Emma Stone and Cecily Strong have is funny, but not funny enough to save it from feeling like a misstep.
The Worst
The Hunt for Hil – Even though this looks, sounds and feels just like those stupid Bigfoot shows you see on whatever cable channel needs a timeslot to fill, the production design and style wasn't enough to make up for the fact that this just wasn't very funny.


Posters – The concept of this sketch is an interesting one, but this feels more like a high school instructional video turned into a comedy sketch. The jokes don't land very well until towards the end of the sketch, despite the fact that Emma Stone is perfect in her character as some bubbly model with a hot dog.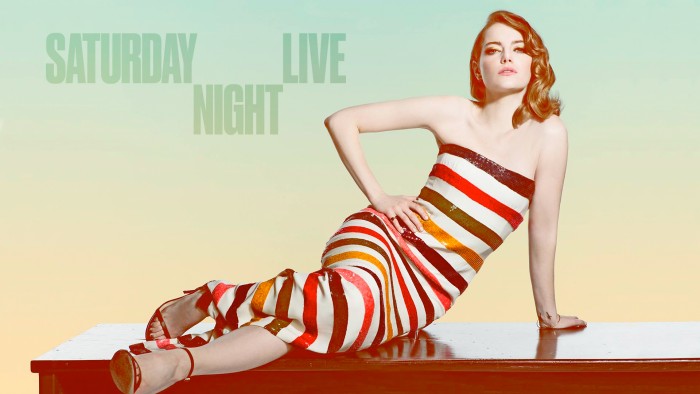 Weekend Update
Michael Che and Colin Jost have been great this season about having natural riffs between them after jokes land awkwardly, and this week had a great moment after Jost delivered a line in the most whitebread way possible. Plus, their back and forth when it comes to the ridiculous state of our future elected president has been great for Weekend Update in general.


Leslie Jones on Women's Sexual Satisfaction – Leslie Jones is hit or miss with me when it comes to her Weekend Update segments. When she's nails it, she really nails, and this one was one of the good ones, to the point that she even made herself laugh. Even in her less impressive appearances at the desk, her flirting lines to Jost are always great, and this one was solid too. But again, they need to her Jones sparingly in this capacity so her appearances have some comedic sway.
Rachel from Friends on 90s Nostalgia – It has always seemed weird that Vanessa Bayer was doing a perfect impression of Jennifer Aniston's character Rachel from Friends on Weekend Update every now and then. It wasn't timely, which was part of its comedic charm, but now it seems like it's reached a peak with Jennifer Aniston stopping by herself.
The Host
Even though Emma Stone may not have landed a role on All That after the auditioned for the kids' version of Saturday Night Live on Nickelodeon, her hosting turns on SNL show that she could easily be a regular part of the show's cast. She just fits in, throws herself into every character, and has an endless amount of charisma and appeal. She's on par with Justin Timberlake when it comes to hosting, and she can come back anytime.
The MVP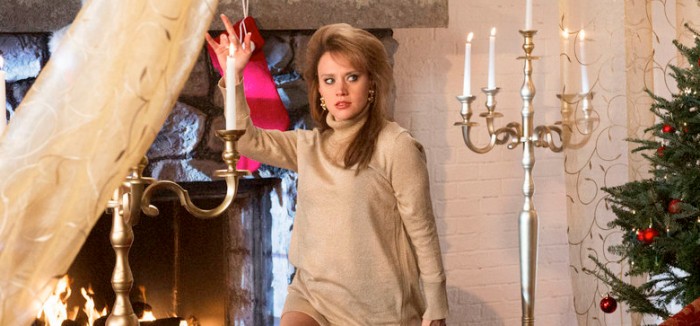 Kate McKinnon – She's just flat out SNL's best cast member period right now, and this episode was full of her greatness. For me, it was her turn as Debette Goldry that sealed the deal, but her recurring role as Kellyanne Conway is always spot on too. It's not like it's a competition as to who is funniest, but she's consistently the hardest one to top.
The Final Word
Emma Stone is one of those hosts who will always be good on the show, and thankfully the cast and crew brought their A-game to make sure it was a good episode surrounding her. There were only a couple sketches that didn't work for me, and almost all of the best sketches were live instead of pre-recorded, which doesn't happen very often. This was a solid episode and hopefully SNL can keep the momentum going for the final two episodes of the year as well.
We'll be back after John Cena hosts Saturday Night Live on December 10.