'Ghostbusters' And 'Ace Ventura' Actress Alice Drummond Has Passed Away At 88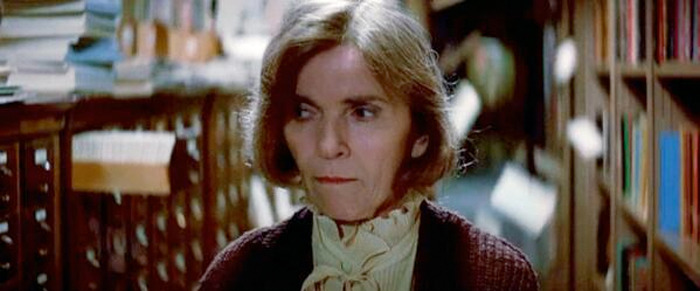 Following the sad news that arrived Thanksgiving weekend with the deaths of The Brady Bunch matriarch Florence Henderson and Barney Miller star Ron Glass, another actress has left this world.
You may not know Alice Drummond by name, but you've undoubtedly seen the character actress in key roles in some very popular movies, including playing the librarian from the opening scene of Ghostbusters and Ray Finkle's cuckoo mother in Ace Ventura: Pet Detective. Sadly, Alice Drummond has passed away at 88 years old.
The New York Times confirmed news of Alice Drummond dead by way of actress June Gable, her friend and executor who revealed that she had passed away following complications from a fall that the actress sustained a couple months ago.
Alice Drummond began her career on and off Broadway with productions of The American Dream and The Ballad of Sad Cafe before making the jump to television in 1967 with the uncredited role of Nurse Jackson in four episodes of the classic TV series Dark Shadows. Then a few years later came her first feature film role, a small role in Carl Reiner's comedy Where's Poppa? in 1970.
Her career would go on to include recurring roles in TV shows such as Where The Heart Is, Ryan's Hope, Night Court, Park Place, Lenny and Frannie's Turn, not to mention guest roles on shows such as Love Sidney, Kate & Allie, The Days and Nights of Molly Dodd, Grace Under Fire, Law & Order, Spin City, Ed and Boston Legal.
But her most recognizable work came from turns in hit movies like Ghostbusters and Ace Ventura: Pet Detective. In Ghostbusters, she was the perfect terrified librarian, and she will be locked into film history with a signature scream just before the title and iconic theme take over. Meanwhile, in Ace Ventura, she expertly played the subtly crazy mother of former Miami Dolphins quarterback Ray Finkle. Who would have thought she could make something so twisted and sinister sound so sweet.
In addition, you may remember her as playing one of the catatonic patients of the late Robin Williams in Awakenings, or perhaps as a nun on Doubt alongside the late Philip Seymour Hoffman. Other roles include Eyewitness, To Wong Foo Thanks for Everything Julie Newmar, Funny Farm, Money for Nothing, I.Q., In & Out, Pieces of April, House of D, The Honeymooners, Synecdoche New York and After.Life.
Drummond's final role was as a senile senior in the Brendan Fraser comedy Furry Vengeance, a role that lined up with her frequency in playing frail and old but sometimes surprisingly feisty older women on the big screen.
Alice Drummond was not a household name, but she was easily recognizable on screen and she'll be immortalized thanks to her work on stage and in film and television. Our thoughts go out to Ms. Drummond's family and friends during this time. Rest in peace.