'Guardians Of The Galaxy Vol. 2' Trailer: Marvel's Universe-Saving A-Holes Are Back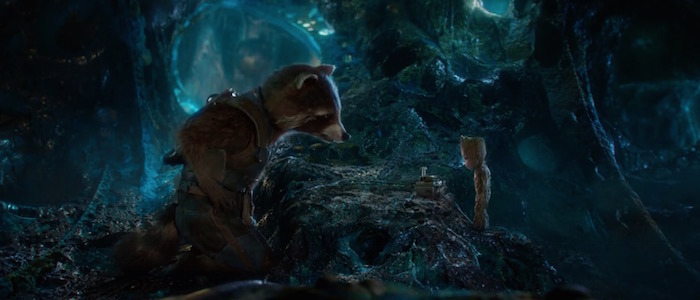 A few years ago, Guardians of the Galaxy felt like a big left turn and a risk for Marvel Studios. In retrospect, its critical accolades and massive box office felt predestined – this is what happens when a filmmaker as offbeat and clever as director James Gunn is allowed to play in the superhero movie sandbox.
The first full trailer for the sequel, the appropriately titled Guardians of the Galaxy Vol. 2, has arrived and I'd be lying if I said I wasn't overjoyed to see this motley crew of universe-saving a-holes again.
Like the early trailers for the 2014 original, the Guardians of the Galaxy Vol. 2 trailer is built around a song from one of Peter Quill's mix tapes, with Sweet's 1974 track "Fox on the Run" stepping in for Blue Suede's "Hooked on a Feeling" (which did return for the sequel's first teaser) There isn't much story to be found in this footage, just colorful imagery, amusing banter, a few big action shots...and Baby Groot. Lots and lots of adorable, sweet, innocent, surprisingly dangerous Baby Groot.
It's telling that this trailer can get away without actually selling the plot of the movie. Audiences didn't fall in love with the first Guardians of the Galaxy because they were entranced by yet another Marvel Studios movie built around a villain who gets his hands on an Infinity Stone. They fell for Chris Pratt's cocksure Star-Lord, Zoe Saldana's determined Gamora, Dave Bautista's bombastic Drax, Bradley Cooper's bitter Rocket, and Vin Diesel's adorably weird Groot. In fact, the bulk of this trailer is dedicated to this group bouncing off one another, which is the real star attraction. Whatever villainous plot they have to face is secondary to Drax laughing himself silly at the expense of Star-Lord having an unfortunate psychic encounter.
Guardians of the Galaxy Vol. 2 is set to open on May 5, 2017. In addition to the core cast, Michael Rooker's Yondu and Karen Gillan's Nebula are set to return in expanded roles, with Pom Klementieff joining the cast as Mantis and Kurt Russell lending his iconic presence to the Marvel Cinematic Universe as Ego the living planet.