Emma Stone Once Auditioned For Nickelodeon's 'All That'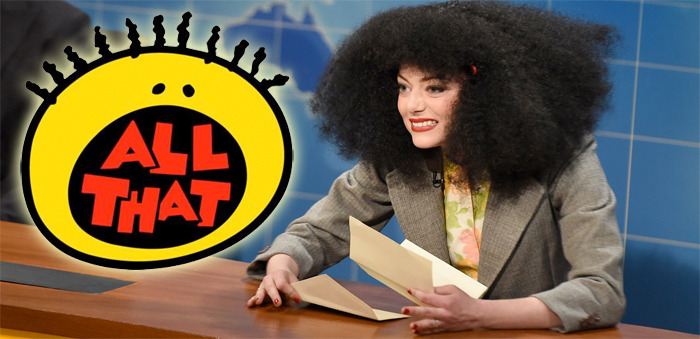 This weekend, Emma Stone returns to Saturday Night Live to host the late night sketch show for a third time. However, she almost starred in an entirely different sketch comedy show much earlier in her career, one that would have had her crossing paths with a certain SNL cast member at a young age.
While appearing on The Tonight Show with Jimmy Fallon, the 28-year-old actress revealed that she auditioned for the Nickelodeon kids sketch comedy show All That when she was 12 years old. Even though she didn't end up getting the job, her audition sounds rather entertaining.
Find out what happened when Emma Stone auditioned for All That after the jump.
The cheerleader character she created wasn't anything that could have been turned into a recurring one, but then again, most of the characters on All That were one-note jokes that just repeated themselves. That happens on SNL occasionally too, but there's usually enough variance in the jokes themselves that it doesn't feel quite as tired. However, that possessed babysitter sketch sounds simultaneously horrifying and hilarious, and it's impressive that she came up with those characters on the spot at just 12 years old.
It's probably for the best that Emma Stone didn't make it into the cast of All That, because her career ended up blossoming in quite a fantastic way after her breakthrough performance in Superbad in 2007. Before that she actually had a role over at Nickelodeon's chief competitor, The Disney Channel, where she appeared in a single episode of The Suite Life of Zack and Cody, starring Dylan & Cole Sprouse, the twins who played the kid in Adam Sandler's Big Daddy.
But if Emma Stone had starred in All That, then her hosting duties on SNL would have made for a fun reunion with former All That cast member Kenan Thompson. Maybe one day they can get together and create a "what if" scenario where Emma and Kenan play Randy and Mandy, the chefs who love cooking with chocolate.
Even though we never got to see Emma Stone on All That, at least we get to see her on Saturday Night Live again this weekend. In the meantime, enjoy her quick rendition of Gilda Radner's iconic character Roseanne Rosannadanna from the SNL 40th anniversary special:
We'll have a recap of Emma Stone's Saturday Night Live episode, running through the best and worst sketches, the morning after the episode airs.