'Harry Potter And The Cursed Child' Coming To Broadway In 2018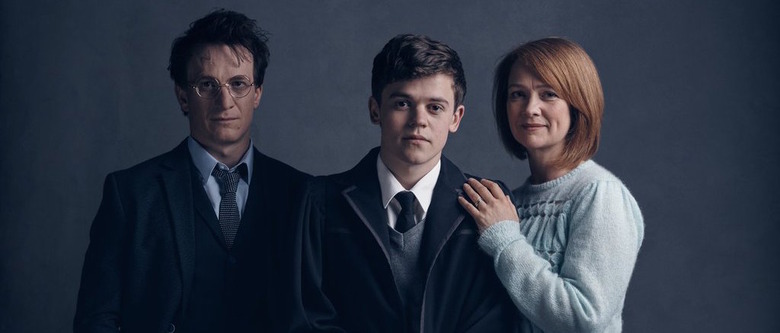 Harry Potter and the Cursed Child debuted this summer to a glowing reception from Potterheads. But chances are you haven't had a chance to enjoy it in its proper form yet. The play only opened in London's West End, so unless you live in the area or were able to travel there, you had to make do with the published script and the power of your imagination.
But it looks like things are going to get a bit easier for Stateside Potterheads in the not-too-distant future. Harry Potter and the Cursed Child is looking to hop on its broomstick and fly across the pond to New York, with plans to open in 2018. Get all the details on the Cursed Child Broadway debut below. 
Pottermore announced today that Harry Potter and the Cursed Child producers Sonia Friedman and Colin Callendar are in "detailed talks" to bring the show to Broadway. The show's New York run will begin in spring 2018 at the Lyric Theater. The deal is not sealed and signed just yet, but you can rest assured conversations are pretty far along if the producers feel confident enough to roll out a big press release.
Once everything is worked out, the venue will undergo a multimillion-dollar redesign and remodel in preparation for the show. When it's done, it'll seat 1,500 patrons, which Friedman says will be "will be intimate enough for a drama, yet big enough for us to follow in the footsteps of the London production and continue to provide low priced tickets throughout the auditorium." According to the New York Times, Paramour, the Cirque du Soleil show that is currently set up in that space, is now looking for a different location so that it can leave the Lyric in April. The theater will then close down in May for renovation.
Billed as the eighth Harry Potter story and set 19 years after the events of Deathly Hallows, Cursed Child finds the Boy Who Lived in middle age. He's juggling a busy job at the Ministry of Magic, and a family that includes a son, Albus Severus, whom he just can't seem to connect with. Young Albus resents growing up in the shadow of his father's legacy, and finds an opportunity to take his destiny into his own hands, with potentially devastating consequences.
The play is staged in two parts airing on subsequent nights, and it'll probably keep that format when it comes to New York. Jack Thorne wrote the script based on a story he created with J.K. Rowling and John Tiffany. Exact dates and ticketing details have not yet been revealed, but we'll keep you updated as more information comes out over the next year or so. When the show finally does go on sale, you'll definitely want to act fast — the show's been a massive hit in London and there's every reason to believe it'll do just as well in the U.S.