'Star Wars Battlefront' Reveals New Trailer For 'Rogue One'-Inspired Map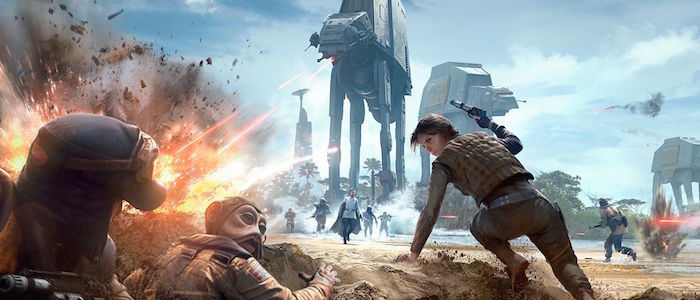 Since its release last year, Star Wars Battlefront has been awash in bonus DLC, keeping players coming back with new map and new playable characters to the keep the game fresh. And since there's a new Star Wars movie in theaters this month, they have reacted accordingly, planning a new map based around characters and locations from Rogue One: A Star Wars Story.
The map is the tropical planet of Scarif (home to the Empire's construction yards), the playable hero characters are rebels solider Jyn Erso and Imperial commander Orson Krennic, and a new trailer has arrived to show everything off.
Anyone who has played Star Wars Battlefront knows what to expect from this new mission: players pick a side, pick a character class, and proceed to duke it out across the battlefield until there is only one winner. Those who don't want to fight on foot can take the skies in Imperial TIE Strikers or Rebel U-Wings. There even seems to be a space component to the level, with other players battling around the defector shield generator that keeps the planet safe from intruders.
The Scarif map is the fifth downloadable map added to Star Wars Battlefront since its November 2015 release, following Jakku, Tatooine, Cloud City, and the Death Star (which introduced characters like Chewbacca, Lando, Bossk, and Greedo to the game). Another Rogue One-themed level, a virtual reality mission that puts you in the cockpit of an X-Wing, will be available this month for PlayStation 4 owners and require the PlayStatyion VR headset.
I didn't play too much Star Wars Battlefront because multiplayer shooters aren't my cup of tea (I'm very much a single player kind of gamer), but the game was undeniably impressive upon release. It's easily the best looking and best sounding Star Wars video game to have hit the market and the amount of support it has received over the past 12 months has been heartening. Rather than let it wither and die, Battlefront has continuously offered players new excuses for players to return and keep on shooting each other in the face with blasters.
The Scarif map will be available to Star Wars Battlefront season pass holders on December 6, 2016.