The First 'Rogue One' Clip Takes You Inside A Rebel Firefight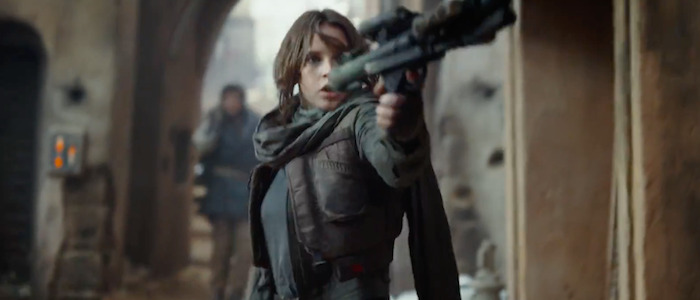 We're two weeks from the release of Rogue One: A Star Wars Story and the marketing machine has entered the "Screw it, let's some 'em everything!" phase. At this point, to take in every new TV spot and every new promotional video is to risk seeing a little too much...unless that is entirely your goal. So you probably know whether or not you want to watch the first clip from director Gareth Edwards' spin-off film, which is set in the time right before the events of the original 1977 Star Wars and follows a brand new crew of characters who set out to steal the Empire's Death Star plans and ensure that the events of the original trilogy happen in the first place.
The clip is entirely free of actual plot points, offering a brief glimpse of a larger action sequence. Felicity Jones' Jyn Erso and Diego Luna's Captain Cassian Andor find themselves in a claustrophobic, fast-pasted firefight with a larger group of Imperial Stormtroopers. K-2SO, the reprogrammed security droid played by Alan Tudyk in a motion capture performance, also shows up to provide a little bit of levity to the proceedings.
Like the cannon fodder from the original trilogy, these Stormtroopers seemingly can't hit the broad side of a barn with their blasters and our heroes emerge triumphant, of course. But to everyone's credit, they don't make it look nearly as easy as Han, Luke, and Leia did in their adventures – the action here is definitely faster and more intense (to borrow George Lucas' favorite phrase) than we've seen in most Star Wars movies, which tend to take a more classical approach to framing battles. Edwards hasn't been shy about saying Rogue One is a war movie and this footage seems to back that up. Seeing classic Star Wars iconography be shot in this way in a location that deliberately recalls certain modern conflicts is fascinating.
Rogue One, which also stars Ben Mendelsohn, Mads Mikkelsen, Jiang Wen, Donnie Yen, Riz Ahmed and Forest Whitaker, will arrive in theaters on December 16, 2016. If you want to see it opening weekend, you should probably get around to buying those tickets sooner rather than later. For additional reading, you can read reports about the film's first 20 minutes (which recently screened as part of a press event), check out a new batch of photos, and learn how writer Tony Gilroy was involved in the making of the film.