'The Secret Life Of Pets' Honest Trailer: 'Toy Story' Without Toys, Heart, Humor Or Story Structure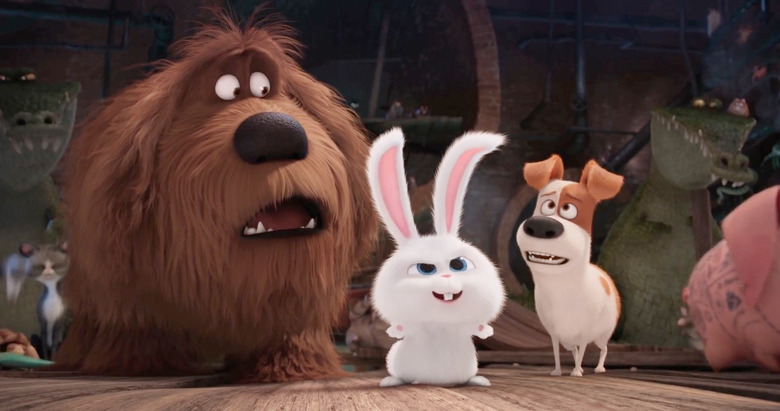 As of now, Illumination Entertainment's animated comedy The Secret Life of Pets is sitting at #3 on the domestic list of the highest grossing movies of 2016. That's not likely to last once Rogue One: A Star Wars Story storms the charts, but with a worldwide box office total over $874 million, the movie is still a hit. That's a shame, because it's not good.
I've already lamented in my full review just how disappointing this movie is, despite the fact that kids love it, and now Honest Trailers takes some jabs at the movie that are right on the money. They start by saying the movie is like Toy Story, but with out all the toys, heart, humor or story structure, and that's being nice.
Watch the Secret Life of Pets Honest Trailer after the jump.
Honest Trailers also nails it when they say movies like this almost make us hate Pixar Animation for setting the bar high for family friendly entertainment on the big screen.
Look, The Secret Life of Pets is hardly one of the worst movies I've ever seen. But it just doesn't give you any time to care about any of the characters, the humor isn't clever at all, delivering a greatest hits of silly things that we already see pets do on YouTube and turning it up to 11. There's nothing memorable about it, and it uses a cast of voices just to interest adults rather than hiring anyone who actually makes the characters interesting, with the exception of maybe Jenny Slate.
Let's not forget that box office success does not mean a movie is actually good, but if you enjoyed this mediocre kids movie whose animation is its only redeeming quality, then I'm happy for you. Anyway, it doesn't matter in the end because the movie was a huge hits and we're getting The Secret Life of Pets 2 in 2018 whether we like it or not.