'The Great Wall' Extended Trailer Reveals Nearly 9 Minutes Of Footage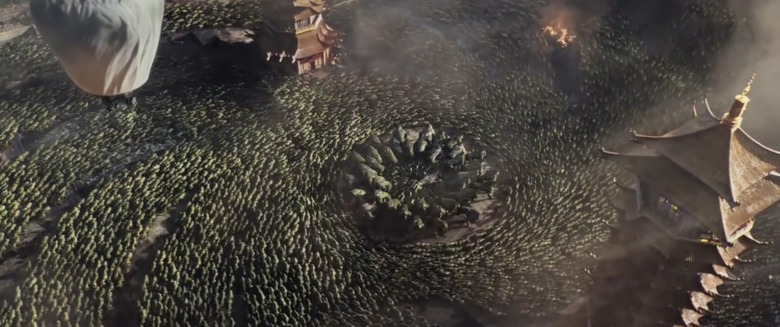 The return of Jason Bourne this past summer wasn't anything to write home about, but Matt Damon will be back in action again soon enough. But this time, he'll be in China, about 1,000 years in the past.
The Great Wall stars Matt Damon as one of a trio of mercenaries from the West who have come to steal gunpowder from the Chinese and maybe a rumored legendary weapon that they want to use to conquer their homeland. But when they arrive at the Great Wall, they find something they weren't expecting, and we get to see much more than the previous trailers have shown us in a new trailer/featurette hybrid from China.
Watch the extended international The Great Wall trailer after the jump.
The only downside of this new footage is that all of the voiceover is entirely in Chinese, so we have no idea what they're actually explaining about the various Chinese characters being profiled. However, it's clear that there are five distinct armies stationed at The Great Wall, defending it with their own distinct weapons and armor from the monsters that attack every 60 years.
This is clearly meant to get Chinese audiences on board for a movie that they might not otherwise be as interested in if all the focus was put on Matt Damon. But since this is the first American movie shot in the People's Republic of China, directed by Zhang Yimou, there are probably plenty of people over there interested in seeing how it turned out.
Even though there's a bunch of new footage in this video, we still see only the tiniest snippets of the actual monsters, which look like giant lizards, scaly, green and swarming, moving a lot like the zombies of World War Z.
Since this is a Legendary Pictures production, it would be interesting if this had some sort of connection to Godzilla or Kong: Skull Island, but I'm pretty sure this is meant to stand alone on its own as an action-adventure fantasy epic.
In addition to Matt Damon, The Great Wall also stars Jing Tian, Pedro Pascal, Willem Dafoe and Andy Lau. Will Chinese audiences come out for this movie? Will American audiences be interested in a movie like this when it arrives on February 17, 2017? We'll find out in a few months.