You're Welcome: Watch Dwayne Johnson's Entire Musical Moment From 'Moana' Right Now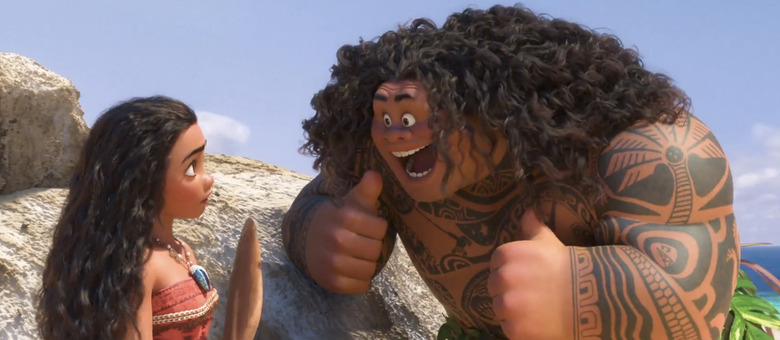 If you didn't catch Moana over the holiday weekend, you're missing out on one of the best movies Walt Disney Animation has ever made. It's an outstanding adventure full of gorgeous animation, a powerful story about identity with a strong female character at its center who doesn't need romance to have a complete story.
But one of the best elements of Moana is the soundtrack of original songs crafted by Hamilton creator Lin-Manuel Miranda, composer Mark Mancina and South Pacific fusion musician Opetaia Foa'i. And if you need any more convincing to see Moana, or you just want to watch one of the most fun musical numbers from the movie again and again, we have good news. The entire musical sequence where Dwayne Johnson's demigod character Maui sings the song "You're Welcome," has been made available to watch online.
Watch the Moana clip after the jump.
You can tell that Dwayne Johnson doesn't have the vocal range of a professional singer, but he still does an awesome job with this song, especially the rap part that has flares of Lin-Manuel Miranda's work on Hamilton. His energy and charisma make this one of the highlights of the soundtrack for sure, though it's not quite enough to outshine Jemaine Clement work for his character's song "Shiny" in the movie.
Plus, the animation for this sequence is spectacular as well, utilizing some unique artistic style by way of Maui's animated tattoos. It's a scene that feels reminiscent of Aladdin's sequence for "Friend Like Me," which isn't surprising since the film's directors Ron Clements and John Musker also co-directing Moana.
If you need to be convinced to see Moana, read our full review right here.