'Fantastic Beasts': Jared Harris Responds To Dumbledore Casting Rumors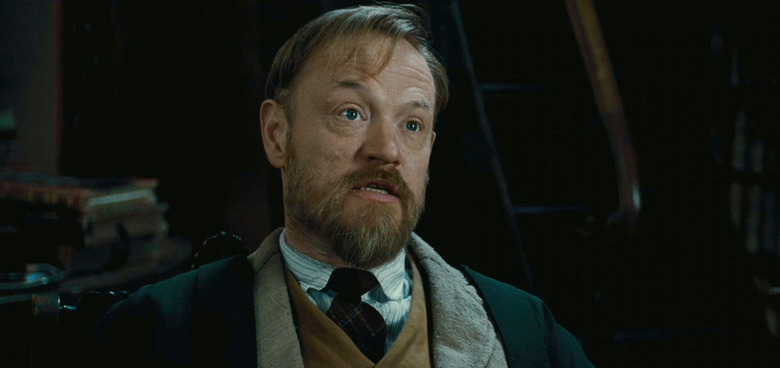 Now that Fantastic Beasts and Where to Find Them has introduced Young Grindelwald, the race is on to guess who'll fill the role of Young Dumbledore in the sequel. And one name that's come up again and again in that conversation is Jared Harris, in part because he's about as close as you can get to a younger clone of the existing Dumbledore — he's the son of Richard Harris, who played Old Dumbledore in the first two Harry Potter movies.
Well, it turns out Harris has heard about all that speculation too. In a recent interview, he addressed the Dumbledore Jared Harris fantasy casting talk, warning that the decision is not his to make. 
The Evening Standard asked Harris to weigh in on the Fantastic Beasts speculation. The actor did not sound terribly optimistic about his prospects.
They're obviously thinking about it. I haven't heard anything and I don't expect to. It's not up to me. Having seen [fan campaigns] before I find that [film bosses] don't like to have their hands forced. These campaigns almost always go in a different direction.
Harris is right that fan campaigns don't tend to have much bearing on who gets chosen for a role. If they did, Matt Bomer would be Christian Grey, Idris Elba would currently be shooting James Bond 25, and Johnny Depp would've been booted from the Fantastic Beasts franchise weeks ago. So it's probably best not to read too much into all the online hype surrounding Harris.
That said, Harris would be a fine pick for reasons that go beyond his parentage. He's in the right age range, he's proven to be a remarkably versatile and watchable actor, and he has no problem starring in big studio productions — he's already worked with Warner Bros. on Sherlock Holmes: A Game of Shadows and The Man From U.N.C.L.E. Warner Bros. will most likely go in a completely different direction, as Harris predicts. But for the record, if they want to go with Harris, we definitely wouldn't complain. And if not? We've got a few other suggestions for folks they might want to consider.