'Logan' Photo: Wolverine Rescues X-23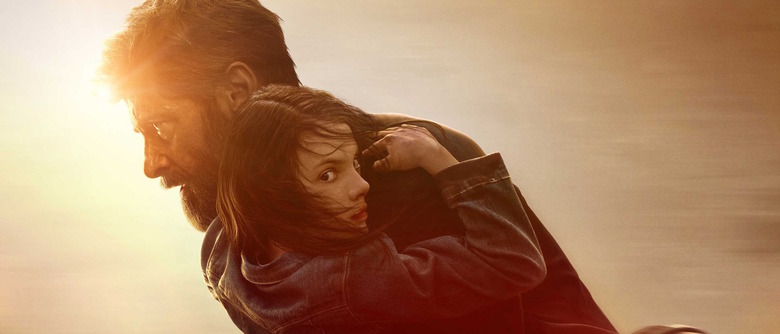 Logan is a full-color movie, but you wouldn't know it by looking at the official images, most of which have been presented in crisp black and white. They've got a dramatic, old-fashioned fel to them, but the lack of color means they don't necessarily make for the best representation of what the film will actually look like.
Today's new Logan photo, on the other hand, is practically bursting with color by comparison. There are orange flames, green leaves, blue denim... and dark red blood, because in Logan, Wolverine is actually capable of getting hurt and injured. Click through to see the latest Logan photo. 
While all of the black-and-white Logan images have come from the @wponx Instagram account, this new full-color Logan image comes to us via Empire. In it, Logan (Hugh Jackman) cradles Laura a.k.a. X-23 (Dafne Keen), a young mutant with powers similar to his own. She's in handcuffs, Wolverine is bloodied and scars, and a huge fire is raging behind them. Something has clearly gone terribly awry.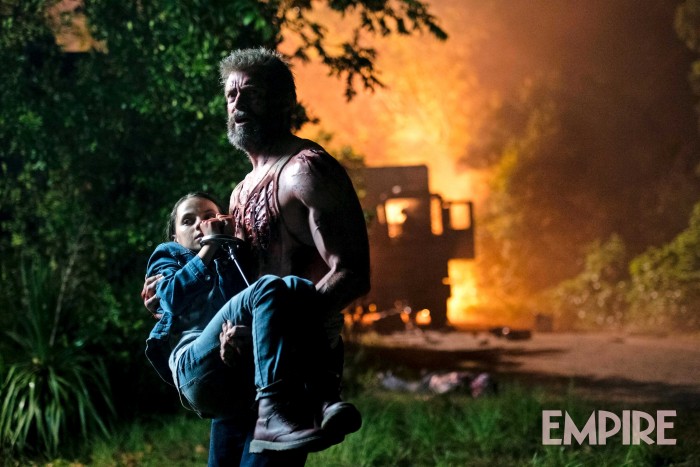 Logan finds Wolverine in rough shape. In his old age, his healing powers have declined severely, leaving him in chronic pain. He spends his days self-medicating with booze and taking care of Professor X (Patrick Stewart), whose own powers are going haywire. But he's called back into action to help Laura, one of the young mutants being turned into killing machines by a shadowy organization knows as Transigen.
The film marks Jackman's final performance as the mutant superhero, and director James Mangold seems to relish the opportunity to show a more vulnerable side of the character. "The goal was to make something human," he said. "We made an effort to scale back on the gloss and greenscreen." Jackman added, "It's essential you see this as the story of a man who is struggling with mortality and legacy, and whether the world has been better off with him or without him."
Logan also stars Boyd Holbrook as Transigen security head Donald Pierce, Stephen Merchant as Professor X's caretaker Caliban, and Richard E. Grant as Transigen scientist Zander Rice. It arrives in theaters March 3, 2017. Revisit the first trailer below: