Hong Kong Disneyland Announces New Marvel And 'Frozen' Attractions As Part Of A Massive Expansion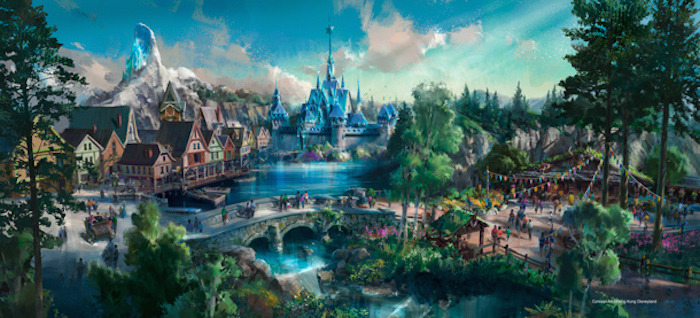 After years of construction and billions of dollars ($3.7 billion, to be exact), Shanghai Disneyland opened earlier this year, and it's already looking like a huge success. Now, the Walt Disney Company can actually shift its focus to its myriad of other parks, many of which have been crying out for a little TLC for some time now.
While Disney parks all over the world are getting new attractions over the next few years, it looks like Hong Kong Disneyland will be getting the most love, with new lands centered around Marvel superheroes and Frozen, a live show based on Moana, and a brand new central castle.
The slew of new updates were unveiled on the official Disney Parks blog, and yes, each new announcement comes with a piece of concept art to help you forget that there's not much actual information available yet. Let's take a look at these one-by-one.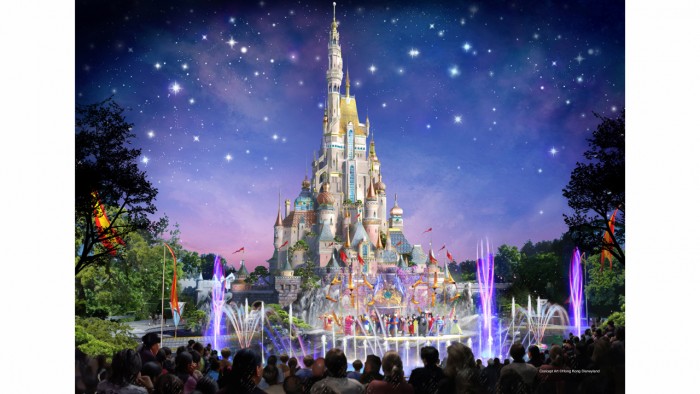 First up is the new castle, a necessary update since the current castle (modeled after the one at California's original Disneyland park) is a shadow of the castle seen in Shanghai and most other Disney parks. The official release also notes that it will be built with live entertainment in mind:
Sleeping Beauty Castle and the surrounding area will also be completely transformed to create the canvas for never-before-seen daytime and nighttime spectaculars and entertainment experiences...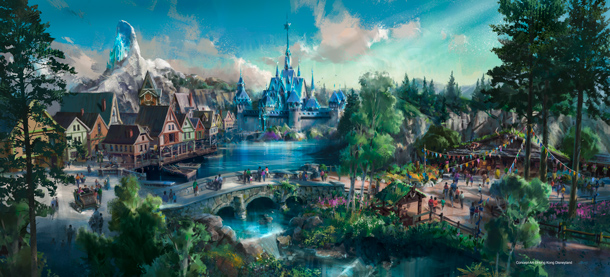 And then there's the new Frozen land, which will allow guests to wander Arendelle while their children attempt to sing "Let It Go" before forgetting every lyric that doesn't involve the words "let," "it," and "go." The official description doesn't specify what kind of attractions will be experienced here:
An exciting new Frozen-themed land will come to life, allowing fans of all ages to experience the characters from the popular animated film in ways they never have before at a Disney park. Guests will enjoy new attractions and be immersed in the kingdom of Arendelle with uniquely themed dining, shopping, and entertainment.
Can we expect a new version of Epcot's Frozen Ever After ride to exist here? While that ride has proven massively popular, it's still built on the skeleton of Maelstrom, an older attraction whose painfully small rider capacity and aging ride system have led to long waits and frequent delays. A new version, built from the ground up, could supply a similar experience while being built on a more reliable foundation.

We already knew that Hong Kong Disneyland's Iron Man Experience ride was set to open early next year, but it now looks like an entire Marvel land will be built around it, complete with two new rides, one of which will be a re-themed version of Buzz Lightyear Astro Blasters (where guests shoot at targets and keep score as they ride):
The Marvel universe will continue to grow even after Iron Man Experience – Hong Kong Disneyland's first Marvel-themed ride – opens on January 11. A new Marvel-themed area will feature a reimagined Buzz Lightyear Astro Blasters and a thrilling attraction dedicated to one of the most popular Marvel franchises.
Naturally, the superheroes who will be the stars of those new attractions aren't named, so place your bets.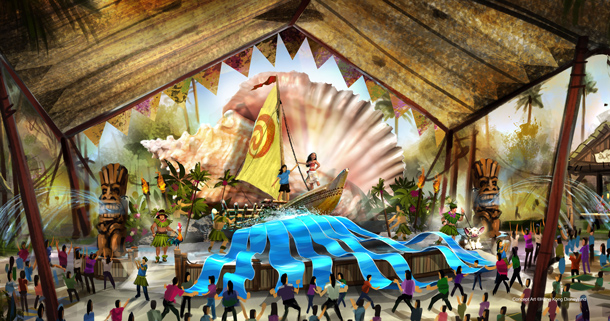 And then there's that new Moana show, where...
...guests of all ages will be able to visit Moana's Village Festival in Adventureland for a brand new daytime stage show. Guests will also have the opportunity to meet Moana from the Disney animated film that will be released globally beginning tomorrow.
For more nitty-gritty details on the expansion, you can look to the New York Times, who report that these new lands and rides will begin construction in 2018 and won't be completed until 2023. The whole project will cost $1.4 billion and is subject to approval by the Hong Kong Legislative Council. And while these new additions are exciting for theme park fans, they also represent Disney desperately trying to attract new visitors – the park lost $20 million in 2015 alone and had been on the ropes for some time, despite a handful well received new attractions over the past few years.
Will Marvel and Frozen be enough to bring the crowds back to Hong Kong Disneyland? That remains to be seen. But like almost every other Disney park on the planet (see: lands and attractions based on Toy Story, Star Wars, Guardians of the Galaxy, and Avatar), it's going to be a very different place in just a few years.