'It's Always Sunny In Philadelphia' Season 12 Gets A Raunchy Red-Band Trailer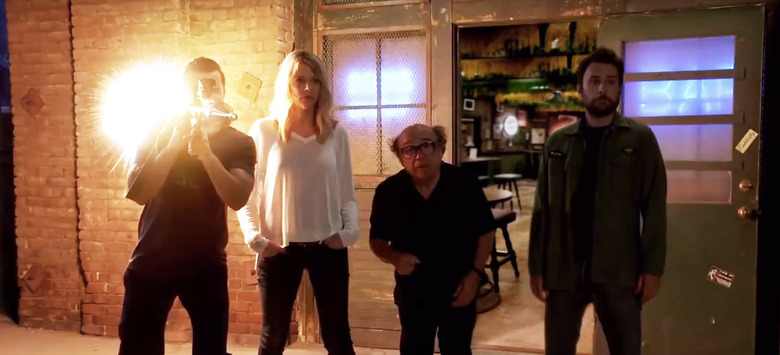 Early next year, we return to the city of brotherly love to see what kind of shenanigans the crew of Paddy's Pub will be up to when the 12th season of It's Always Sunny in Philadelphia premieres on FXX. It's crazy to think that the series has been running this long, and it even has an order for its 13th and 14th seasons already placed. And if this new trailer for this season is an indicator, things are only going to get more out of hand.
A red-band It's Always Sunny in Philadelphia season 12 trailer has just popped up online, and it's far more raunchy than anything we've seen from Glenn Howerton, Charlie Day, Rob McElhenney, Kaitlin Olson and Danny DeVito. I'm talking about words that you normally don't hear on cable channels other than HBO, Cinemax and Showtime, plus a couple of dildos, some discussion of being paid for sex and much more.
See all the madness below, but beware that the language is totally NSFW.
In this quick one minute spot we can see plenty of craziness taking place. Rickety Cricket suggests smoking some PCP followed by the gang doing a whole load cocaine. The gang somehow gets ahold of a rocket launcher and blows up a car on the block. Frank pretends that he has AIDS so he can get to the front of a water slide line and makes an indecent proposal to a woman, which Mac seems interested in as well. And then there's the promise of some dildo and wiener action from Mac and Dennis too.
Charlie Day offered up some other hints of things that are coming when he spoke to Uproxx back in September, saying that we can "expect to see some of the UFC, you can expect to see an entire musical episode, guest starring from Scott Bakula" and much more. I definitely want to know what Scott Bakula is doing there and hope it has something to do with Quantum Leap.
Beyond that, the one big question I have is whether or not the raunchier words will actually be allowed on FXX. It's Always Sunny usually plays later at night, but most cable shows usually don't get that raunchy. Shows like Louie have pushed the envelope with language a bit, but it sounds like they're getting a little bolder. Are they paying FCC fines or are the regulations for late night programming just getting more relaxed?
Anyway, It's Always Sunny in Philadelphia will soon go down in the history books as sharing the record for the longest running live-action comedy series of all time, with The Adventures of Ozzie & Harriet. If all goes well, we could be getting more after that.
It's Always Sunny in Philadelphia returns to FXX on January 4th, 2017.