Kathleen Kennedy Describes The Han Solo Movie As A ''Heist'' And ''Western'' Movie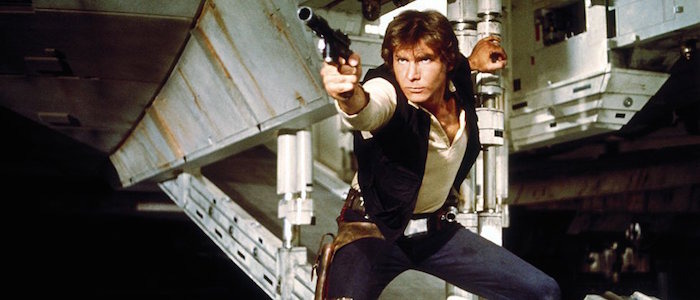 The most exciting aspect of Rogue One: A Star Wars Story is that it represents an opportunity for Lucasfilm and the various creative people in its employ to break the mold on what a Star Wars movie can be. Freed from the obligation of carrying on the core saga, these spin-off movies have the potential to hire interesting directors with unique takes on the material who want to color far outside of the lines.
With Lucasfilm president Kathleen Kennedy now describing Chris Miller and Phil Lord's upcoming Han Solo film as a heist movie and a western, it certainly sounds like they're using these spin-offs to try something a little different.
The quote comes from a Variety article on the overall status of the Star Wars franchise, with quotes from Kennedy and Star Wars: The Force Awakens director J.J. Abrams. After describing Rogue One as a World War II-style adventure, Kennedy offered a few tiny details about the top secret Han Solo film, which will follow the galaxy's most famous smuggler in an earlier adventure before he found himself rescuing princesses and aiding rebels:
This moves closer to a heist or Western type feel. We've talked about [Frederic] Remington and those primary colors that are used in his paintings defining the look and feel of the film.
Since Han Solo is a crook, a gambler, and a smuggler operating on backwater planets where law and order are sometimes absent altogether, "western" is a very apt word to describe this project. And since Han is nothing if not a crafty son of a bitch with a long rap sheet and a reputation amongst the galaxy's seedier types, it would only make sense that a movie about his early days would involve some illegal heisting activity. These are very interesting words – they somehow speak volumes.
And for the record, Frederic Remington was a 19th century artist best known for his depiction of the American West. His paintings, which depict cowboys and Native Americans in scenes both serene and action-packed, helped define the way popular culture viewed (and continues to view) the American frontier. There's a cinematic quality to his work – those evocative landscapes and warm colors are truly striking. I never would have thought we'd be talking about Remington and Star Wars in the same sentence, but here we are.
Between this artist name-drop and cinematographer Bradford Young saying that he joined the project because Lord and Miller referenced "the right films in the American film lexicon that really touched me in a real tender place," this continues to be one of the most intriguing studio movies on the horizon.
The Han Solo movie, which doesn't have a title quite yet, will star Alden Ehrenreich as Han, Donald Glover as Lando Calrissian, and Emilia Clarke in an unspecified role. It's set to be released on May 25, 2018.