Dave Chappelle Has Three New Comedy Specials Coming To Netflix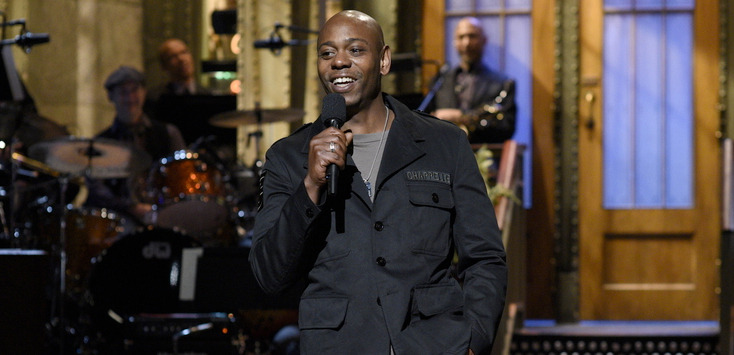 Dave Chappelle just hosted Saturday Night Live for the first time the weekend before last. It's the best episode of the season so far, and seeing the comedian back in sketch comedy mode made many wish that some kind of big comeback to entertainment was in store for him. Thankfully, our wish has come true.
Find out more about the Dave Chappelle Netflix specials after the jump.
Netflix has announced that they have three new stand-up comedy specials coming from Dave Chappelle:
News: 3 new Dave Chappelle comedy specials, coming soon. pic.twitter.com/OzrDukBPk6

— Netflix (@netflix) November 21, 2016
This is just about the best news the comedy world could ask for. Dave Chappelle was one of the best comedians working in the business before he famously walked away from his $50 million contract at Comedy Central. Since then, he's been touring the country doing stand-up, headlining the Oddball Comedy Festival, and making surprise appearances at various comedy clubs equaling over 500 concerts in the past three years. If you never got to see him at any of these stops, he proved that he still has the goods with his outstanding monologue from Saturday Night Live:
One special will be brand-new and exclusively available on Netflix with a release date yet to be announced. The other two are never-before-seen specials from Dave Chappelle's personal comedy vault. Both were directed by Stan Lathan (who produces them with Chappelle), recorded at Austin City Limits and The Hollywood Paladium. Those two archive specials will be made available at the same time at some point in 2017.
This news, combined with the announcement of two new Chris Rock specials coming exclusively to Netflix, is making the streaming service the new king of stand-up specials. HBO used to be quite the hot stop for stand-up comedy, including specials for Dave Chappelle and Chris Rock. But with Netflix's ever-growing library of stand-up comedy, they're becoming the new comfortable home for every kind of comedian out there.
Lisa Nishimura, Netflix's VP of Original Documentary and Comedy, says, "Dave Chappelle is a legendary voice in comedy — searing, vital, and now more than ever, essential. Dave's three new specials promise to be some of the most anticipated events in comedy, and we are honored he will mark his global return on Netflix." Indeed, a new stand-up comedy special from Dave Chappelle will be huge, but three will be even better.
Is there hope for Dave Chappelle to return to sketch comedy sometime down the road? I wouldn't count on it, but it seems like anything is possible at this point.