Disney Reveals First Look At A Na'vi Shaman From Their Upcoming 'Avatar' Land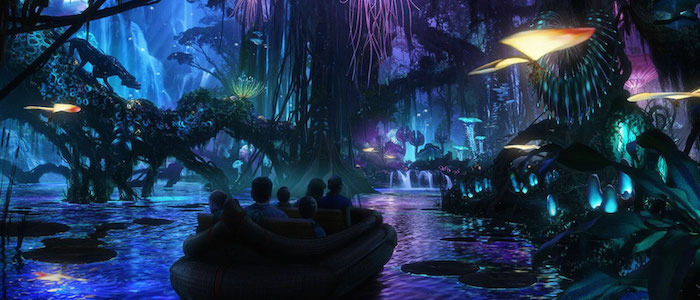 Seven years after it became the highest-grossing film in history, everybody spends more time talking about why no one talks about Avatar than talking about Avatar itself. That's why the upcoming Pandora: The World of Avatar expansion coming the Animal Kingdom theme park in Walt Disney World feels like a bizarre combination of risky move and sure thing – building a theme park land around the most successful movie of all time certainly sounds like a license to print money until you remember that the film seems to have bounced off pop culture in the long run. They may have made less money, but Star Wars, Harry Potter, and Marvel are all embedded more deeply in the common psyche than James Cameron's eco-centric science fiction epic. What if you build the most impressive theme park land ever devised and everyone shrugs?
That's a question for the long term. Right now, your focus should be on the first footage of a Na'vi from one of the land's attractions.
The footage was revealed at D23's Destination D: Amazing Adventures (a special event during which members of the official Disney fan club can attend panels and presentations about what's coming to the theme parks), but it made its way to the official Disney Parks blog. Naturally, this brief video came at the end of a larger panel about the new Avatar-themed area, with James Cameron and Disney Imagineer Joe Rohde on hand to supply new details.
The footage reveals the Shaman of Songs, a "revered member of the Na'vi people of Pandora" and a main character in the Na'vi River Journey ride, one of two major attractions are set to open with Pandora: The World of Avatar. Take a look:
What the video and the official blog post don't reveal is whether or not we're looking at a CGI creation (who would presumably interact with guests via a screen embedded into the environment) or an audio-animatronic figure, the next generation of theme park robot. If it's the latter, then Disney has really outdone themselves – the level of detail on display here is astonishing. Plus, an actual audio-animatronic would be a nice shot across the bow at Universal Studios, whose (genuinely impressive) Harry Potter attractions are largely built around screens and simulator technology.
Although the area still looks very much like a construction site, Pandora: The World of Avatar is still set to open next summer. Here's how Disney is describing the new land and its two new rides:
The entire Pandora – The World of Avatar land is set to open in 2017, and will transport guests to a visually stunning world complete with floating mountains and bioluminescent plants. Here, guests will be able to experience two excursions that will truly push adventure to the next level. First, the family friendly Na'vi River Journey will send guests down a sacred river hidden within a bioluminescent rainforest. Their journey will end in an unforgettable encounter with a Na'vi Shaman, a figure who has a deep connection to the life force of Pandora. And second, the Avatar Flight of Passage excursion will offer the jaw-dropping experience of riding on a Banshee over the world of Pandora.