'The Comedian' Trailer: Robert De Niro Has Jokes, And They're Not Very Good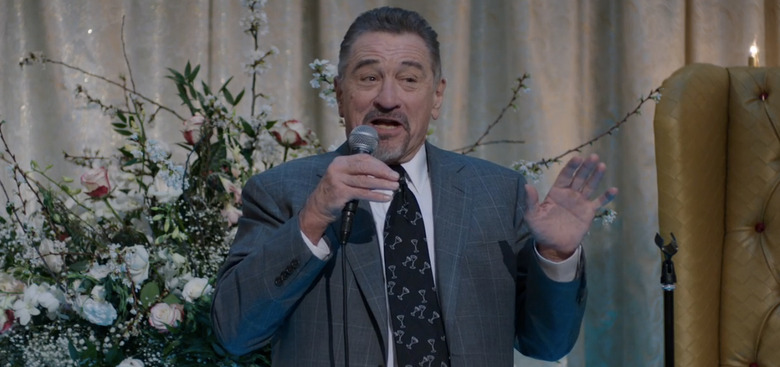 The comedies Robert De Niro has made in recent years have left more than a little to be desired. Still, when news of De Niro playing a stand-up comedian in a new drama from Taylor Hackford surfaced, I was hoping that we might get something akin to his darker turn in Martin Scorsese's The King of Comedy. But now that the first trailer for the film has arrived, it appears I might be slightly disappointed.
The Comedian follows Robert De Niro as Jackie Burke, a big name comedian with flares of a lame Don Rickles who is coasting through the latter portion of his career. He doesn't really get along with many people, and his comedy paints him as a bit of a jerk, which doesn't seem entirely inaccurate. But he might have found an unlikely counterpart in a younger woman (Leslie Mann) he meets while doing mandatory community service. It just feels like it's playing things very safe.
Watch The Comedian trailer after the jump.
Here's The Comedian trailer from Entertainment Weekly:
Much like Funny People, the movie features some real stand-up comedians and comedy clubs, including Billy Crystal and The Comedy Cellar. But the vibe doesn't feel quite as authentic, coming from someone who maybe doesn't really understand the world of stand-up comedy.
But then again, the story is much more focused on the part of De Niro's character's life where he's coming to term with getting older and becoming less relevant, not just in comedy, but in life in general. Bringing these two parts of the movie together doesn't seem to have worked very well as the reviews of the movie haven't been very kind.
Geoff Berkshire at Variety says:
There's a strange disconnect between the scenes of Jackie awkwardly performing comedy routines, which play like De Niro gamely reading material on "Saturday Night Live," and the more authentic moments of Jackie going about his life as a seventysomething man who still has a lot left to prove. Even though De Niro never quite sells the stand-up, the movie still may have worked if it surrounded him with characters worthy of the actors playing them.
Ben Travers at IndieWire is even less kind, saying:
Too conventional to function as shock comedy and too angry to spark spontaneous laughs, "The Comedian" is a film without a purpose. Taylor Hackford's latest directorial effort never even takes the time to figure out why its central figure turned to stand-up in the first place. Worse yet, De Niro shows little sign of caring what drives our darkest funnymen to say what they say on stage, playing a brash comic (think Andrew Dice Clay) in a performance with less life than the bad grandpa who "thunderfucked" his way through Florida.
Not even a solid supporting cast appears to be able to save this movie from being a disappointment despite the fact that it includes Danny DeVito, Edie Falco, Veronica Ferres, Charles Grodin, Cloris Leachman, Patti LuPone, Lois Smith, and Harvey Keitel. That's a shame, but I'd like to see this for myself just to see how it all plays out.
An aging comic icon, Jackie, has seen better days. Despite his efforts to reinvent himself and his comic genius, the audience only wants to know him as the former television character he once played. Already a strain on his younger brother and his wife, Jackie is forced to serve out a sentence doing community service for accosting an audience member. While there, he meets Harmony (Leslie Mann), the daughter of a sleazy Florida real estate mogul, and the two find inspiration in one another, resulting in surprising consequences.
The Comedian gets a limited release on December 2nd and goes wide on January 13, 2017.