'Fantastic Beasts 2' Will Have A Key Role For Someone From Newt Scamander's Past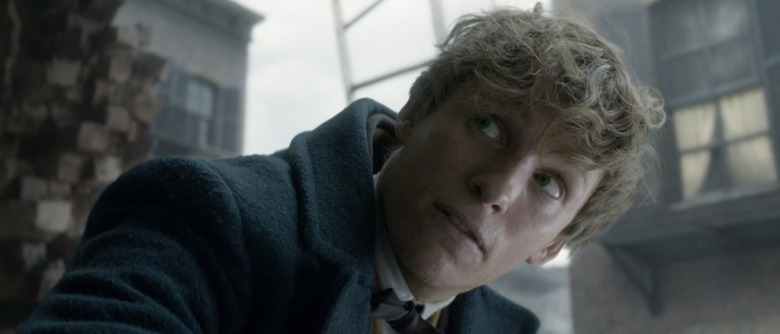 This past weekend, Fantastic Beasts and Where to Find Them dominated the box office by taking in an estimated $75 million. That's not as big as the primary Harry Potter franchise installments, but it's still an impressive opening weekend. But even before the box office numbers were in, we knew there would be Fantastic Beasts sequels, four to be exact.
We have already gotten some details on what to expect from Fantastic Beasts 2, including a bigger role for Johnny Depp as the dark wizard Grindelwald, and an unnamed actor as a young Dumbledore (we have some suggestions of our own on that front). And now we have confirmation that a certain character who is only merely referenced in the first Fantastic Beasts movie will have a prominent role in the developing sequel. We'll let you know who it is after the jump, because it's a bit of a spoiler for the first movie.
In Fantastic Beasts and Where to Find Them, we get a little bit of information about Newt Scamander's (Eddie Redmayne) romantic history. While Tina Goldstein (Katherine Waterston) and Queenie Goldstein (Alison Sudol) are exploring the inside of Mr. Scamander's magical suitcase full of creatures, the latter stumbles upon a black and white photo of Zoe Kravitz, who we learn is named Leta Lestrange.
It's clear that Newt had some kind of crush on Lestrange, if not a full-on romantic relationship that didn't end well. Queenie, a gifted Legilimens who can read minds without using her wand, senses what happened between Leta and Newt and expresses her sympathy. But she also offers up a detail that makes us wonder just what happened between Newt and Leta. Queenie sweetly tells Newt that Leta was a "taker" and he deserves someone who is a "giver."
Newt obviously still harbors some serious feelings for Leta Lestrange, and it sounds like we'll get to see how that affects the story according to director David Yates. Speaking with CinemaBlend, he said:
Leta Lestrange comes into the second movie. She's quite complicated and damaged and confused and Newt is absolutely still in love with her, so she has a kind of power over him, and she, yeah, she's a kind of tragic figure, so we will see a bit more of her in the second movie.
With a name like Lestrange, it should come as no surprise that she's kind of a tragic figure. The Lestrange family has plenty of complications, chief among them being that they're all loyal followers of Lord Voldemort who believe in preserving pure bloodlines of wizards. The wicked Death Eater Bellatrix Lestrange (the cousin of Sirius Black, whom she killed) married into the family and had no problem fitting in with their evil beliefs.
According to the Fantastic Beasts screenplay, Leta Lestrange had an experiment she was conducting at Hogwarts that went wrong, and it endangered the life of a student. Newt Scamander took the blame, and it appears that's why he was expelled from the school. Perhaps we'll learn more about what that experiment entailed. Maybe it even has something to do with the Obscurus that was such a large focus of the first movie. With production expected to begin next year, we're likely to hear about more Fantastic Beasts sequel characters soon so stay tuned.