'LEGO Frozen Northern Lights' Trailer Shows Off Anna & Elsa's Building Block Adventures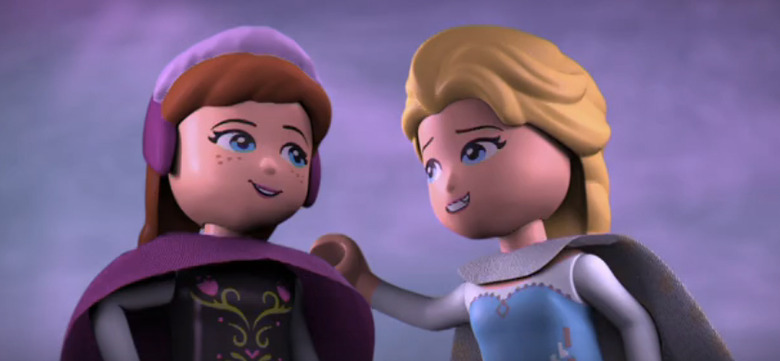 We may receive a commission on purchases made from links.
While Frozen fans are patiently waiting for a sequel to the 2013 hit animated musical, they might take solace in a batch of new animated shorts coming to The Disney Channel next month. However, these versions of their favorite characters are a little different because their inspired by the LEGO versions of them found in the building block playsets.
LEGO Frozen Northern Lights is a new collection of animated shorts featuring the building block versions of Anna, Elsa, Olaf, Kristoff and Sven on an adventure to restore the glimmer of the Northern Lights, which are barely visible from the kingdom of Arendelle. Now the first LEGO Frozen Northern Lights trailer has arrived, and you can watch it below.
Here's the LEGO Frozen Northern Lights trailer from Yahoo:
This might look a little hokey, but we're talking about a Disney Channel short with LEGO characters intended to distract kids so their parents can have some time to wrap Christmas presents, cook dinner or just have a little time to themselves during the hustle and bustle of the holidays. Plus, if you've ever played any LEGO video games, you'll know this meta, cheesy style is right in line with their media brand.
If you're wondering why these character interpretations don't look much like the LEGO minifigures you might be used to in traditional LEGO sets or The LEGO Movie, that's because the LEGO Frozen line has its figures modeled after the LEGO Friends and LEGO Disney Princess design style, which are geared more towards young girls.
Making this a little more interesting than it otherwise might be is the fact that Anna, Elsa, Olaf and Kristoff are voiced by cast members Kristen Bell, Idina Menzel, Josh Gad and Jonathan Groff. However, it's not clear if there will be any original songs used in these shorts or not.
This goes hand-in-hand with a novelization that was released back in July called Disney Frozen Northern Lights: Journey to the Lights, available now. The storyline from the book is being reimagined in the form of four animated shorts that make up LEGO Frozen Northern Lights.
Even though it doesn't look like a new animated classic or anything like that, this could easily become a programming staple for kids to enjoy every Christmas. It may not be as highly regarded as something like A Charlie Brown Christmas or How the Grinch Stole Christmas, but surely kids will still love it.
LEGO Frozen Northern Lights debuts on Friday, December 9 at 8pm ET on Disney Channel.