Star Wars Land: Star Tours Getting An 'Episode 8' Update, Plus See How The Park Shines At Night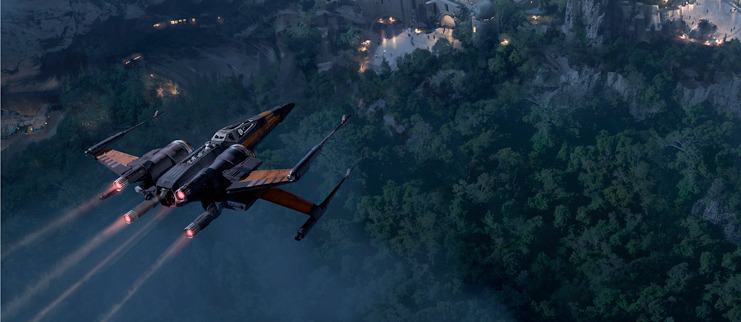 For those out there who are both hardcore fans of Star Wars and frequent attendees of Disney theme parks, today brings some good news for the developing update that will be Star Wars Land.
As we've known for awhile now that Disneyland and Disneyworld, specifically Disney's Hollywood Studios section, will be getting a huge new attraction in the form of a section dedicated entirely to Star Wars. It's going to take years for this attraction to be built, but we've seen various renderings of what kind of experience this new part of the park will offer.
Now a new piece of concept art shows us how Star Wars Land will shimmer at night, and we also have word that one particular update to the Star Wars experience at Disney theme parks will arrive long before Star Wars Land opens. Find out more about the Star Wars Land details after the jump.
Here's the new rendering of Star Wars Land at night, with Poe Dameron's black X-wing flying in: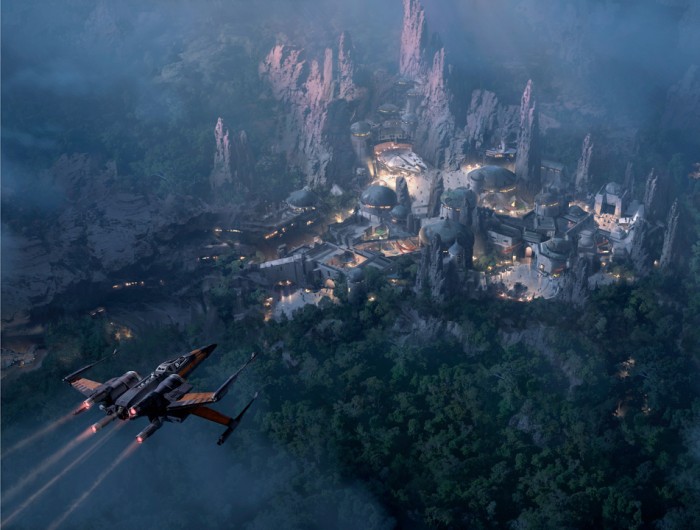 There aren't too many details that can be sussed out from this new glimpse at the park (which is just like the previous image we've seen, just at night with a different X-wing), but everytime I see that Millennium Falcon sitting in the middle of the park, I get all excited about being able to walk through this new section of the park and all that it will offer. We've heard rumblings of "real" lightsabers being created for the park, as well as some hype about the Stormtrooper Battle Escape ride that will be part of the park, but most details are still pretty slim.
However, one update we'll be able to enjoy at Disney theme parks much sooner than the Star Wars Land opens. One of the staple rides at Disney theme parks has been Star Tours, the motion simulator ride that used to take you on a journey around and through Endor after the events of Return of the Jedi. But in recent years, an update changed the ride to have the action set between Revenge of the Sith and A New Hope, taking riders to Hoth, the Death Star, Kashyyyk and Coruscant. Another recent update included the addition of Jakuu from Star Wars: The Force Awakens. Now another update will be coming.
Walt Disney Imagineers are currently at work on adding a new mission to Star Tours that will be based on elements from Star Wars: Episode 8. As far as what those elements might be, we have absolutely no idea. But if it follows suit with The Force Awakens addition, it will likely take us to one of the new planets we'll be visiting in the sequel. There's no word on when the Star Wars Episode 8 Star Tours update will be added to the mix, but we'll be sure to let you know when we find out.
Stay tuned for more Star Wars Land updates down the road.