'Fantastic Beasts' Originally Had This More Obvious Set Up For Sequels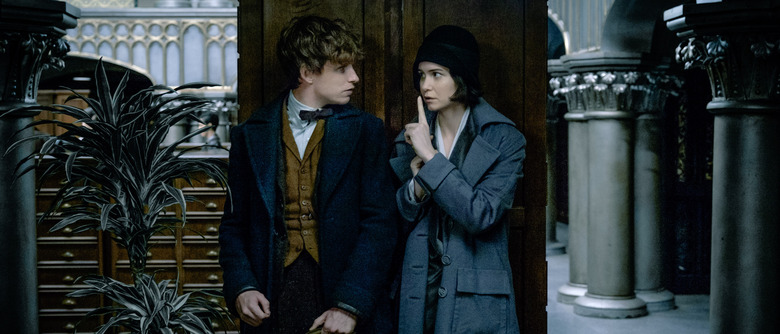 The Harry Potter spin-off Fantastic Beasts and Where to Find Them is in theaters everywhere now, and the movie is on par to make around $75 million in its opening weekend. Granted that's not as big as any of the Harry Potter franchise films opened, but that's to be expected when we're not dealing with many characters that fans aren't familiar with, and the movie will still be a hit worldwide.
As we know, Warner Bros. Pictures already has four sequels in the works. While the first film doesn't end with a cliffhanger, it does open up a whole new world of possibilities, and it turns out a deleted scene almost had a more obvious set up for future movies. Director David Yates explained what this Fantastic Beasts deleted scene entailed, but in order to discuss it we have to dive into major spoiler territory, both for this movie and what's in store for the sequels. So if you want to know more, you'll have to keep reading after the jump.
The third act of Fantastic Beasts and Where to Find Them finds the wizards and witches of New York City dealing with a force of dark magic known as the Obscurus. This force manifests itself when a witch or wizard has been forced to suppress their magical powers, and it wreaks havoc on anything and everything in its path. In this case, the Obscurial (the host of the Obscurus) is Credence Barebone (Ezra Miller) an adopted teenage boy who has been suppressed and abused by his adopted mother (Samantha Morton), an anti-magic activist running a group called The Second Salemers.
Once it's revealed that Credence is at the center of all the mysterious magical disasters that have been plaguing New York City, Magical Law Enforcement is dispatched to deal with it, including Colin Farrell's auror character Percival Graves. But Percival Graves seems to been in pursuit of him for another reason, hoping to harness the power for...something.
In the end, aurors end up defeating the Obscurus, despite objections from Newt Scamander (Eddie Redmaye) not to hurt Credence so that he might coax the Obscurus out of him. After Credence's downfall, we end up learning that Percival Graves is actually Grindelwald (Johnny Depp) in magical disguise, who was hoping to use the Obscurus to create a war between No-Majs and the wizarding world.
However, it turns out that maybe Credence is not entirely dispatched with. After his apparent destruction, Mr. Scamander notices a wisp of the Obscurus, with a flash of orange light within it, floating away from the scene of the action. It's not clear what that might mean for the future, but there's at least a hint of his possible survival.It turns out that such a hint was originally slated to be much more obvious in a scene that ended up being deleted from the final cut of the movie.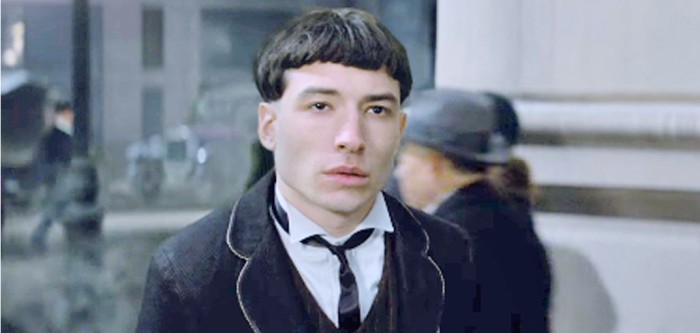 In an interview with Cinema Blend, director David Yates revealed that while we follow Newt Scamander at the end of the movie, he's actually less important to what's coming down the road than Grindelwald and Credence. That's a little disappointing for a movie that forced his story to be tied into what's was set up for more movies, but that's a conversation for another time. Here's what David Yates said about the scene:
"We actually had a scene, which we cut, which was Credence going to a boat, to get on a boat somewhere else. But we cut that, because we didn't want to have it be such an, 'Ahhh, here we go.'"
Yates added that his choice of transportation was "maybe a boat with Newt, maybe not," which implies that Credence may be following Mr. Scamander, perhaps in hopes that he might be able to help him with the dark force he possesses. Or maybe he just wants to have a guide to the magical world that he hasn't had throughout his whole life.
So despite the fact that they didn't want to set up sequels so obviously, now that we know what the deleted scene entails, doesn't that do exactly what they were hoping to avoid? Sure, less people will read this revelation than actually see the movie, but now we know that Credence is alive in some form, though we don't know what that means for the future.
As of now, all we know is that future movies will deal with the conflict that exists between Grindelwald and his former friend Albus Dumbledore. Plus, the sequel is supposed to take us back to the United Kingdom and introduce us to the French magical community in Paris as well. We'll find out more as we get closer to the arrival of Fantastic Beasts 2 on November 16, 2018.