Lock It Up: 'Wedding Crashers 2' Is In The Works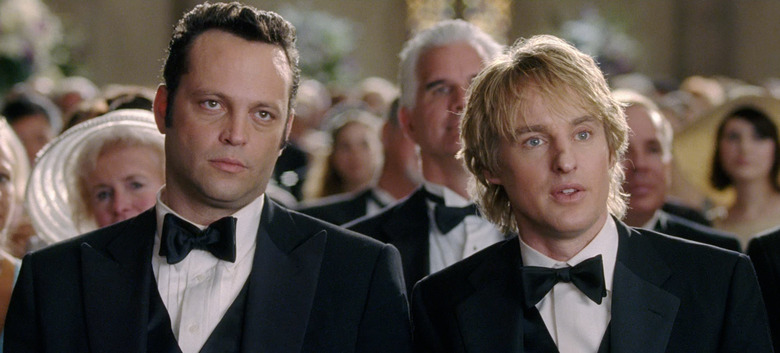 It's been 11 years since Owen Wilson and Vince Vaughn took matrimony by storm as John Beckwith and Jeremy Grey, two expert wedding crashers who snuck into weddings and charmed the pants off any girl they could find in the aptly named R-rated comedy Wedding Crashers. And according to the recent rules of Hollywood, that means it's time to bring them back for a sequel.
In a recent interview, Wedding Crashers co-star Isla Fisher (who had her breakout role in the comedy) said that Wedding Crashers 2 is currently in the works. Find out what the actress had to say after the jump.
Isla Fisher is making the rounds promoting her role in Nocturnal Animals, which will be getting a limited release next week before going wide in December (watch the trailer here). While being interviewed by the hosts of The Today Show (which now includes Tony Danza, apparently), Fisher announced that Vince Vaughn told her a sequel was in development.
You can watch the video if you feel compelled, but here's the relevant part about Wedding Crashers 2: "I bumped into Vince Vaughn at a party and he said that apparently we're going to be making a sequel. So I'm really excited to see what's happened to Gloria." She goes on to clarify that it's not a done deal, and she maybe shouldn't have announced it on morning television, but "there's some talk of it."
While David Dobkins' Wedding Crashers is certainly a favorite comedy of mine, and it was endlessly quotable for many college kids shortly after it came out, do we really need a sequel? The first film was fine just the way it was, and it ended with our main characters finding their significant others in Rachel McAdams and Isla Fisher and driving off into the sunset, so to speak.
Of course, there was that hint that all four of them were going to head off and crash a wedding together, so maybe a sequel will round all of them back up to crash a wedding for some reason? Maybe they need to sabotage someone else's wedding? It's hard to say, but if Vince Vaughn went out of his way to tell Isla Fisher they're working on it, we at least know she'll be involved in the proceedings somehow. As for Rachel McAdams, we'll have to wait and see if she comes back.