Watch Trey Parker Coax His Daughter Into Delivering Ike's Dialogue For 'South Park'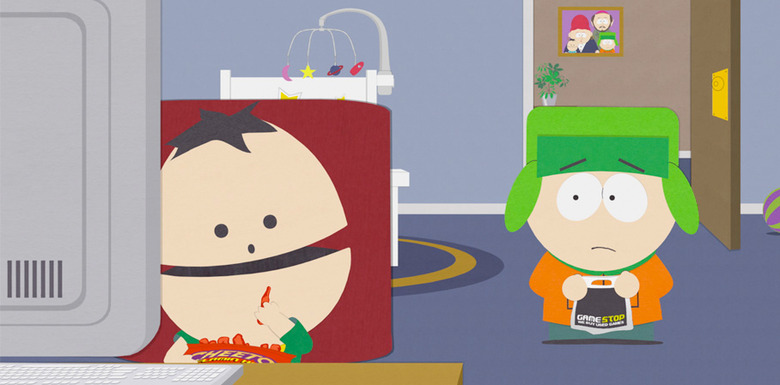 Much like Saturday Night Live, the mere existence of a new episode of South Park is a bit of a miracle. Just like the late night sketch show, a new episode of South Park is completed in just six days, which is almost unfathomably fast for an animated comedy series. But thankfully, creators, writers and stars Trey Parker & Matt Stone and their crew have it down to a science, and that even includes one of them using their toddler daughter to create dialogue for a signature character.
A new video has surfaced online featuring Trey Parker directing his three year old daughter Betty to record some dialogue for the show as only a father can. The lines in question are for Kyle Broflovski's little Canadian brother Ike, whose voice has been performed by a number of child actors throughout the show's 20-season run. It's really adorable to see how they get her to say Ike's lines.
Watch Trey Parker's daughter act as Ike's voice on South Park after the jump.
Here's the post from Trey Parker's family's Instagram page:
Here she comes??. #BettyBoogieParker #TreyParker #BoogieParker #Southpark #Ike
It's pretty funny that Trey Parker seems to have to try harder to get her to say a line like "What's goin' on, Dad?" than he does for her to say, "Dad called you a pussy," but kids just love to have permission to swear by their parents, so it makes sense. As an added bonus, here's video of the Parker family watching a scene from the show (specifically last week's "Oh, Jeez" episode) with one of Betty's lines in place:
Oh Jeez #BettyBoogieParker #TreyParker #BoogieParker #southpark A video posted by Boogie Parker (@thesouthparkers) on Nov 13, 2016 at 9:55am PST
Honestly, I feel like I could watch a bunch of recording sessions of kids recording lines for Ike in South Park and I'd never get bored of it.