First 'Transformers: The Last Knight' Footage Debuts In New IMAX Featurette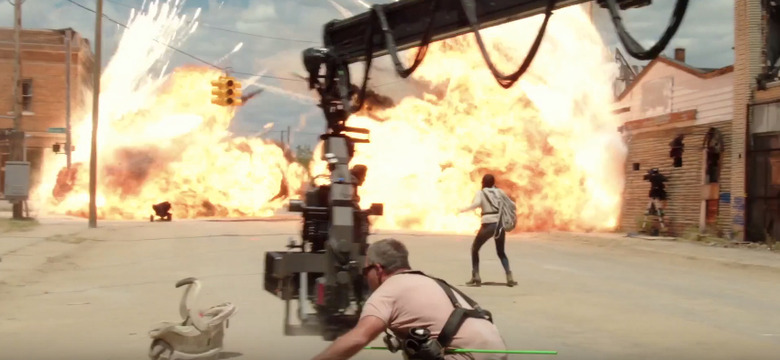 Fans of the Transformers franchise have been waiting to see the first footage from Transformers: The Last Knight ever since cameras started rolling earlier this year. Even people who aren't all that excited about another sequel in the franchise are likely at least curious to see how this movie brings together King Arthur and his knights, Hitler and some mini-Dinobots and mch more. Thankfully a trailer is coming very soon (likely this week), and we've got a sneak peek to hold you over until then.
Now we get a taste of the mayhem that Michael Bay (and his trusty camera called Bayhem) has in store for us as the first bit of Transformers The Last Knight footage has arrived in an IMAX featurette that celebrates the impact that the franchise has had on the success of the giant screen company. Watch below!
The Transformers The Last Knight footage starts around the 1:17 mark in this video from Paramount Pictures:
It wouldn't be footage from a Michael Bay set without a bunch of explosions, cars getting wrecked and people running all over the place. Plus, we get glimpses of the flashback that takes place during the times of King Arthur, as well as the new versions of Bumblebee and Barricade involved in a high speed chase.
Other footage includes Anthony Hopkins partaking in some kind of scene happening at Stonehenge, Mark Wahlberg running through a huge battle sequence and young franchise newcomer Isabela Moner standing in front of a massive explosion.
All this footage is being shot in IMAX 3D, as explained by Michael Bay in the featurette, and once the embargo lifts on our long-delayed set visit from earlier this year (it should be coming next month, so keep your fingers crossed) we'll be able to tell you even more about the technology being used on the set of Transformers: The Last Knight. In case you missed it before, we were on hand for shots like this, standing less than 50 feet away from this explosive action:
We were about 30 or 40 feet away from this #Transformers action. That's @michaelbay with the camera on the right. pic.twitter.com/NRaidXrSVS

— Ethan Anderton (@Ethan_Anderton) August 5, 2016
Stay tuned to see when the Transformers: The Last Knight trailer arrives (rumors peg it being attached to Fantastic Beasts and Where to Find Them on IMAX screens) so that we might finally get a better idea of what kind of story we're getting this time, even if it's usually the least important thing about the Transformers franchise.