Fede Alvarez Teases 'Don't Breathe 2,' Confirms Involvement In 'Dragon Tattoo' Sequel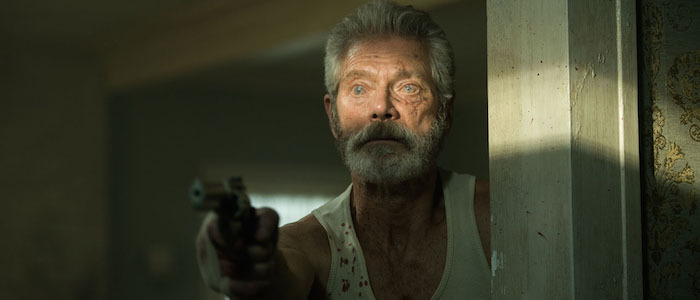 2016 has been a banner year for awful things happening to the world in general, so maybe it's appropriate that it's been a banner year for horror cinema. After all, this is a genre that takes great pleasure in chewing up our miseries and spitting them out, allowing us to cackle at our misfortunes or comprehend our personal dread. A wave of great horror movies was exactly what we needed this year.
And one of those great horror movies was Fede Alvarez's Don't Breathe, a vicious, hard-hearted thriller about a the criminals who break into the home of a secluded blind man and learn the hard way that he's not someone to be underestimated. It turns out that the film's conclusion, which left the door for further horror wide open, was a promise as Don't Breathe 2 is currently in the works.
This news isn't too surprising since the first film was one of the year's biggest hits, grossing $152 million worldwide on a budget of only $10 million. However, when I interviewed Alvarez earlier this year, he made it very clear that Don't Breathe was a very personal film for him. If he's going to make a sequel, he probably has a concept that goes beyond a repeat of the same formula.
The news comes our way via Coming Soon, who spoke with Alvarez and and his producer/co-writer Rodo Sayagues, who were promoting the upcoming Blu-ray and DVD release of Don't Breathe. Although Sayagues was the first to mention a sequel, Alvarez clarified the situation:
We just started, but we know exactly where it goes. But we won't tell you right now. But there will be more Don't Breathe for sure.
In other words, it's still early days yet for Don't Breathe 2 – don't expect to hear anything concrete for some time. After all, Alvarez also confirmed the reports that he's currently Sony's top choice to helm The Girl in the Spider's Web, the long-delayed sequel to David Fincher's The Girl With the Dragon Tattoo:
Is it all true? Yeah, it's true. We're putting together the story right now. Obviously, there's a book and there's a script that's great. Because we write everything I direct, we're working on that part right now to make it our own and put our imprint in it so it feels like it's part of our filmography.
While I still wonder whether or not The Girl in the Spider's Web will ever actually get made (it's been five years since the first movie failed to kickstart an instant franchise), Alvarez remains a smart choice for a sequel. Like Fincher, he's a technically precise filmmaker who is unafraid to stare into the abyss. Unlike Fincher, he's proven himself quite adept at working with the kind of small budget you'd give to a belated sequel to a movie that divided audiences.
Don't Breathe will hit shelves on November 29, 2016.