Richard Linklater's 'Before' Trilogy Is Getting A Criterion Collection Box Set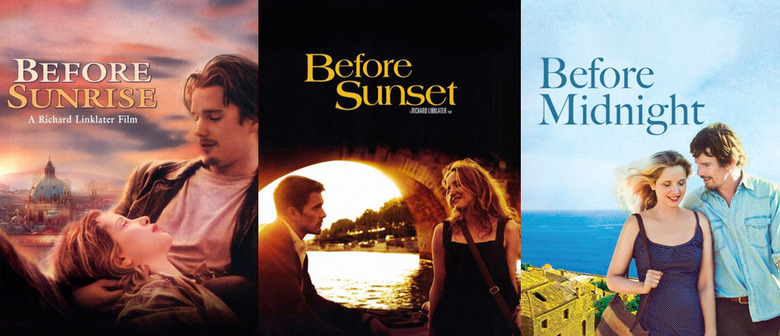 Three of the best romance movies of all time make up what is known as Richard Linklater's Before Trilogy. Released over 18 years, the films Before Sunrise (1995), Before Sunset (2004) and Before Midnight (2013) reveal the love story of Jesse (Ethan Hawke) and Celine (Julie Delpy), who meet one day in Vienna and share mere hours together before they leave each other, only to see their relationship blossom into something that is simultaneously beautiful and complicated. Now all three films are coming to the Criterion Collection in February of 2017.
Get the details on The Before Trilogy Criterion Collection box set after the jump.
Though there is no box art available for the trilogy set yet, The Before Trilogy has already been detailed by The Criterion Collection, and it features an assortment of outstanding director-approved special features:
New, restored 2K digital transfers of Before Sunrise and Before Sunset and a 2K digital master of Before Midnight, approved by director Richard Linklater, with 2.0 surround DTS-HD Master Audio soundtrack on the Before Sunrise Blu-ray and 5.1 surround DTS-HD Master Audio soundtracks on the Before Sunset and Before Midnight Blu-rays
New discussion featuring Linklater and actors Julie Delpy and Ethan Hawke, moderated by critic Kent Jones
Behind-the-scenes footage and interviews from the productions of Before Sunrise and Before Sunset
Audio commentary on Before Midnight by Delpy, Linklater, and Hawke
Dream Is Destiny, a 2016 feature-length documentary about Linklater by Louis Black and Karen Bernstein
New documentary about the making of Before Midnight in Greece by filmmaker Athina Rachel Tsangari
3×2, a new conversation between scholars Dave Johnson and Rob Stone about Linklater's work
Linklater // On Cinema & Time, a video essay by filmmaker :: kogonada
PLUS: An essay on the trilogy by critic Dennis Lim
Aside from the new documentary about the making of Before Midnight, easily the best special feature is an entire extra film, the documentary Dream Is Destiny about filmmaker Richard Linklater's career. This will definitely be a box set worth picking up.
If you somehow haven't seen any of The Before Trilogy, these are must-see movies. With two of the films co-written by Ethan Hawke and Julie Delpy, these characters have an undeniable authenticity, and many couples will find themselves remembering the kind of conversations these lovers have at various stages in their relationships. The small window of time we spend with these characters for each movie only makes their story feel that much more precious. I cannot implore you enough to seek these movies out if you haven't seen them yet.
In addition to The Before Trilogy arriving in the Criterion Collection, the February 2017 releases will also include:
You can get more extensive details about those releases, including all of the special features accompanying them, over at the official Criterion Collection website where all of these movies and more are available for pre-order and purchase.