The Life And Music Of Elvis Presley Is Getting A Three-Hour HBO Documentary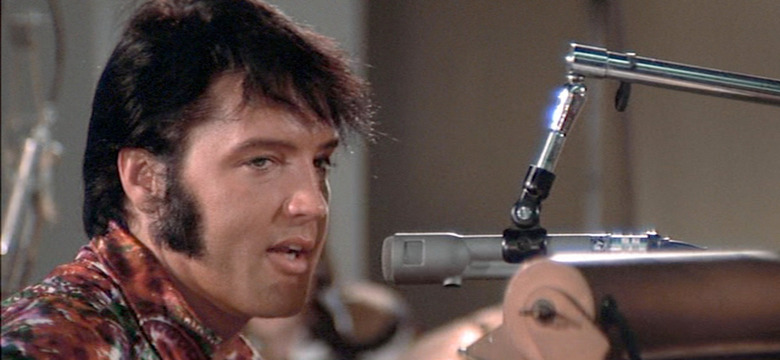 Generations of music lovers know the name Elvis Presley very well. The musician showed up on the music scene in Memphis, Tennessee all the way back in 1954 when he recorded a song with producer Sam Phillips at Sun Records (who is getting a movie made about his life and all the musicians' careers he launched, with Leonardo DiCaprio in the lead role). Elvis Presley would go on to become a pioneer in rock and roll, a new form of music that would engulf the entertainment industry in controversy and change the world forever, and now we'll get a three-hour, two-part feature documentary at HBO telling us how it all happened.
Find out about the Elvis Presley HBO documentary after the jump.
Deadline has word on the film coming from Thom Zimmy, a Grammy winner for long-form music video after directing Bruce Springsteen's Wings for Wheels: The Making of 'Born to Run' and an Emmy winner for two different Bruce Springsteen concert specials. With three hours to work with, the documentary will begin at the beginning with Elvis Presley's childhood and span all the way through the final Jungle Room recording sessions that happened in 1976 before his death in 1977.
However, rather than only covering the finer points of Presley's life and career, this documentary brings a more fascinating angle by "deconstructing why Presley's sound and style were so revolutionary, exploring why they made him the world's most legendary musical icon and revealing the cost of the massive success he achieved."
Helping this documentary to feel that much more all-encompassing is the cooperation of Presley family estate, allowing for unprecedented access to never-before-seen footage and photos from private collections, not to mention interviews with session players, producers, engineers, directors and a slew of other people who knew the man best.
Kary Antholis, president of HBO Miniseries and Cinemax Programming had this to say about the project:
"The producers came to HBO and Sony with the idea for a film drawing upon very rare footage that captures Elvis' musicianship in a new and exciting way. The artistry on display in that footage reminded us of the great work by Jon Landau and Thom Zimny on HBO films documenting the studio artistry of Bruce Springsteen, and we are thrilled to have them at the helm to lend their unique cinematic perspectives to this iconic, complex and singular artist."
Even for the most die-hard Elvis Presley fan, there's probably something new to learn here in this long documentary. There's no word on when the film will premiere, but we'll keep you posted.