'100 Streets' Trailer: Idris Elba Really Needs To Sort His Life Out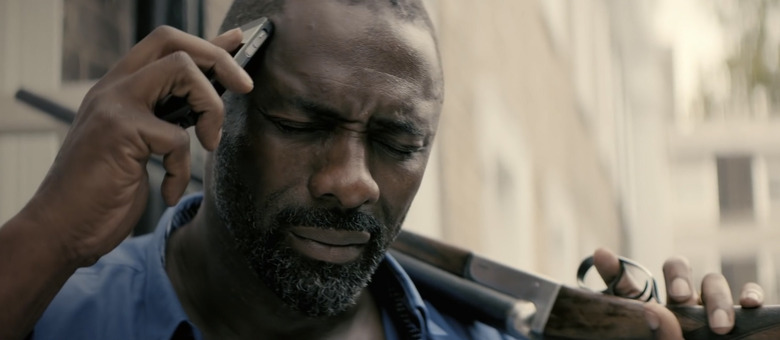 We've seen plenty of dramas featuring an ensemble of characters with interconnected stories like Crash, Traffic, Babel, Magnolia and more. Now we're getting another out of the United Kingdom called 100 Streets. The film just recently opened across the pond, but it's been picked up for a release in the United States early next year, and the official trailer has just arrived.
Idris Elba stars in the film as a former rugby star who has lost his way in life, cheating on his wife (Gemma Arterton), drinking heavily, and generally making a mess of everything he's been given. And while the trailer focuses intently on all of his mistakes, there's apparently much more to the story than meets the eye.
Watch the 100 Streets trailer after the jump.
And just for good measure, here's the UK trailer for 100 Streets from earlier this month:
The problem with ensemble dramas like this is that they often end up being rather heavy handed and melodramatic. Crash is a prime example, and even though it went on to win Best Picture, in retrospect that probably wasn't the best decision the Academy made that year. You'll also find plenty of dramas like this in the bargain bin at your local retail store, the kind of movies that make you say, "Why have I never heard of this movie?"
Judging by the trailer, this at least appears to contain a solid performance by Idris Elba, so even if this does turn out to be another melodramatic ensemble drama, perhaps he'll elevate it to be worth watching. However, we're a little skeptical since reviews out of the United Kingdom peg Jim O'Hanlon's feature directorial debut as being rather underwhelming and lightweight.
100 Streets, a powerful ensemble drama, follows three contrasting and interwoven stories as they play out in one square mile of modern day London. A former rugby player, Max (Idris Elba), struggles to find a life off the field while fighting to save his marriage to former actress Emily (Gemma Arterton). Kingsley (Franz Drameh of DC's Legends of Tomorrow)) is a small time drug dealer desperately seeking a way off the street. While completing his community service for a misdemeanor, Kinsley meets Terence (Ken Stott), a local thespian, who gives him the push he needs out of his dead end life and into a very different, creative world. George (Charlie Creed-Miles), a cab driver, and his wife Kathy (Kierston Wareing) dream of having kids, but a devastating road accident puts their hopes on hold even testing their otherwise strong marriage. Anybody can make a wrong turn, but it's the journey that allows us to find the right path.
100 Streets is in theaters in the United Kingdom, but hits United States theaters and VOD on January 13, 2017.