New 'A Series Of Unfortunate Events' Photos Reveal Neil Patrick Harris As Captain Sham & More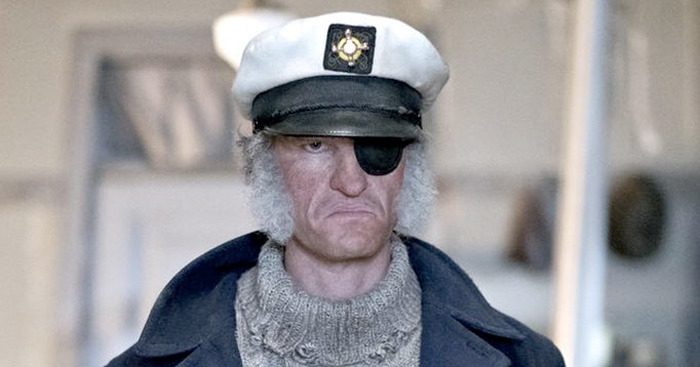 Not too long ago, a new trailer for Lemony Snicket's A Series of Unfortunate Events introduced us to Neil Patrick Harris playing the dastardly Count Olaf, desperate to get his hands on the inheritance left to the orphaned Baudelaire children. Now some new photos give us our first look at some characters we haven't seen yet, including the second role played by Neil Patrick Harris.
The new A Series of Unfortunate Events photos reveal Joan Cusack as Justice Strauss and Catherine O'Hara as Dr. Georgina Orwell, and since these photos are being released now, there's a good chance we'll see them in the new trailer for the Netflix series that will hit the web on Thursday. In addition, we have our first look at Count Olaf dressed up as Captain Sham, a ruse of a character used to manipulate others. Check out the new photos after the jump.
Here are the new photos from author Daniel Hander and star Neil Patrick Harris on Twitter:
It'll be interesting to see how the story of Lemony Snicket's A Series of Unfortunate Events can be expanded with more time to tell the story that is spread out over several books. The adventures of Violet (Malina Weissman) and Klaus Baudelaire (Louis Hynes) and their chomping sister Sunny have plenty of unexplored areas that weren't included in the film adaptation. So even if the series looks to be very closely imitating the movie, there are plenty of places left to explore in this world.
Make sure you come back for the new trailer on Thursday.
Based on the internationally best-selling series of books by Lemony Snicket (aka Daniel Handler) and starring Emmy and Tony Award winner Neil Patrick Harris, Lemony Snicket's A Series of Unfortunate Events recounts the tragic tale of the Baudelaire orphans — Violet, Klaus, and Sunny – whose evil guardian Count Olaf (Harris) will stop at nothing to get his hands on their inheritance. The siblings must outsmart Olaf at every turn, foiling his many devious plans and disguises, in order to discover clues to their parents' mysterious death.
The eight-episode series is a Netflix original production, executive produced by Emmy Award winner Barry Sonnenfeld and Daniel Handler, and also stars Patrick Warburton (Lemony Snicket), Joan Cusack (Justice Strauss), Malina Weissman (Violet Baudelaire) and Louis Hynes (Klaus Baudelaire).
Lemony Snicket's A Series of Unfortunate Events hits Netflix on January 13.