Rogue One Bits: New Character Revealed, A Discussion Of Force Sensitivity, And The Politics Of 'Star Wars'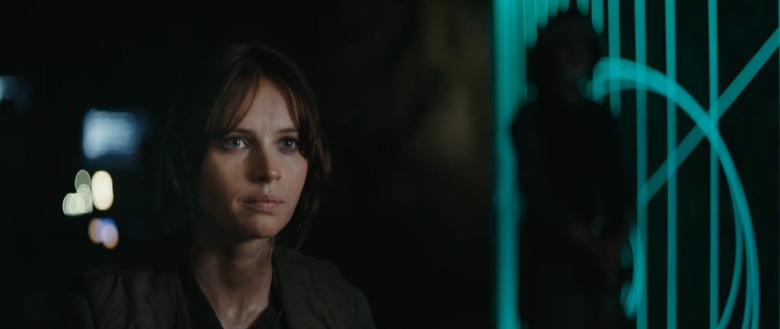 In this edition of Rogue One Bits:
Felicity Jones promises a more "authentic" Star Wars movie.
Another Rogue One: A Star Wars Story character officially has a name.
A new TV spot has a surprising message for viewers.
Is Donnie Yen's Chirrut "Force sensitive" or not?
Gareth Edwards explains what it's like to design a new Star Wars ship.
Read an excerpt from Star Wars: Catalyst.
The writers and stars of Rogue One get political.
And more!
Felicity Jones, fresh off the Inferno press tour, is now spending every waking moment talking about her role in Rogue One. Some of the stories she has to share are fun and fluffy, like when she got to meet Mark Hamill when he visited the set:
Mark Hamill came to visit. The Empire Strikes Back is a massive inspiration for Rogue One, so Gareth and I were almost bowing down to him. It was really special to meet him. He always comes across so well, just genuine person who hasn't been affected by that incredible thing.
Others help paint a picture of what we can actually expect from Rogue One:
It was so important to bring authenticity. In this one, Stormtroopers are not all completely white and clean. They've got scratches on them and they've been through difficult times. At every level it was bringing a level of reality. I love shooting like that. It was great to work with someone like Gareth who kept it very fresh, who would say to go with your instinct. It brought such freshness to it, which I think audience are really ready for.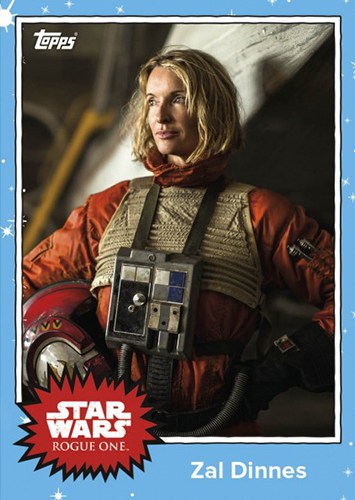 I often joke about how every single background character in the Star Wars universe has a name and extensive backstory even if they have two seconds of screen time in one of the films, but it's a joke that comes from a place of love. I truly, madly, deeply love that every single person who appears on screen in Rogue One has a history of some kind that fans will be able to explore elsewhere. So prepare to learn more about Rebel X-Wing pilot Zal Dinnes, whose name was officially revealed as part of a trading card release.
This TV spot for Rogue One consists mostly of footage we've seen before, but there are a few new snippets and a few lines of fresh dialogue if you have 30 seconds to burn. What's really interesting is the message that accompanies the end of the spot, with a voice over and written text informing the world that "this film contains scenes that may be too intense for younger viewers." We knew that Gareth Edwards set out to make a hardened war film set in the Star Wars universe, but is it hardened enough to demand a special warning? And is that just a temporary message until the film gets slapped with its PG-13 rating?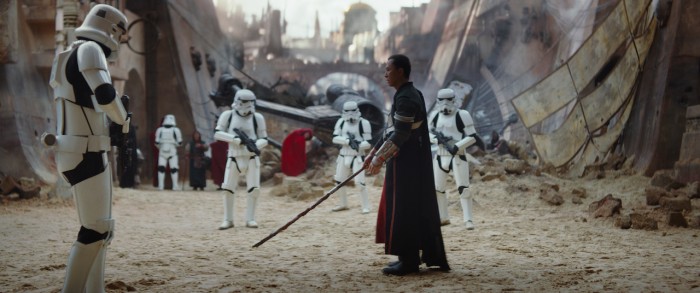 We've known for some time that there aren't any Jedi in Rogue One. However, we've also known that Donnie Yen's character, the blind warrior Chirrut Îmwe, is a believer in the Force who has dedicated his life to its practices. This has ignited a discussion over whether or not he is "Force sensitive" or not, a phrase that seems to mean something a little different to every Star Wars fan. Star Wars News Net has done a fine job of rounding up as much information as possible on this matter, especially since official materials from Lucasfilm have described him as "attuned to the mystical energy of the Force." The results aren't as cut-and-dried as some fans may hope, but I like that it's a little messy – grand, abstract concepts like the Force shouldn't be so easy to pin down.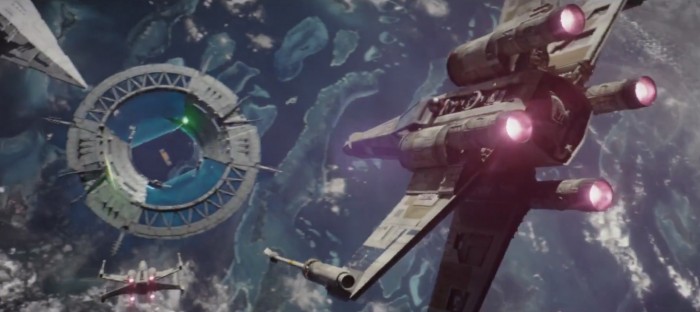 Rogue One is the cover story for the latest issue of SFX and Games Radar has posted a few excerpts from the magazine's interview with director Gareth Edwards. One of the most interesting details involves Edwards explaining just how much of Star Wars' technology is grounded in real world history:
In your brain you think Star Wars is 50% sci-fi and 50% historical/real world, but it's really like 90% historical/real world and 10% science fiction...To the point where when they were designing all the weapons and the guns, one of the first faux pas I committed is they would show me ideas for guns for Deathtroopers. They'd have all these different designs and you'd say, this one feels too antiquated, this one feels like something they'd have in World War 2. They'd say that's exactly the Stormtrooper weapon from A New Hope. [Back then] they were just grabbing real world guns and costume, and just doing a little thing to it that made it feel like Star Wars – if you go too far it's Flash Gordon, or it's Star Trek.
Considering that George Lucas used footage shot during World War II as a reference point for many of his action sequences, this makes a lot of sense. Edwards also explains what it's like to design a brand new ship for the Star Wars saga:
It's like a dream situation to be trying to come up with the ship you didn't see in the original trilogy that feels like it might exist.  That took ages, about six months. There were literally thousands of designs – we didn't go, 'Okay, let's design a U-Wing' It's let's do whatever looks good and then we'll pick a letter of the alphabet that it most looks like!
日本文化へのリスペクトから生まれた『#スターウォーズ』、そして『#ローグワン/スター・ウォーズ・ストーリー』。

ルーカス・フィルム本作では、プロデューサーも務めるキャスリーン・ケネディから、日本のファンに向けたメッセージも到着! https://t.co/LKwgyomser pic.twitter.com/Qo10FgrpLh

— ディズニー・スタジオ (@disneystudiojp) November 11, 2016
Lucasfilm president Kathleen Kennedy recorded a special introduction to the new Rogue One trailer intended for Japanese audiences. However, her comments also serve as a reminder that George Lucas was heavily inspired by Japanese cinema when he made the original trilogy, using Akira Kurosawa's Hidden Fortress as a template for the plot and characters. Lucas also sought out legendary Japanese actor Toshiro Mifune to play Obi-Wan Kenobi or Darth Vader, but nothing came of it.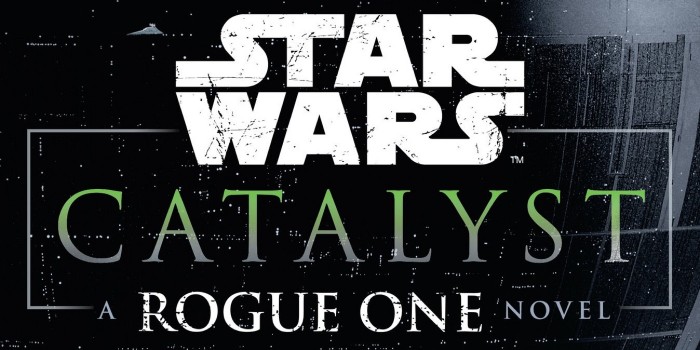 James Luceno's new novel, Star Wars: Catalyst, is officially on shelves today and we plan to give it a closer look in a future article. In the meantime, Entertainment Weekly has shared an excerpt from the book, which follows the Erso family and their old friend Orson Krennic during the Clone Wars, when they first started collaborating on a certain top secret project. Here's a sample:
Sitting hunched on the couch in their residence in the facility, Galen looked up from his notebook in recognition of the fact that he and Jyn were actually occupying the same room—an infrequent event in the wake of renewed tension between him and Lyra.  She had her sketch screen in her lap and was working furiously on a creating an image of some sort, speaking quietly but animatedly to herself while she worked the controls and drew her forefinger across the screen.
Galen had his own small datapad in hand and was working on an equation he had been struggling with for weeks.  Having found a way to alter the internal structure of the crystals, the kybers seemed in turn to have found a way to alter his.  Despite not having heard from Orson, a new sense of urgency had crept into the research, as if someone or something was whispering to him to hurry, hurry ...
Ever since he had transmitted the faceting data to Orson and his team, he felt as if he had been running a low-grade fever, with some part of his mind fixed on solving a calculation that was veiled from consciousness.  That it regarded the kybers he had no doubt, but the actual nature of the problem had yet to reveal itself.  Plagued nonetheless, he had documented his dreams in the notebook.  He had long ago mapped the landscape of his subconscious and could usually decipher what his dreams were telling him, but his recent ones seemed to be taking place off the map, set in unknown regions of his mind.  The dream journal ran for several pages, with many of its entries written in the middle of the night or immediately following a nap, and were broken here and there by sketches that rambled into calculations, stray thoughts, microscopically jotted notes he could barely untangle even now.
You can read more at the link above.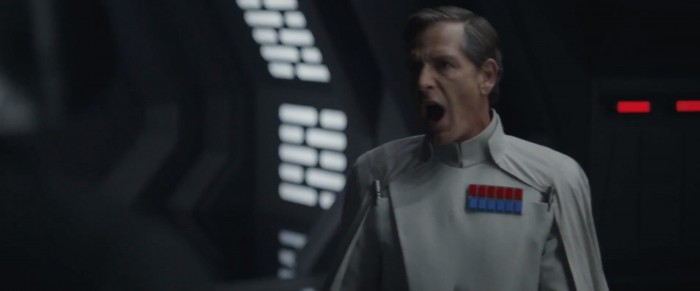 Meanwhile, StarWars.com has published a quick list of six reasons why you need to read Star Wars: Catalyst, which reveals that the film features Grand Moff Tarkin as a key character and will explain everything you need to know about Jyn Erso's mother. It's not the most exciting list in the work and it is, by design, completely free of actual details from the book, but it may be what you need if you're still considering whether or not you want to pick up the book for yourself.
Finally found out @ninjatracks is behind the epic #RogueOne trailer music. https://t.co/Ku4pNL7E08 #SountrackJunkie pic.twitter.com/PeBCMaptyN

— Ben Kendrick (@benkendrick) November 12, 2016
The Rogue One haven't featured much (if any) music from the film's actual soundtrack, but ScreenRant's Ben Kendrick has discovered who was behind it, if you'd like to hear more of their work.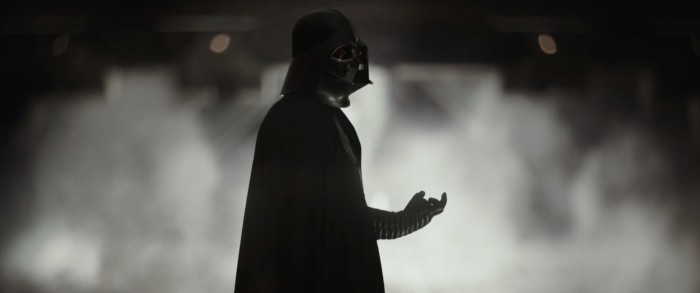 Jedi Bibliothek (via Star Wars Underworld) has discovered Entertainment Weekly's plan to publish a 96-page "Ultimate Guide to Rogue One: A Star Wars Story" next month. The special edition magazine will feature the usual behind-the-scenes photos and interviews, but also a new Star Wars timeline. You should be able to pick up a copy for yourself on December 9, 2016.
Although many fans see Star Wars as pure escapism, it's important to remember that George Lucas was a politically minded filmmaker and that the original 1977 Star Wars can easily be read as commentary on the Vietnam War filtered through imagery of a Buck Rogers serial. So don't be surprised that the people behind Rogue One and other upcoming Star Wars movies are directly addressing the current status of the United States – they're just following in Lucas' footsteps.
While Star Wars: Episode 8 director Rian Johnson simply responded to the election of Donald Trump with a picture of the Rebel Alliance symbol, Rogue One writer Chris Weitz shared the image above, showcasing his solidarity with those who fear the Trump presidency making good on its campaign promises. In a now-deleted tweet, he wrote "Please note that the Empire is a white supremacist (human) organization." Writer Gary Whitta, who worked on the script before Weitz, responded with his own now-deleted Tweet: "Opposed by a multi-cultural group led by brave women."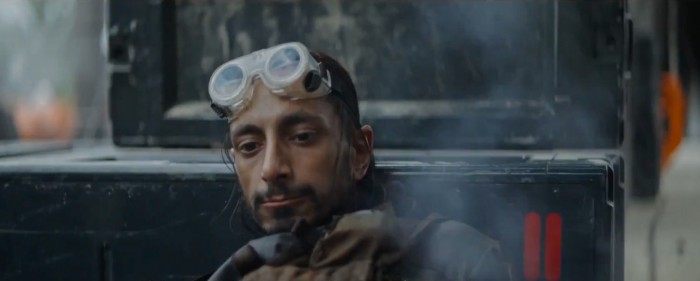 And it's not just the writers, either. Rogue One star Riz Ahmed (himself no stranger to discrimination) spoke with the Evening Standard and made it clear that yes, this is a political movie:
Rogue One is about waking up to the real political situation of your time and accepting you can't sleepwalk into the future because there won't be one.
Ahmed went on to talk about his character, pilot Bodhi Rook, and explain that he's the audience surrogate...the guy who has to rise up when his world starts to change:
Bodhi is actually sanskrit for 'awakening'.  That's what makes him so interesting. In Star Wars we have so many characters who are someone's kid or grandkid and they are born into a legacy of greatness. Bodhi is just a guy who has to step up to the plate. He realises that he has to make choices and take risks that are way above his pay grade. It's interesting to have a character amid this band of assassins, spies and soldiers that really doesn't belong on a battlefield. It will make him quite a relatable character, I hope, someone who you can feel the PTSD coming from. He is bringing a lot of guilt to the table. I think he feels he has a lot of debts to settle. But that's true for many of the characters in this film.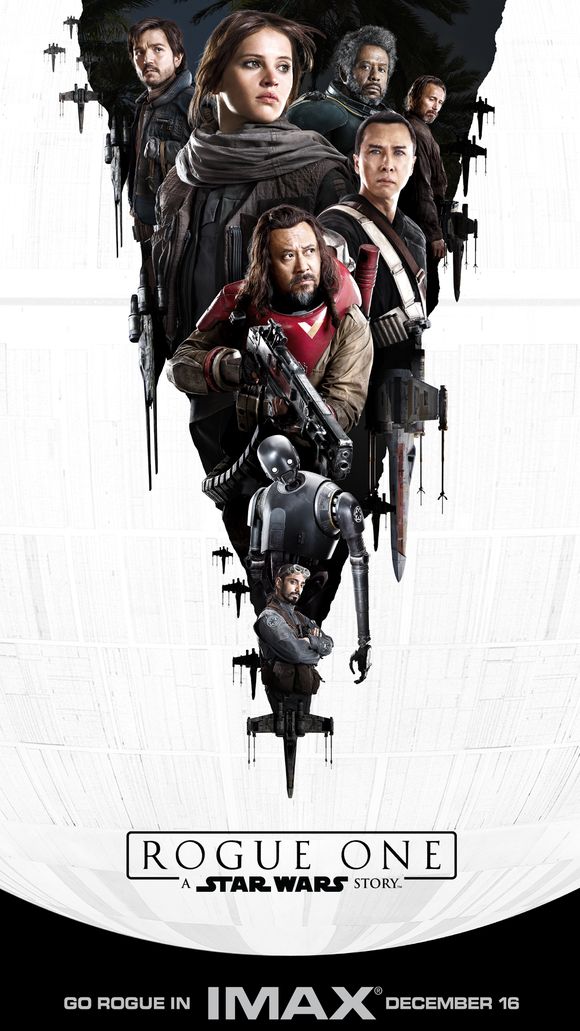 Let's wrap up this edition of Rogue One Bits with this new IMAX poster, which finds the cast assembling in front of somewhat abstract imagery combining a Death Star, X-Wings, and a Star Destroyer.