'Rules Don't Apply' Music Trailer: A New Look At Warren Beatty's Great Performance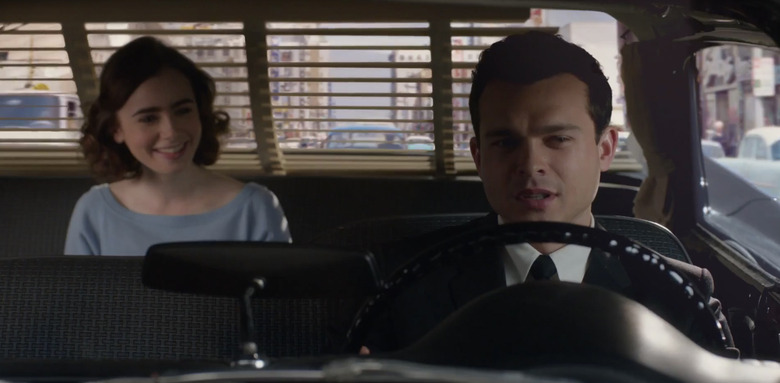 Warren Beatty gives a towering performance in Rules Don't Apply. The film features one of Beatty's most nuanced and vulnerable performances as the ambitious, charismatic, and deeply troubled Howard Hughes. Fans eager to see the actor, writer, and director's return likely won't leave the movie disappointed by his performance. Before Beatty ends his 15-year hiatus from acting next Friday, a new trailer without dialogue has been released for his fifth directorial effort.
Below, watch the Rules Don't Apply music trailer.
Almost two years and a half years after being shot — Beatty takes his time in the editing room — Rules Don't Apply finally premiered last week at the AFI Film Festival. The first reviews are generally positive, with most praising Beatty's performance. This music trailer, which features actress/songwriter Marla Mabrey (Lily Collins) singing the titular song "The Rules Don't Apply," nicely captures the tone of the melancholic romantic comedy. Eddie Adkins and Lorraine Feathe wrote the song, which Collins performs herself in the movie.
Here's the Rules Don't Apply music trailer:
Unlike the previous trailers, this one doesn't show how funny the movie is. Beatty is often hilarious as Hughes, but it's Matthew Broderick who scores the biggest laughs as one of Hughes' humorous sad-sack employees, a man whose life revolves entirely around his surreal and laughably demanding job. It's a very charismatic performance, and this is a movie that relies quite a bit on the charisma of its excellent cast.
Rules Don't Apply is sometimes messy — a good amount of scenes start and end abruptly — but Beatty more often than not makes up for the film's troubles with plenty of well-earned laughs and pathos. There are some genuinely touching and heartbreaking scenes in Rules Don't Apply. Sometimes Beatty can get you laughing and tearing up in the same scene. There's also a seamless and fantastic long take of Hughes engaged in a walk-and-talk that's an exhilarating reminder of why Warren Beatty is Hollywood icon Warren Beatty.
Here's the official synopsis for Rules Don't Apply:
An aspiring young actress (Lily Collins) and her ambitious young driver (Alden Ehrenreich) struggle hopefully with the absurd eccentricities of the wildly unpredictable billionaire Howard Hughes (Warren Beatty) for whom they work. It's Hollywood, 1958. Small town beauty queen, songwriter, and devout Baptist virgin Marla Mabrey (Collins), under contract to the infamous Howard Hughes (Beatty), arrives in Los Angeles. At the airport, she meets her driver Frank Forbes (Ehrenreich), who is engaged to be married to his 7th grade sweetheart and is a deeply religious Methodist.
Their instant attraction not only puts their religious convictions to the test, but also defies Hughes' #1 rule: no employee is allowed to have any relationship whatsoever with a contract actress. Hughes' behavior intersects with Marla and Frank in very separate and unexpected ways, and as they are drawn deeper into his bizarre world, their values are challenged and their lives are changed.
Rules Don't Apply opens in theaters November 23rd.