HBO Still Isn't Ruling Out That 'Game Of Thrones' Prequel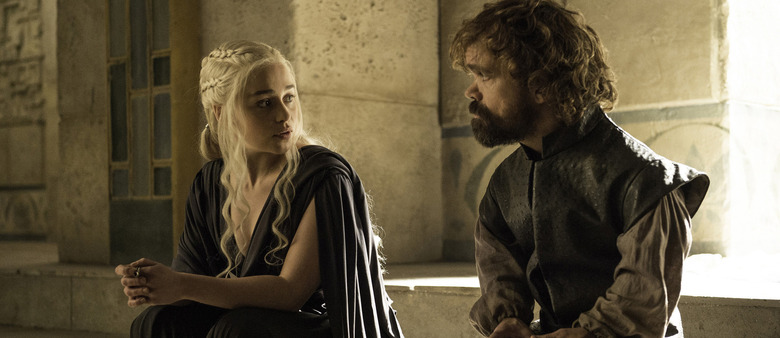 We may receive a commission on purchases made from links.
Picture David Benioff and D.B. Weiss, the showrunners on HBO's Game of Thrones. Picture them working on season 7. Picture the lines around their tired eyes, the grey invading the beards they haven't had time to shave. Picture them hunched over a monitor or a schedule or the coffee that offers them respite during their busy days on set and picture them trying to solve whatever new issue has invaded their always ambitious, globe-trotting production. Now picture an HBO executive waltzing over them, bright-eyed and bushy-tailed, to ask them to devote a few precious seconds to talking about a Game of Thrones prequel series. Picture Benioff and Weiss' eyes rolling back into their heads and vampire fangs, generated by pure stress, spontaneously bursting forth from their gums. Picture that HBO executive running for his life.
Now picture that HBO exec telling the press that they definitely aren't ruling out that Game of Thrones prequel! Not at all! Everyone is still talking about it! For real!
Look, we've heard news about a potential Game of Thrones prequel before and the latest piece of news doesn't offer too much more than we already know. Speaking with The Wrap, HBO Programming president Casey Bloys confirms that yes, they're still bouncing the idea around. But no, nothing is set in stone, presumably because everyone who could make it happen is too busy trying to make sure Game of Thrones sticks the landing. Plus, everyone is afraid of Benioff and Weiss' newfound stress-fangs, a phenomenon common to high-stress film industry positions. Here's Bloys' quote:
We've talked very, very kind of high-level, like, 'Oh that would be interesting, a prequel would be interesting, are there areas that make more sense?' But we haven't — no one has put pen to paper — yet. It's still pretty early on. But, it's such a great world and it's such a great property, we'd be crazy not to at least explore the idea of some sort of prequel or whatever you want to call it. So, we are thinking about it, talking about it, but nothing really of note to report just yet.
Look, we probably aren't going to hear anything solid about a Game of Thrones follow-up until the series is over. I think it's still a great idea for just about everyone – HBO would like more that sweet Game of Thrones cash and fans wouldn't say no to more of George R.R. Martin's Westeros, a place so complex and rich that it has filled five giant novels, several novellas, and a faux history book detailing everything from the land's geography to its many religions.
If HBO does ultimately pursue a prequel of some kind, they would be wise to look to the Tales of Dunk and Egg novellas (now collected in a hardcover titled A Knight of the Seven Kingdoms), which take place 90 years before the events of the first novel (or the show's first season) and follow a wandering hedge knight and his squire, both of whom leave legacies that change Westeros forever. I'm not sure if they could sustain a full television show (part of their appeal is how brisk they are), but they would make for an excellent series of television movies and would enrich the series itself in some profound ways.
In the meantime, look for Game of Thrones season 7 next year.