'Westworld' Episode 8 Preview: "That Game Cuts Deep"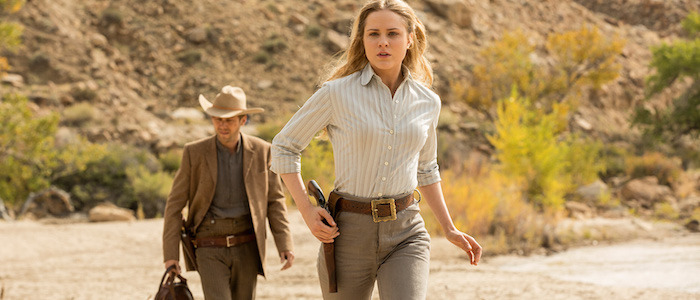 The official announcement that Westworld season 2 is on the way has been grabbing all of the entertainment news headlines, but we still have three episodes left in the show's first season...which means they only have three hours left to solve as many mysteries as possible while asking three new questions for each answer. So while we can vaguely ponder the long-term future of the show, we should probably focus our energy on "Trace Decay," the upcoming eighth episode of season one that has unveiled a new trailer.
Naturally, the footage immediately touches on the big twist from the most recent episode. If you're reading this before you've watched "Trompe L'Oeil" for some reason, turn back now or look forward to SPOILERS for the most recent episode.
The first and most compelling revelation in the trailer is that Bernard, who was revealed to a secret Host created by Dr. Robert Ford for reasons that have not been explained quite yet, is well aware that he was ordered to murder his colleague, lover, and friend Theresa Cullen. Dr. Ford, being something of a cruel bastard, seems to have left those memories intact after forcing him to do the unthinkable. Still, if there's one thing we've learned after seven hours of Westworld, it's that the Hosts who remember what has been done to them tend to be the ones who fight back. Has Dr. Ford just found his greatest enemy in his own creation?
And Ford monologuing about the "dominion" he will acquire? It sounds like the not-so-good doctor isn't going to let Delos take him down without a fight. The footage also promises more from Maeve's upcoming escape plan (which surely will go off without a hitch and surely won't get someone killed) and the long-awaited reveal of the Maze, which William, Dolores, Teddy, and the Man in Black all seem to be reaching at the same time...or rather, in the same episode. Time is a tricky thing in Westworld.
Here's the official synopsis for "Trace Decay":
Bernard (Jeffrey Wright) struggles with a mandate; Maeve (Thandie Newton) looks to change her script; Teddy (James Marsden) is jarred by dark memories.
The episode will premiere next Sunday and, as always, our coverage of the episode will arrive on Monday.